Dark Chocolate Bark is studded with sweet dried cranberries and salty pistachios, and finished with a sprinkling of sea salt – perfect for dessert to an elegant wine and cheese pairing or for a holiday gift.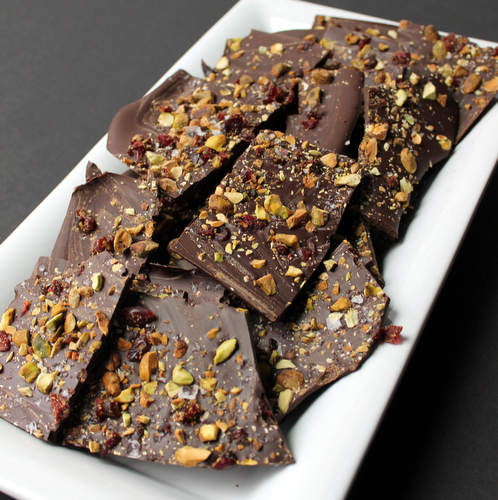 I've been trying really hard to keep our schedule free and clear. I've failed miserably. Somehow, over the past two weeks, we ended up attending 4 potlucks, hosting friends for an evening 3 times, and hosting overnight guests for a long weekend. Add this to school Halloween events, prescheduled doctor's appointments, and work crazy and I'm seriously ready for a vacation.
A couple of weeks ago, I attempted to get ahead of all of these events. I spent an epic weekend cooking and baking to get us through the busy week and the numerous events. That weekend, not only did I make Kahlua Truffle Triangles, but I made a Cranberry-Pistachio Dark Chocolate Bark – a sweet perfect for an evening out without the kids (potluck!). Bonus? Like most candies, bark keeps pretty well at in at a cool room temperature, so I didn't need to spend that Saturday baking (in between family photos and a Halloween potluck party) before heading out to the party, an hour away.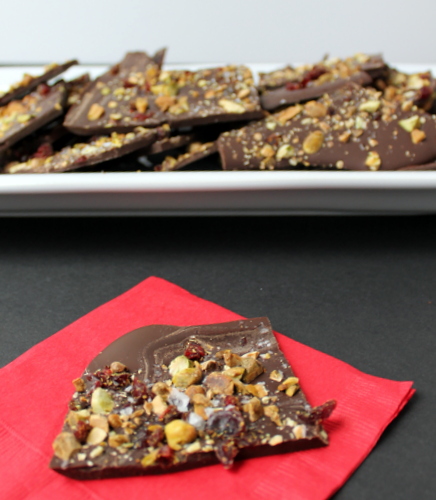 This chocolate bark – or at leas some variation of it – will definitely be included in my holiday baking this year. Because it keeps so well, I can make it a bit ahead of time instead of stressing out at the last minute and the recipients won't have to consume it immediately, along with all of the other holiday goodies they're sure to make and receive.
Don't forget to scroll to the bottom of this post for more #CranberryWeek recipes! Thanks again to Caroline at Caroline's Cooking for hosting!
Print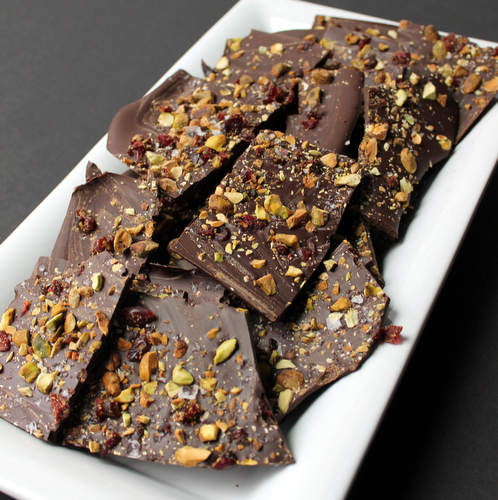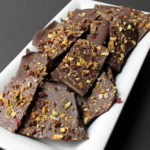 Cranberry-Pistachio Dark Chocolate Bark
Dark Chocolate Bark is studded with sweet dried cranberries and salty pistachios, and finished with a sprinkling of sea salt – perfect for dessert to an elegant wine and cheese pairing or for a holiday gift.
Ingredients
3

lb.

good-quality 70% cocoa chocolate

divided

1

c.

dried cranberries

coarsely chopped

1

c.

pistachios

toasted and coarsely chopped

2

tsp.

sea salt flakes
Instructions
Lay out two baking sheets. Line each with parchment paper, taping paper to the baking sheet in each corner. Set aside.

In a small bowl, combine chopped cranberries and pistachios. Toss to mix and set aside.

Take 2 lbs. of the chocolate and chop into small pieces. Place in the top bowl of a double broiler set over medium heat and allow to melt, stirring occasionally. Continue until chocolate is melted and the temperature (taken with an instant read thermometer) is between 115 and 120. Turn off stove and remove bowl from double broiler. Wipe bottom dry with a dish towel.

Place 1/2 lb. of the remaining chocolate into melted chocolate. Fold melted chocolate around solid chunk, which will begin to melt. Continue folding and mixing until mixture reaches 95F. Remove solid chunk from mixture, setting onto a piece of wax or parchment paper to harden and save for later use. Add remaining 1/2 lb. chocolate piece and repeat until mixture reaches 90F.

Quickly pour half of the chocolate onto one of the prepared baking sheets and the other half onto the other baking sheet.


Top each baking sheet with half of the cranberries and pistachios. Sprinkle each baking sheet with 1 tsp. sea salt. Allow to sit at room temperature for at least 12 hours before breaking into pieces.


Store in an airtight container at room temperature.

Recipe Notes: 
Recipe by Books n' Cooks, but I followed the tempering technique outlined in

Fine Cooking, issue #144

. Fine Cooking also recommends using the largest blocks of chocolate you can find for making bark, in particular for the tempering, as the larger blocks are easier to remove. (When removing the blocks from the chocolate, place on a piece of wax paper and pop back in the fridge to set again. Store in an airtight container or baggie and save for use in another recipe.)
If you choose to use milk or white chocolate for this recipe, please be sure to read the above Fine Cooking article, as the temperatures listed in this recipe will be different.
I used Scharffenberger chocolate for this recipe.
See all the other recipes being shared for today's final Cranberry Week post – we hope you've enjoyed following along and will try some of the many cranberry creations!
Save