Leftover cranberry sauce or relish from Thanksgiving is turned into a quick sweet appetizer, Cranberry Brie Bites, for Thanksgiving weekend entertaining. Don't want to wait until Thanksgiving leftovers? Make my 5-minute Cranberry-Orange Relish for this recipe and freeze the extra for appetizers, lunches or dinners later on.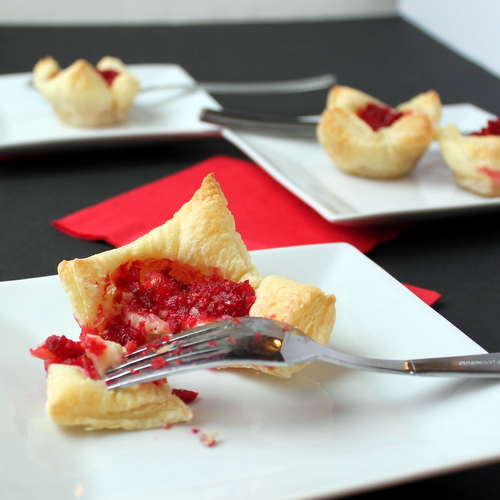 Thanksgiving Day came up on us unexpectedly this year – work, my husband changing jobs, and travel leading up to (and following) the holiday meant that I was completely unprepared this year. Thankfully, we were once again able to crash the Thanksgiving celebration held by our Family Away From Family, so prep for me was minimal. I was in charge of cranberry sauce (check! Cranberry-Orange Relish made and frozen ahead of time), wine (check!), and dessert (check? Does store-bought the night before count?).
We had a lovely day with a few of our closest friends. I'd say that it was a small, quiet Thanksgiving, except there were 2 2-year olds and 2 4-year olds running around with an abundance of energy. So while it was small, it certainly wasn't quiet.
Nor was our mid-afternoon meal particularly small. It's really hard to scale back on the Thanksgiving classics, don't you think? There was quite a bit of leftovers, despite the scaled back menu and portions. We came home with a sizable doggie bag that we'll be eating for a few days, and that's nothing in comparison to what our hosts still had left at home.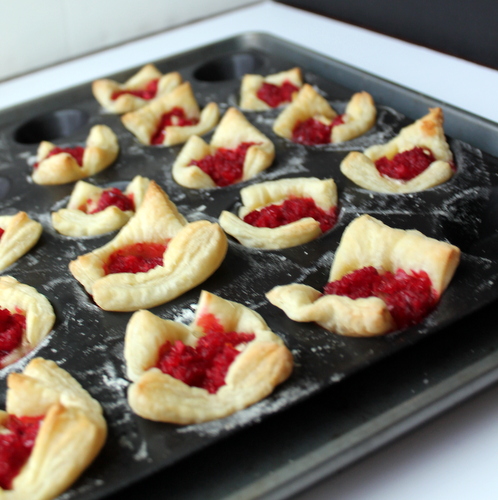 While many love Thanksgiving leftovers, sometimes there's just SO MUCH. It becomes necessary to make those leftovers into something new to keep things interesting. With that in mind, Camilla from Culinary Adventures with Camilla is hosting today's event – repurposing Thanksgiving leftovers. Check out these great ideas for how you can reinvent your Thanksgiving leftovers.
For my part, I took my 5-minute Cranberry-Orange Relish (although you can use any other leftover cranberry sauce) and used it as topping for a simple appetizer – Cranberry Brie Bites. The sweet and tart relish is a bright contrast to the crispy phyllo crust and rich, creamy cheese. Yum!
Don't have leftover cranberry sauce? Make a batch of mine and stash it in the freezer – for this recipe, sandwiches, a breakfast topping, or your next roast turkey or chicken dinner.
What's your favorite way to reuse Thanksgiving leftovers?
Print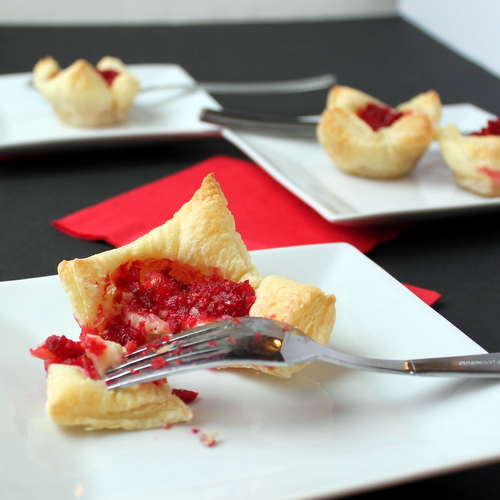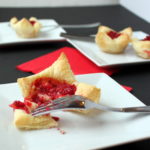 Cranberry-Orange Brie Bites
Leftover cranberry sauce or relish from Thanksgiving is turned into a quick sweet appetizer, Cranberry Brie Bites, for Thanksgiving weekend entertaining.
Ingredients
flour

1

sheet puff pastry

thawed

Roughly 1 c. leftover Cranberry-Orange Relish

or other cranberry sauce (see notes)

1/3

lb.

brie

about half a wedge, cut into 1/2-inch cubes (no need to remove the rind)
Instructions
Preheat oven to 400F. Place a silicone muffin pan on a baking sheet and set aside.

Sprinkle a clean counter top lightly with flour. Roll out one sheet of puff pastry dough to 1/4-inch thickness. Cut into 12-15 square pieces. Place each square in a space in a silicone muffin pan, pressing down slightly so that bottom and sides line the space, with extra puff pastry hanging over top.

Place a cube of brie in the center of each piece of puff pastry. Top with 1-2 tsp. of cranberry-orange relish.

Bake for 8-12 minutes, until brie is melted and top of puff pastry is beginning to brown.

Remove from oven. Allow to cool for a few minutes before transferring to a serving dish.

Serve hot.
Recipe Notes
I used leftover cranberry-orange relish in this recipe. The relish can be made ahead of time and frozen until needed for these brie bites or to accompany a turkey dinner.