It's been a while since I told you how much I love the recipes published in Fine Cooking magazine.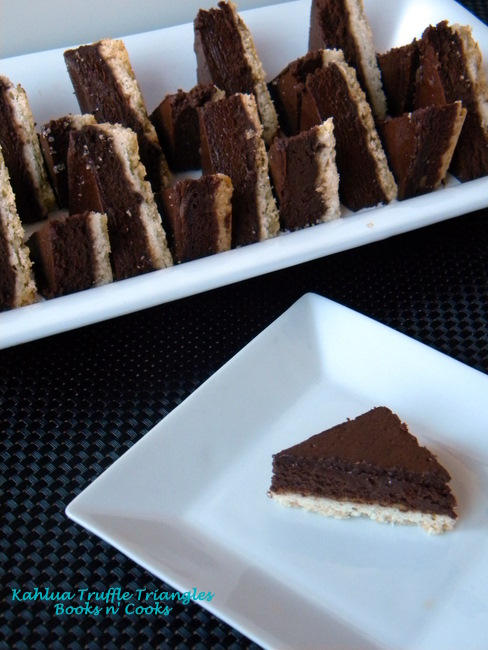 It's by far, my favorite cooking magazine out there. I've had a subscription for several years now and I rarely make a recipe that doesn't come out as good as I hoped for.
This recipe is an oldie but a goodie. I made it for a couple of our holiday parties, and then again upon request for a friend's Chrismukkah party. As a hostess, I love them because they can be made up to a month ahead of time and frozen. As a party-goer, I love Kahlua Truffle Triangles because they're so rich and decadent, making them more like a truffle or candy than a bar cookie.
Want to spoil a loved one? Try these. (And hide a few in the freezer for yourself!)
Kahlua Truffle Triangles
Adapted from Fine Cooking No.82 p. 66
Makes approximately 5 dozen pieces
Ingredients for the Crust*:
6-3/4 oz. (1-1/2 c.) all-purpose flour
3 oz. (3/4 c.) confectioners' sugar
1/4 tsp. salt
6 oz. (12 Tbs.) cold, unsalted butter, cut into tablespoons, plus more to grease the pan
1/2 tsp. pure vanilla extract
* Fine Cooking recommends measuring the ingredients for the crust by weight for best results. However, I included measurements as well, in case you don't have a kitchen scale.
Ingredients for the Chocolatey Kahlua Goodness:
1 lb. semisweet chocolate, coarsely chopped
3/4 c. whole or 2% milk
8 Tbs. unsalted butter, cut into 6 pieces
4 large eggs
2/3 c. granulated sugar
2-4 Tbs. Kahlua (I use closer to 4 Tbs.)
Instructions:
Line the bottom of a 9×13 inch baking pan with aluminum foil, allowing the foil to hang over the edge by an inch or two. Lightly butter and set aside.
With a rack positioned in the center of the oven, preheat oven to 350°F.
Make the crust: Place flour, confectioners' sugar and salt in a food processor and pulse to combine. Add butter and vanilla, pulsing until the ingredients are just a bunch of crumbles. Turn dough out into prepared pan. (Do not add water, no matter how much you think it's too dry.) Spread and press along bottom of the pan (not sides!) into a smooth even layer. The crumbles will press down and come together into a proper shortbread crust. Bake 20-25 minutes, until pale golden. Do not overbake or you will have a hard crust. Transfer to a cooling rack.
As crust is cooling, lower temperature to 325°F and make the chocolate Kahlua layer.
Set a medium bowl over simmering water. Melt the chocolate, milk, and butter together, stirring and whisking until smooth. Remove from heat and set aside to cool slightly.
As the chocolate is cooling, combine eggs, sugar, and Kahlua in a stand mixer on medium-high speed until the color has lightened and mixture is slightly foamy. Reduce speed to low and slowly add in chocolate mixture, scraping down the sides as necessary. Beat for 30-60 seconds until completely combined.
Pour the chocolate-Kahlua topping over crust in an even layer. Bake 25-30 minutes, until sides are slightly puffy and a toothpick inserted into the center is "wet and gooey but not liquid." Allow to cool on a wire rack. (Center may sink a little bit – that's ok. It doesn't bother me, but if you'd like, while chocolate is still warm, push down on the elevated edges so that they sink to the same level as the center.)
When completely cool, refrigerate until very cold, at least 12 hours or as much as 2 days.
An hour or two before serving, remove bars from pan using the handy-dandy aluminum foil overhand. Peal away foil and place on a cutting board. Using a hot knife, slice bars into squares and then diagonally into triangles. Trust me, these are very rich so you want to cut them into triangles. Wipe knife clean, warming if necessary, in between each cut. If the triangles get too soft (as it did for me on this unusually warm spring day), refrigerate another 15 minutes before continue cutting.
Store in the fridge.
Make Ahead & Freeze: Bars can be make up to 1 month ahead and frozen in the baking pan, wrapped tightly in 2-3 layers of plastic wrap. Do not cut the triangles before freezing.