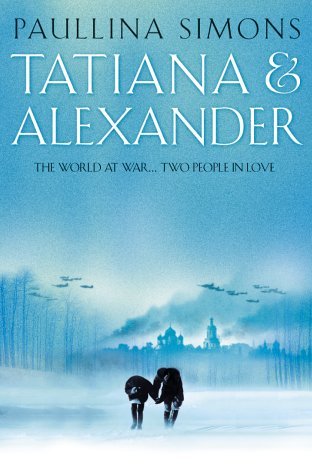 Missed my review of The Bronze Horseman, book 1 in the series? Check it out here.
Book Review:
Tatiana and Alexander

The Tatiana and Alexander Series, Book 2
By Paullina Simons
Tatiana and Alexander (aka The Bridge to Holy Cross) picks up where the first book in the series, The Bronze Horseman, left off, sort of. The book begins in three parts. The reader follows Tatiana as she leaves the Soviet Union and starts a life and a family in New York. On the flip side, Simons shows the reader the life that Alexander lives from the moment he and Tatiana are separated. Finally, the story flashes back to Alexander as a boy, from leaving the U.S. as a boy with his communist parents, to his education and start in the military, ending when Alexander and Tatiana part ways.
Recommendation:  Of the trilogy, this was my least favorite. I was already attached to the characters when I started the novel, but I think it can also be a standalone novel, as there are enough flashbacks to fill in any holes in the story. However, because of the switching between storylines, I found the book a little hard to get into. It wasn't until the first storyline was gone and the second close to it that I truly became engrossed in the story and the story.
I especially enjoyed reading about Alexander's boyhood and Tatiana's life in America (struggling with feelings for
Alexander and the unknowns about his life), but I did feel a little short changed regarding the former. We have 500+ pages of Tatiana's childhood and life during the war in The Bronze Horseman, but felt like it was only 100 or so pages about the same timespan in Alexander's life. I wanted more. The flashbacks didn't help with this – I ended up feeling like I was rereading parts of The Bronze Horseman, which might have made Tatiana and Alexander stronger as a standalone book, but I don't think added a whole lot to the book as part of the series. Most of the flashbacks were just too close to Tatiana's story in The Bronze Horseman to add much to this book.
While the structure of Tatiana and Alexander was very different from The Bronze Horseman, the character's passion that the reader felt in the first book was still present in the second. Their love for one another was still vibrant, despite the challenges and separation they faced. Their pains and struggles were felt. You, the reader, wanted them to be together as much in this book as in the previous book. You wanted them to be a happy family.
Read this book, so that you can finish the series and find out whether or not Tatiana and Alexander live happily ever after. If you've become as attached to the characters as I have, it's worth it.
Grade: B-