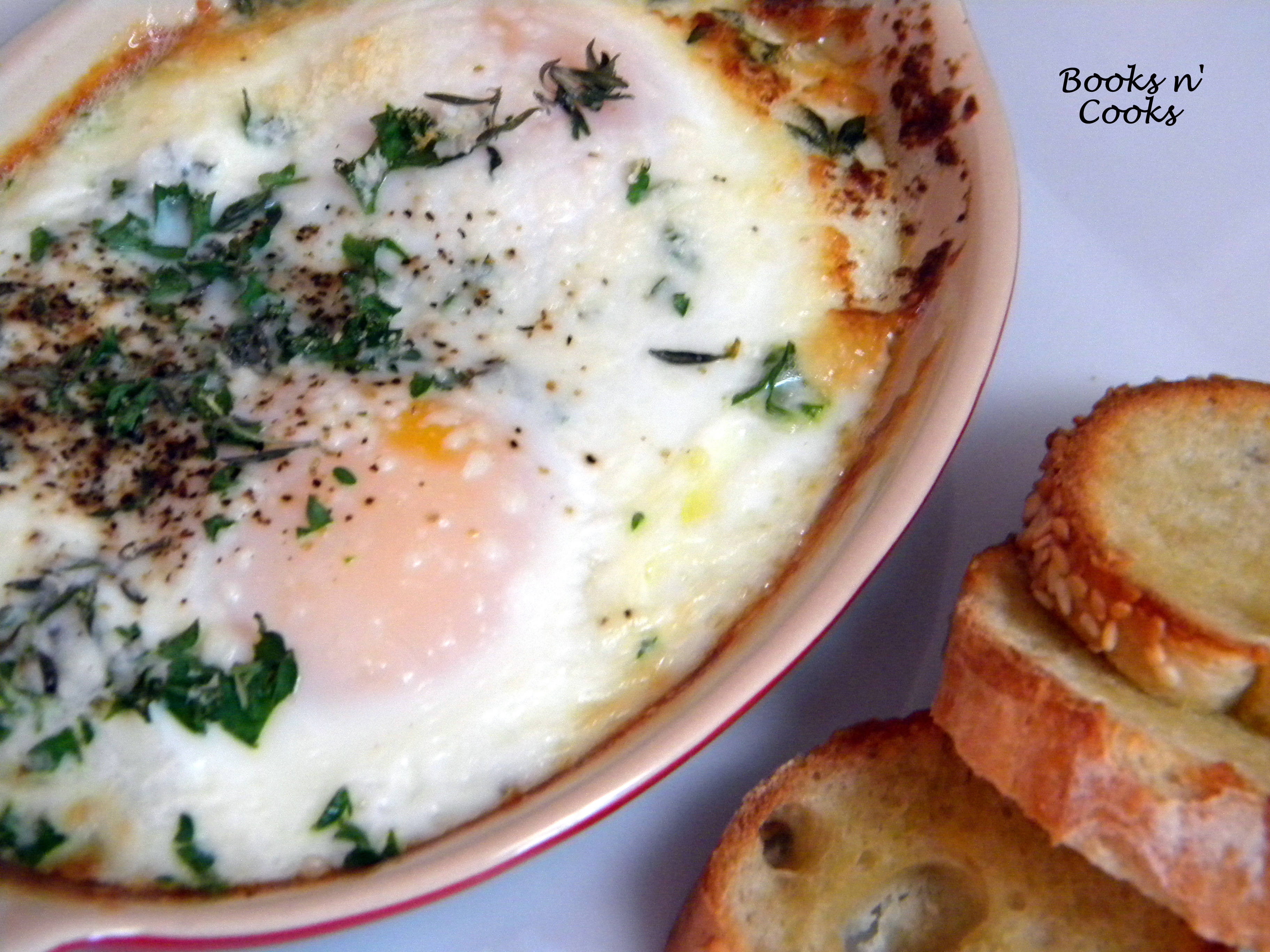 As I was flipping through my Barefoot Contessa cookbook collection that I got for Christmas, this recipe jumped out at me. I'm not really sure why, as I'm not a big breakfast person and rarely eat eggs. But it seemed like an easy weekend breakfast to try.
Once again, Ina did not fail me. The herb and Parmesan topping to these eggs was a nice change from simple salt and pepper on a sunny-side up egg. The edges of the eggs were all crispy while the yolk stayed a bit runny. This recipe is definitely worth keeping for overnight guests – quick to assemble and no hoovering over the stove. Got 15 minutes one Saturday  morning? Give these eggs a shot.
Herb Baked Eggs
Adapted from Ina Garten's Barefoot in Paris, also found on Food Network
Serves 2
Ingredients:
1/4 tsp. minced fresh garlic
1/4 tsp. minced fresh thyme
1/4 tsp. minced fresh rosemary
1 Tbs. minced fresh parsley
1 Tbs. freshly grated Parmesan
4-6 large or extra-large eggs
2 Tbs. heavy cream
1 Tbs. unsalted butter
kosher salt
freshly ground black pepper
toasted french bread
Preheat broiler for 5 minutes, with an oven rack 6-inches below the heat.
When preheated, place ramekins or gratin dishes on a baking sheet with 1 Tbs. cream and 1/2 Tbs. butter  in each, and put in heated oven for 3 minutes.
Meanwhile, combine garlic, thyme, rosemary, parsley, and Parmesan in a small dish. Set aside.
Crack 2-3 eggs (my gratin dishes only fit 2 eggs) into small bowls, so that the eggs are ready to go when the ramekins/gratin dishes are heated.
After 3 minutes, remove baking sheet from oven. Butter and cream will be hot and bubbly. Quickly pour the pre-portioned eggs into each dish. Sprinkle with herb mixture, salt, and pepper. Return to oven and cook for another 5-6 minutes, until whites are almost cooked. Remove from oven and let sit 60 seconds before serving (eggs will continue to cook while resting).
Note: I don't care for runny eggs, and ended up cooking mine for 10-12 minutes total. I suspect the small size of my gratin dish meant that the eggs took a little longer to cook.