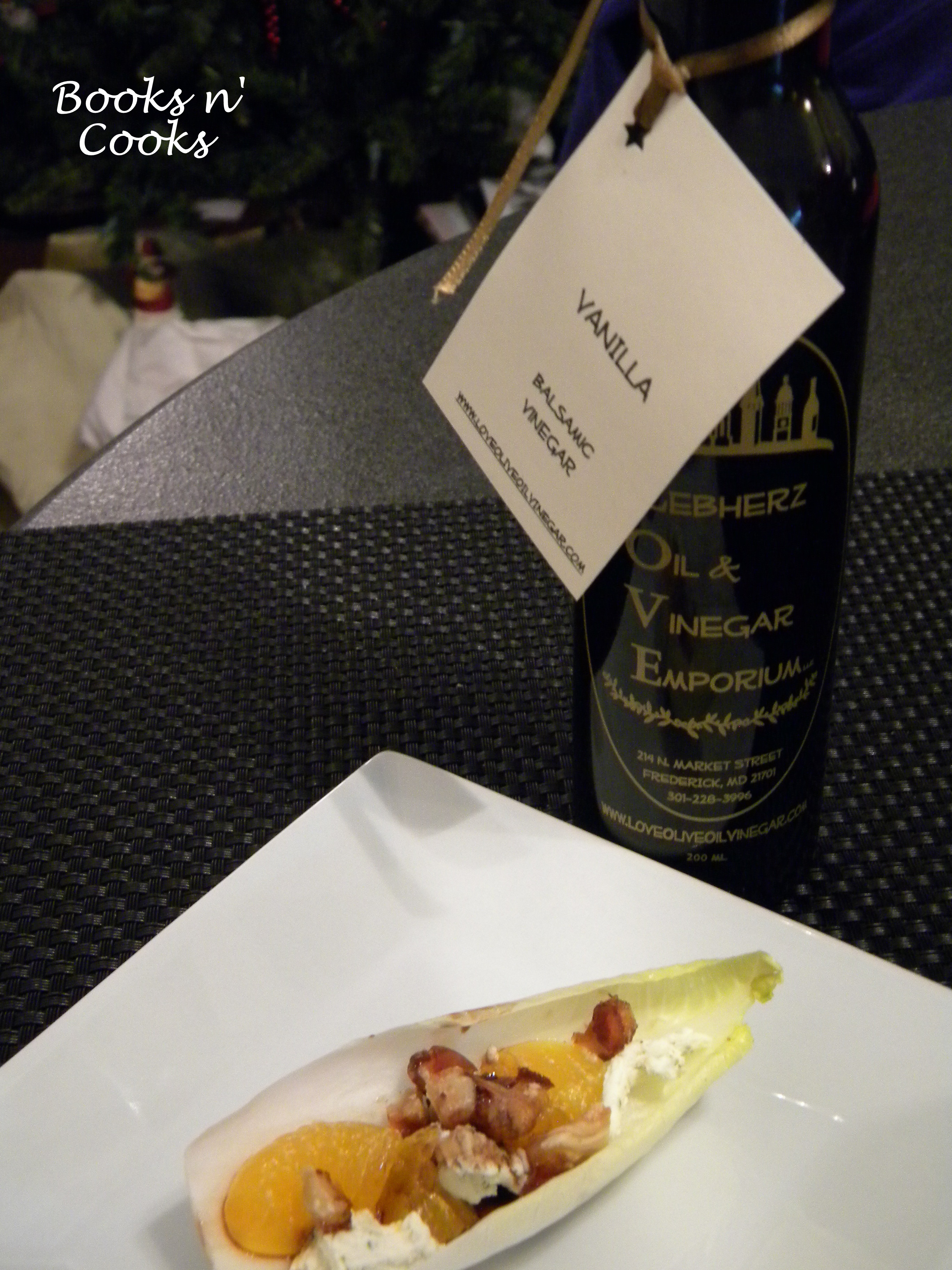 Once upon a time, there was a blog called Good Things Catered. I stumbled upon the blog shortly after I started blogging myself. I was still trying to figure out the best way for me to save recipes to try (I was using word documents while now I do googlereader). This initial fumbling to save recipes ended up saving this recipe, because in fall of 2010, Good Things Catered disappeared without notice or explanation. Therefore, the origins of this recipe are unknown – either a GTC creation or from somewhere else.
Now, since GTC posted this recipe, I've been dying to try it. I love that it's a nice, light appetizer and something different from the usual veggies and dip. It took me a long time and many stores to find the endives (I ended up finding them at an Asian market near my house), but the hunt was well worth it. I loved the way the sweet fruit and walnuts mixed with the sharp goat cheese.
I made two changes to the recipe below. I used an herbed goat cheese and omitted the chives. Secondly, I used a vanilla balsamic vinegar from Lebherz Oil & Vinegar Emporium instead of the honey balsamic reduction, simply because I had it on hand and was excited to try it. Love it! If you're a foodie and live or visit Maryland, I recommend a trip to this little shop in Frederick.
Endives Stuffed with Candied Walnuts, Mandarin Oranges, & Goat Cheese
With a Honey Balsamic Reduction
Adopted from Stuffed Endives with Honey Balsamic Reduction
on Good Things Catered blog
Yields 24-30 Endive Boats
Ingredients for the Endive Boat: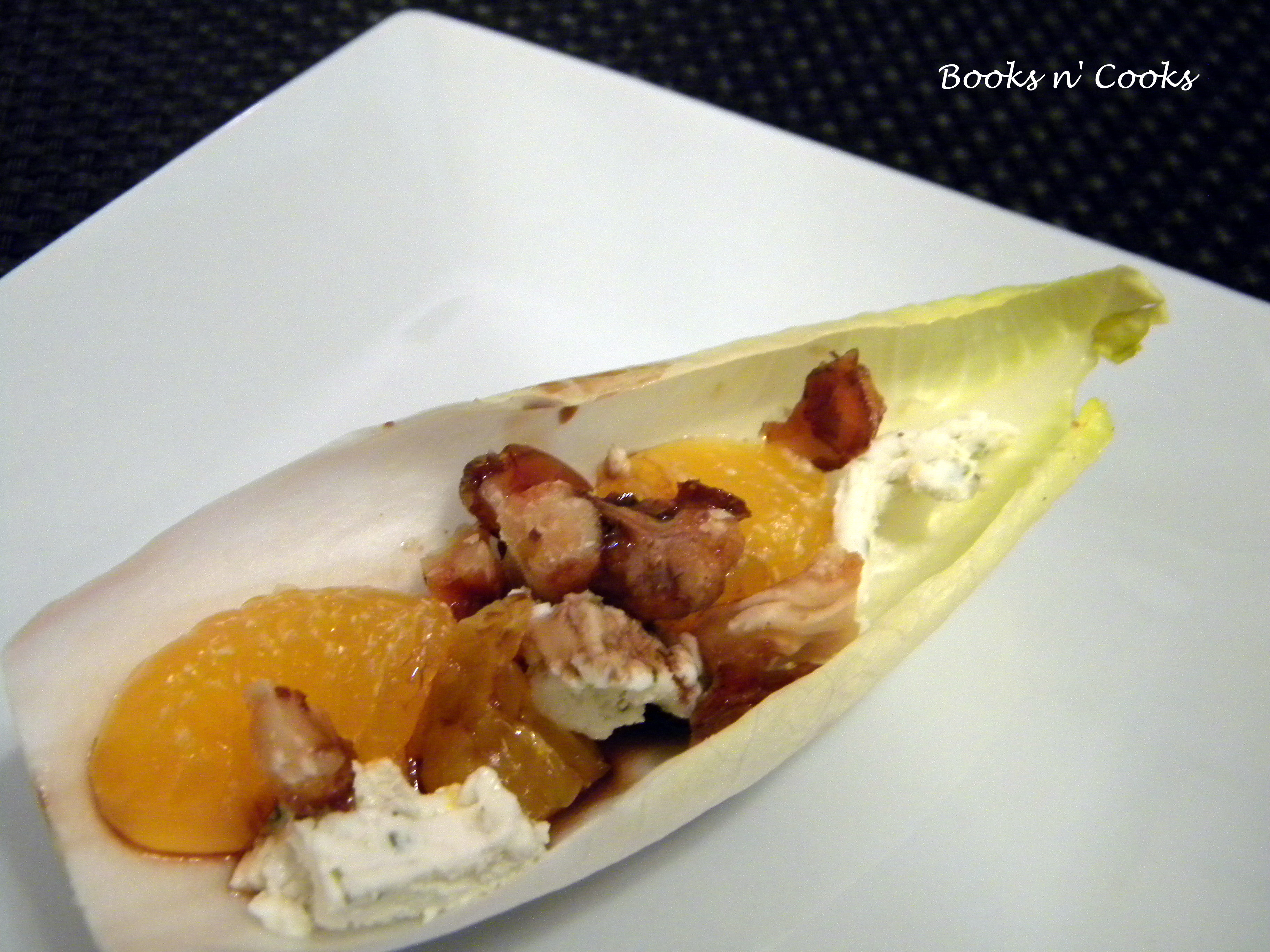 2 heads endive
1 small can mandarin oranges, drained
1/4 c. walnuts, coarsely chopped
2 Tbs. honey
1-2 Tbs. brown sugar
2 oz. goat cheese (aka chevre)
Ingredients for the Honey Balsamic Reduction:
1/4 c. balsamic vinegar
3 Tbs. orange juice
2 Tbs. honey
fresh ground pepper
12 fresh chives, minced
Make the Candied Walnuts: Preheat oven to 400F. Cover a rimmed baking sheet with aluminum foil. Spread walnuts atop foil; toss with honey; and sprinkle with brown sugar. Bake 10-12 minutes, stirring every 3-4 minutes to prevent burning, until walnuts are browned. Let cool.
Make the Balsamic Reduction: In a small saucepan over medium heat, combine all ingredients. Cook for 10-15 minutes, until the mixture has reduced and thickened. Set aside to cool (reduction should reach a molasses-like consistency).
Assemble the Endive Boats: Remove leaves from endive heads and place on serving platter. In each leaf, place 1 mandarin orange (I cut them in half), some of the chopped candied walnuts, and some of the crumbled goat cheese. Using a spoon, drizzle the balsamic reduction over each leaf. Top with a sprinkle of chives and freshly ground black pepper.