Desserts boards, like cheese boards, are all the rage right now, so why not a Halloween Dessert Board? Filled with homemade, semi-homemade, and store-bought sweets, this Halloween Dessert Board has something for everyone.
Disclaimer: This post is sponsored on behalf of #HalloweenTreatsWeek. Our generous sponsors have provided us with products for recipe creation and a giveaway for our readers. As always, all opinions are my own.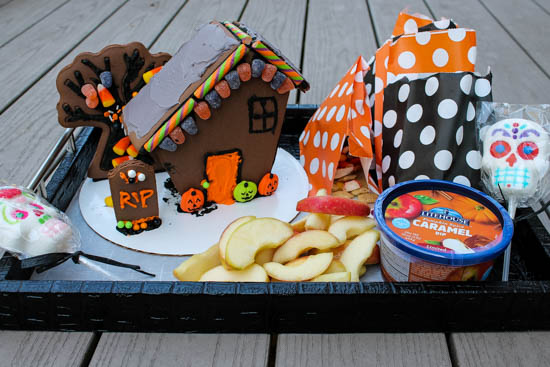 "When witches go riding, and black cats are seen, the moon laughs and whispers 'tis near Halloween."
If you're on social media and following any sort of food-related posts, I don't think you can escape the Dessert Board trend. There are some that are amazing – all homemade sweets, all professional-looking… frankly, they're a bit intimidating.
As soon as I started receiving goodies for Halloween Treats Week, I instantly knew that I wanted to hop on the train and do a dessert board. But I wanted mine to be a bit different. I wanted something semi-homemade. Don't get me wrong, I love being in the kitchen and making everything from scratch, but let's get real. This busy momma don't got the time right now. Plus, there are soooo many fabulous Halloween treats out there, that a dessert tray was a fun way to engage the kids in the kitchen while simultaneously showcasing some great Halloween Treats that require no tweaking.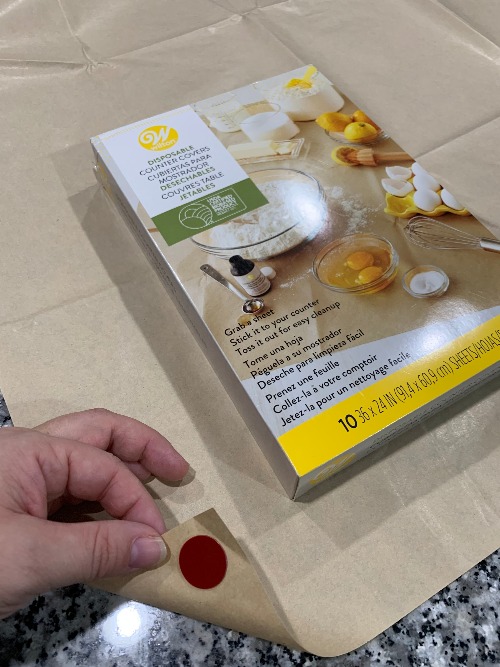 So here's the deal. If you're going to have the kids in the kitchen with you (and maybe even, if you don't), get yourself some Wilton counter liners. They're pretty amazing. There are little sticky dots in each corner to keep it down on the counter, which keeps the mess contained to the paper. Super helpful when dealing with black icing!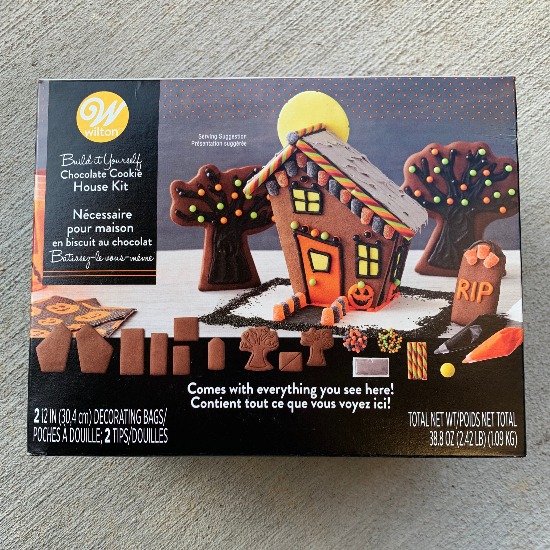 I used the Wilton counter liners to assemble this Wilton Chocolate Cookie House. The kit includes everything you need – even down to the piping bags and tips – but it's always fun to add a little something extra. I used Wilton's candy pumpkins as well as candy corn and Halloween sprinkles from Sweets and Treats Shop.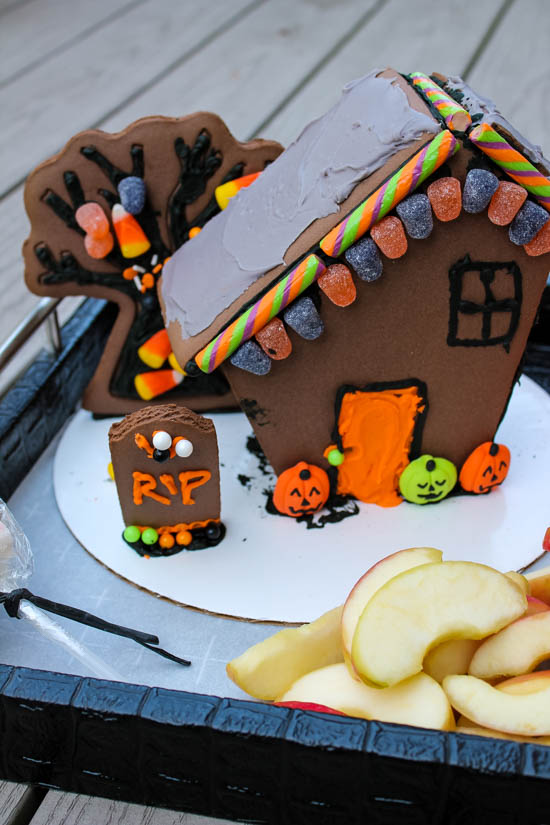 Then the key is to keep it easy and highlight the best that Halloween – and fall in general – have to offer. You can go crazy and over the top or you can keep it a little simpler. Since we were entertaining only a small group (and all young kids), I erred on the side of simple.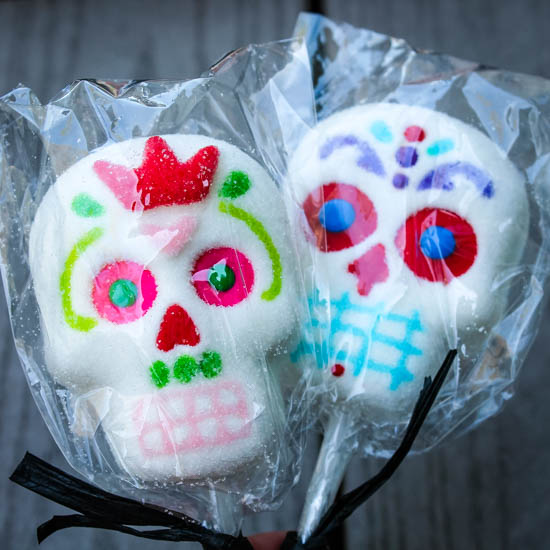 For me, the big components were:
Again, show-stopping sweets, in particular, the Treat Street USA Sugar Marshmallow Skulls. My kids had been eyeing them since the moment those goodies entered the house, and when they finally got to eat them, they were gone in minutes. So I guess I chose well. 🙂
A snack mix in cute, seasonal bags (mine from Sweets and Treats Shop). I did an easy mix of chocolate dipped pretzels (decorated with Halloween sprinkles, of course), Chex cereal, candy corn, and gummy eyeballs (also from Treat Street USA). But the sky is the limit here. I even have extra inspiration for you on some homemade Halloween snack mixes, further down, so keep reading!
Something healthy but sweet: With so many little kids coming, I couldn't help but adding a healthier treat to the dessert board – apple slices with Litehouse caramel. Litehouse makes a traditional caramel as well as a fall flavor, Pumpkin Spice. You can't go wrong with either. While a fruit isn't required, I really love the idea of having a slightly healthier option included, for those watching what their eating or so that kids don't OD on processed sugar.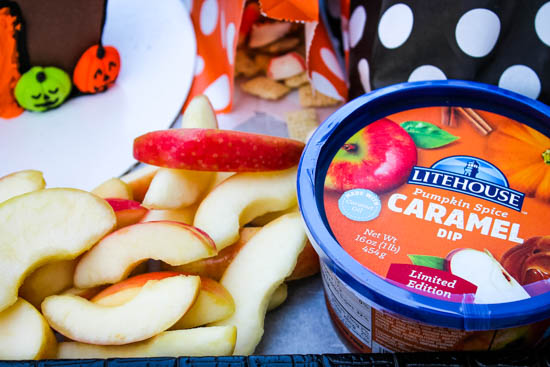 While this is what I added, don't be afraid to experiment. Add extra candy. Add fun Halloween cookies. Put together a board totally with store-bought options. Or make everything from scratch. They sky and your imagination is the limit.
Happy Halloween!
Halloween Dessert Board
Desserts boards, like cheese boards, are all the rage right now, so why not a Halloween Dessert Board? Filled with homemade, semi-homemade, and store-bought sweets, this Halloween Dessert Board has something for everyone.
Instructions
Include A SHOW-STOPPING PIECE, like this impressive yet easy Chocolate Cookie Halloween House - a kit from Wilton, there's everything you need in that little box to make a cute little house that all the kiddos will love. While everything you need is in the box, the kids chose to add some of Wilton's Royal Icing Candy Pumpkins and candy corns to our creation while we were decorating.
Add a HALLOWEEN SNACK MIX, in sweet little goodie bags from Sprinkles & Treats, that can double as a take-home if you so choose. I used Chex cereal, chocolate covered pretzels decorated with Sweets & Treats sprinkles, candy corn, and gummy eyeballs (from Treat Street USA), but you can also check out the round-up of fun Halloween recipes below this How To.
SOMETHING SWEET & HEALTHY: Add apple slices and Lighthouse Caramel (either their traditional caramel dip or better yet, their Pumpkin Spice Caramel Dip) for a healthier dessert.
Fill in the gaps with CANDY. Use your favorites. I kept it simple for a small crowd with these Treat Street USA Sugar Skull Marshmallow Pops. My kids were eyeing them since they arrived and were never so happy to see them on the dessert platter. But you can totally fill in the gaps with candy corn, your favorite chocolate, or any other candy to your liking.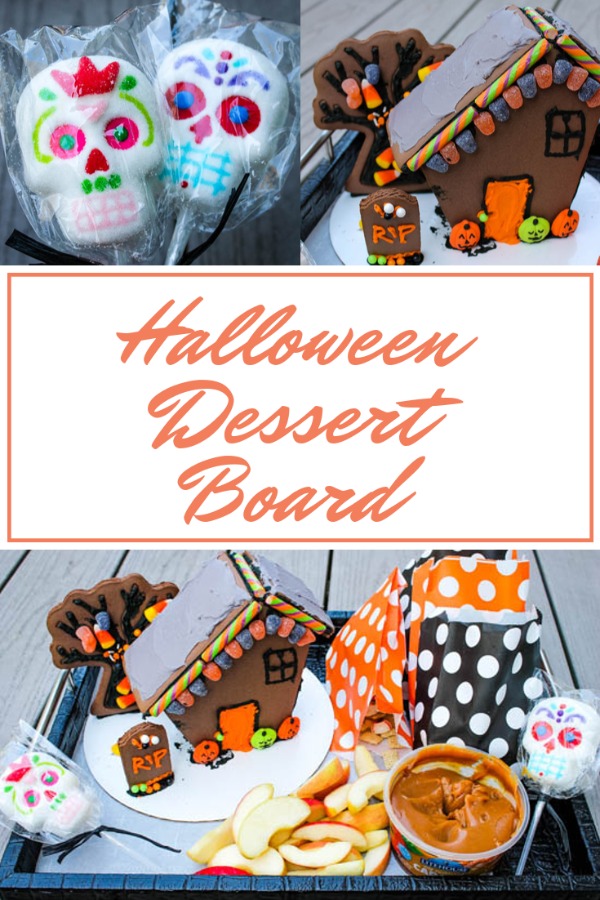 Happy Halloween! It's October which means it's time for Spooky Season and this year's #HalloweenTreatsWeek event! #HalloweenTreatsWeek is hosted by Angie from Big Bear's Wife & its a creepy and haunting week-long event is filled with some amazingly wicked Halloween treats, recipes and some frightfully fun giveaways.
For the 2nd annual #HalloweenTreatsWeek event we have 41 fantastically talented bloggers that are sharing their favorite Halloween recipes throughout the week! There are going to be over 160 Halloween themed recipes shared during this year's #HalloweenTreatsWeek and we can't wait for you to see them all! Follow the hashtag #HalloweenTreatsWeek on social media and check out the amazing #HalloweenTreatsWeek recipes from our bloggers today!
Plus, don't forget that we have 6 (six) great giveaways for you this week thanks to our amazing sponsors!
Scroll down to take a look!
Prize #1
Prize #1 — Dixie Crystals is giving away a "Dinner and Dessert Set" – ONE 6-Quart Cook & Carry Programmable Slow Cooker, a Pyrex mixing bowl set plus some fun Dixie Crystals items like a Dixie Crystal Apron and Cookbook!
Prize #2
Prize #2 — Adam's Extract is giving away – 1 Gift Pack – including 4oz Adams Best, 1.5 oz Peppermint, 1.5oz Almond, 1 bottle vanilla cinnamon sugar, 1 bottle pumpkin pie spice
Prize #3
Prize #3 —Wilton is giving away a Texturra 7-Piece Bakeware Set
Prize #4
Prize #4 — Sweets and Treats Shop is giving away a large baking box of goodies! Sweets and Treats will send one lucky winner a large assortment of sprinkles and lines and other samples of their products!
Prize #5
Prize #5 — Treat Street USA is giving away a set of Holiday Treat Decorations (1 Gummy Assortment, 1 Marshmallow Snowman, 1 Toy Solider and 1 Gingerbread Men)
Prize #6
Prize # 6– Litehouseis giving away the following: 1 Litehouse® Honeycrisp Apple Cider, 1 Litehouse® Old Fashioned Caramel, 1 Litehouse® Pumpkin Spice Caramel, 1 Litehouse® Butterscotch Caramel & 1 Litehouse® Chocolate Dip, Snack Packs
Giveaway open to US Residents 18 years or older. All entries will be verified. No PO Boxes Please. Prizes will be sent directly from sponsors to winners, bloggers are not responsible for prizes. This giveaway runs from October 7th – October 13th at 11:59PM EST. Winners will be selected soon afterward and contacted by e-mail. Winners will have 48 hours to respond or a new winner will be chosen. There are a total of 6 (six) prizes and therefore we will have a total of 6 (six) winners. No purchase necessary. Void where prohibited by law.
Disclaimer: These posts and recipes are part of the week-long event, #HalloweenTreatsWeek but all opinions are 100% mine! We would like to Thank our amazing sponsors: Dixie Crystals, Adam's Extract, Wilton, Sweets and Treats Shop, Treat Street USA and Litehouse! These wonderful sponsors provided the prize packs for our giveaways and also sent samples and products to the #HalloweenTreatsWeek bloggers to use in their recipes.