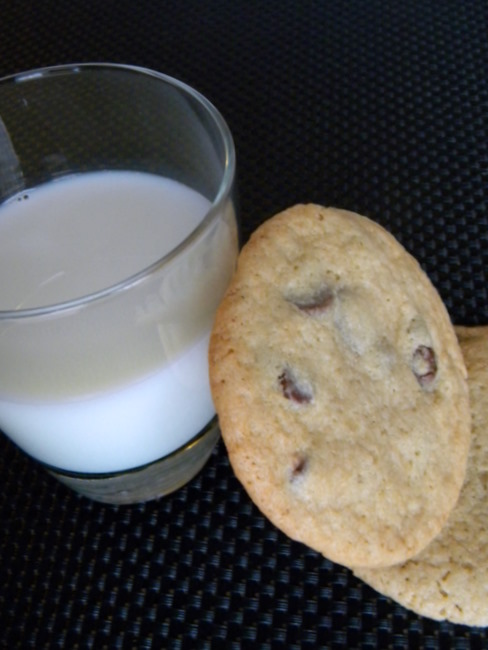 Growing up, I was never really a big fan of chocolate chip cookies. Any cookies really. I'd always opt for salty popcorn or potato chips instead. My brothers certainly didn't care – more cookies for them! My mom used to make chocolate chip cookies from the recipe on the back of the Nestle chocolate chip bag. However, when my mom found this recipe, I became a chocolate chip cookie convert.
I use both semi-sweet chocolate and half milk chocolate for a little change. Use chocolate chips or chopped up chocolate – with the chopped chocolate, you'll get wonderful little flakes of chocolate throughout the dough. My favorite part is that these cookies stay super soft for several days. No, one batch may not last in your house that long, but a massive double batch like the one my mom brought for Thanksgiving might.
Enjoy!
Chocolate Chip Cookies
Adapted from Fine Cooking No. 68 p. 86d
Makes 3 dozen large cookies
Ingredients:
1 c. unsalted butter, at room temperature
3/4 c. granulated sugar
3/4 c. + 2 Tbs. light brown sugar, packed
2 eggs, at room temperature
1 tsp. vanilla extract
2 c. + 2 Tbs. all-purpose flour
1/2 tsp. salt
1 tsp. baking soda
2 1/2 oz. milk chocolate, chopped or chips
4 oz. semi sweet or bitter sweet chocolate, chopped or chips
Instructions:
Preheat oven to 350F. Line two baking sheets with parchment paper and set aside.
In a stand mixer fitted with the paddle attachment, cream together butter, sugar, and brown sugar on medium-high speed until light and fluffy. Add eggs and vanilla extract, beating until combined, 1-2 minutes.
Lower speed and add flour, salt, and baking soda until combined.
With a wooden spoon, stir in chocolate.
Use an ice cream scoop to portion dough onto prepared baking sheets, leaving 3-inches between cookies. They spread a lot!
Bake 14-16 minutes, until slightly browned. Allow to cool for a few minutes on the baking sheet before moving to a wire cooling rack to cool completely.