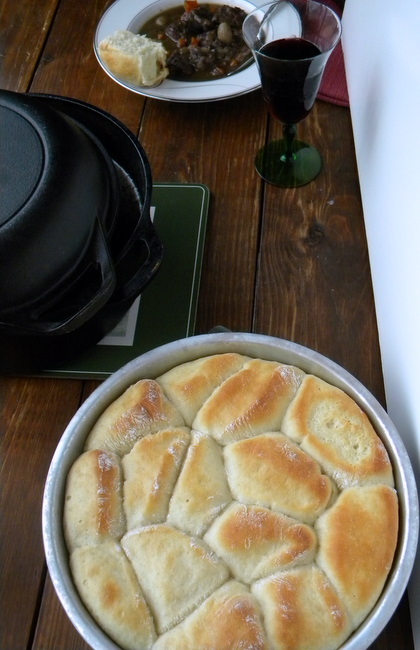 The weather has been pretty wonky lately – 60°F one day and flurrying the next day. One lazy weekend, one where it was bitter cold and flurrying, I hosted my best friend and her boyfriend for dinner. I had all day to play in the kitchen, with no other obligations or chores for the weekend (a rare occurrence!). I put together the below menu, which brought coziness into a frigid day. Nothing about this menu is particularly difficult to prepare, although it is a bit time consuming with the chopping and long cooking time of the beef, the double-rising of the homemade dinner rolls, and the chilling of the dessert. However, it's completely worth it. Doubt me? I made the entree twice in a three week period. I had very happy friends.
A WINTER DINNER MENU FOR FOUR
Buttermilk Dinner Rolls (below!) & Herb Butter
Chocolate Mousse
Chianti
The buttermilk dinner rolls were easy to make and were fabulous served warm with a warm winter soup or stew. Next time, I might try adding a little fresh herbs directly to the dough for an additional burst of flavor.
Buttermilk Dinner Rolls
Adapted from Williams Sonoma Cooking At Home p. 415
Makes 12-18 dinner rolls

Ingredients:
1 3/4 tsp. (1 package) active dry yeast
1.5 oz. lukewarm water (110°F)
pinch of sugar
1/2 c. tepid buttermilk (90°F)
1 oz. granulated sugar
4 Tbs. unsalted butter, melted
1 egg, lightly beaten
1/2 tsp. salt
2 to 2-1/2 c. all-purpose flour
cooking spray
Instructions:
Place lukewarm water in a small bowl. Sprinkle yeast over water. Stir in pinch of sugar and let stand until foamy, about 5 minutes. (My water wasn't quite warm enough, so I carefully microwaved the bowl for a few seconds. Fix!)
In a stand mixer fitted with the paddle attachment, on medium-low speed, combine buttermilk, sugar, butter, egg, salt, and 1/2 c. flour until creamy. Lower speed and gradually beat in another 1-1/2 to 2 cups of flour, until mixture thickens and forms a soft dough.
Switch stand mixer to dough hook. With mixer on low speed, knead the dough until smooth and springy, about 1 minute. Dough will still be soft and will begin to pull away from the bowl.
Oil a clean bowl and transfer dough, patted together into a ball, to the clean bowl. Turn to coat all sides, or, lightly spray the top with cooking spray. Cover with plastic wrap and set in a very warm place (i.e. near a warm stove/oven) and let sit until dough has doubled in size, about 90 minutes.
When dough has risen, prep a new workspace – lightly flour a counter or cutting board, and spray a 8 or 9 inch round cake pan with cooking spray. Turn dough onto prepared workspace and roll into a 18-inch long rope. Using a butter knife or pastry scraper, cut into 1 to 1-1/2 inch pieces, depending on how large you want your rolls to be. Working quickly, roll dough pieces into a ball and set into prepared cake pan, with the dough balls just barely touching. Cover with plastic wrap and place in your very warm spot to rise until puffy, 30-45 minutes.
Preheat oven to 375°F. Bake rolls until lightly browned, 18-22 minutes.
Allow to cool slightly before serving warm.