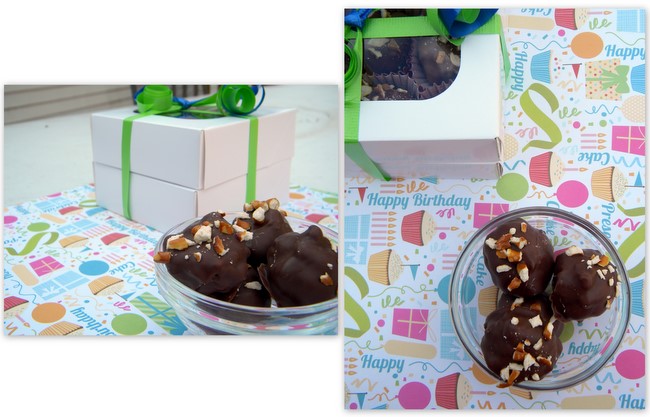 When I was a kid, Ben and Jerry's was all over the place. A special treat, I always got the same thing – chubby hubby ice cream in a cup, no toppings. Vanilla ice cream, peanut butter-filled pretzels, and chocolate swirls. Salty-sweet. My mouth is watering just thinking about it.
When I tell friends that Chubby Hubby was my favorite ice cream, most think I'm crazy. They've never heard of it, but once I describe it, they get on board pretty quickly. What's not to like?
I've been thinking of chubby hubby-inspired desserts for a while now.  (I have a recipe for cookies conjured up in my head, I just haven't gotten a chance to experiment yet.) When I saw a recipe for Chubby Hubby Truffles, the recipe shot to the top of my list of recipes to try. My hubby and I love the peanut butter balls my mother-in-law makes every Christmas, and I knew we would love Chubby Hubby Truffles just as much. The below recipe is different that the peanut butter balls, but I would absolutely adapt that recipe to do just the same (it just makes a ton of truffles and I really didn't want to be tempted with that much candy in the house!).
So with the recipe at the top of my list and two birthdays on the horizon, I whipped up a double batch. Hubby and I were not disappointed. In fact, it was a good thing that I photographed the truffles and packaged most of them up before the hubby got home for the night. He was eying the truffles on the kitchen table, looking at me and hoping that I'd give in and let him break into the packages. 🙂
Chubby Hubby Truffles
Adapted from Beantown Baker
Makes 18 truffles
Ingredients:
1/2 c. creamy peanut butter
1 Tbs. unsalted butter, very soft
2 Tbs. brown sugar
3 Tbs. confectioner's sugar
pinch of salt
1 1/2 c. finely crushed pretzels
1/2 bag Wilton candy melts*
* In lieu of candy melts, you can use 1 c. semi-sweet or milk chocolates plus 1 Tbs. shortening.
Instructions:
Line a baking sheet with parchment paper and set on the side.
In a medium bowl with a wooden spoon, stir together peanut butter, butter, brown sugar, confectioner's sugar, and salt until thoroughly combined.
Mix in pretzels, reserving 1-2 Tbs. of pretzels to sprinkle on top (if desired).
Using a cookie scoop or two teaspoons, portion out peanut butter-pretzel mixture and roll into balls. Place on prepared baking sheet and refrigerate for at least 30 minutes.
Microwave candy melts in a microwave-safe bowl at 30-second intervals until chocolate is melted and smooth.
Remove the peanut butter-pretzel balls from the fridge. With two forks, coat each with chocolate – rolling to coat completely and allowing extra chocolate to drip off. Place back on parchment-lined baking sheet and sprinkle with a little crushed pretzels. (I sprinkled each truffle as I went, as the chocolate set quickly.)
Refrigerate another 30 minutes to completely set chocolate before moving to an airtight container to store.
Store in an airtight container at room temperature for as long as you can resist. 🙂