In honor of National Ice Cream Month last month (July), I decided to read The Sweet Life in Paris: Delicious Adventures in the World's Most Glorious – and Perplexing – City written by the author of the proclaimed ice cream cookbook, The Perfect Scoop, David Lebovitz. I was going to make Levovitz's Chocolate Ice Cream too. Well, I finished the book but never got around to posting or making the ice cream. I know, shame on me. But, it does mean that National Ice Cream Month lasts just a little bit longer for you. If you missed out on some ice cream, Lebovitz's vanilla ice cream recipes posted on Annie's Eats are fantastic (my favorite is the French-style while my hubby loves the Philadelphia-style). I also really enjoy this Strawberry Cheesecake Ice Cream from Cooking Light.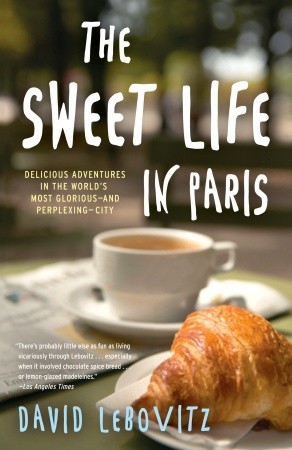 Book Review:
The Sweet Life in Paris:
Delicious Adventures in the World's Most Glorious – and Perplexing – City
By David Lebovitz
Following the unexpected loss of his partner and months of mourning, Lebovitz needed to rejoin life. He needed a change of scenery, a change of pace from his life in San Francisco. Thus, to Paris he went.
The Sweet Life in Paris is one story after another, chronicling Lebovitz's everyday life. Every little thing is an adventure – learning to live and cook in a tiny apartment, going to the market or the hospital. He gets to know local shop owners (bribing them with brownies certainly helped) and works in local industry. And one day, he isn't so much of an outside, but more of a Parisian.
Review & Recommendation: The Sweet Life in Paris feels like a mix of short stories, travel advice, and a cooking show. Stories about living in Paris are peppered with humor and are interspersed with recipes. Lebovitz makes a trip to the grocery store seem like an adventure.
Whether you're going to Paris soon or not, this is a great book to read. It's quick; it's funny. For travel lovers, it's an unusually honest insight into Parisian culture and attitudes. For food lovers, it's a glimpse into the life of a cookbook author as he adjust to new ways of shopping, cooking, and living. For everyone else, this is simply a light, witty book worth reading.
Grade: A-
About the Author: Professional cook and baker David Lebovitz is the author of The Perfect Scoop, Paris Pastry Guide, Ready for Dessert, The Great Book of Chocolate, Room for Dessert, Ripe for Dessert, and The Baker's Dozen Cookbook. He can be found at his website, www.davidlebovitz.com.