I haven't really been very inspired in the kitchen lately. We're still putting our house back together from 2 weeks of travel, 1 week of company, and 1 week without power. It's too hot to cook. Actually, the heat makes me not want to eat much at all. This summer salad has been just about the only thing that's been of interest to me – sweet strawberries, salty feta… it hits the spot. I've made it plenty of times with an Italian vinaigrette but the poppy seed vinaigrette below is a nice change.
Strawberry-Feta Spinach Salad with Poppy Seed Vinaigrette
Ingredients for the Salad:
1 bag/package of spinach (or desired salad green)
2 c. strawberries, sliced
4 oz. crumbled feta cheese
Combine all ingredients in a large bowl. Toss or serve with poppy seed vinaigrette.
Poppy Seed Vinaigrette
Dressing recipe adapted from Food Network's Amy John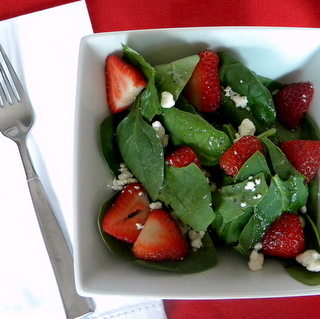 Ingredients for the Poppy Seed Vinaigrette:
1/2 c. vegetable oil
3 Tbs. apple cider vinegar
1/8 c. granulated sugar
1 Tbs. poppy seeds
1/2 tsp. kosher salt
1/2 tsp. ground mustard
1/2 tsp. celery seed
1 Tbs. light corn syrup
Combine all ingredients in a tupperware. Share vigorously until completely combined.
Store at room temperature until serving.