Missed my review of A Discovery of Witches, All Souls Trilogy #1? Check it out here.
If you haven't read the first in the series, then this review will contain spoilers for you.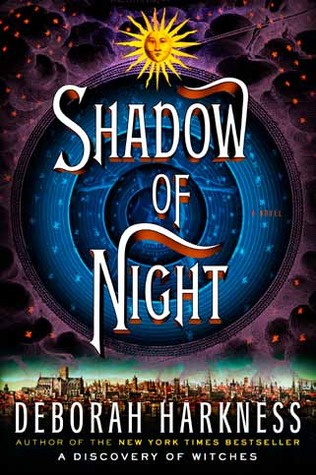 Book Review:
Shadow of Night (All Souls Trilogy #2)
By Deborah Harkness
Shadow of Night picks up where A Discovery of Witches left off – newly married witch and vampire Diana and Matthew travel back in time to 1590. Their purpose is twofold: Diana needs to learn to use her powers and the couple want to discover the secrets behind Ashmole 782, an ancient alchemy manuscript that, legend has it, tells of the creation of witches, vampires, and daemons.
For Diana, a historian, the journey is surreal. She meets legends of the past she had only read about, such as Christopher Marlow and Queen Elizabeth II. She experiences the fear of witch hunts first hand, as witches are hunted and killed all over Europe. She meets witches more powerful than she'd ever known and with powers she hadn't even heard of.
However, living in 1590 is not without its challenges. Diana and Matthew have to be extra careful not to change the past, causing "wrinkles" in the future. They have to tread carefully around tenuous alliances – among families, between witches and vampires, and between nation-states. And most of all, Diana has to learn enough magic to be able to transport them back to their own time.
Recommendation & Review: Unlike the first book in the series, set in contemporary times, Shadow of Night is largely set in the past. It is an interesting weave of romance, paranormal, and historical fiction. The relationship between Diana and Matthew matured in this second novel – while their deep love remained, Harkness depicts the tensions in a their relationship as two people continue to get to know one another and overcome their insecurities. Set in Europe in the late 1500s, these tensions were heightened by Diana being thrown into the unknown. With Matthew a member of the Queen's court and a spy, the reader was treated to glimpses of the political tensions of the time – the witch hunts, life at court with a temperamental queen, the squabbles between countries…. all incredibly interesting from a historical fiction perspective, but these are unknown and potentially dangerous waters for Diana. Tensions increased as she attempted to understand these things she'd only read about and navigate safely back to the future.
I enjoyed Shadow of Night just as much as the first book in the series. However, the ending had a very different feeling for me. After finishing A Discovery of Witches, I cursed myself for started the series before it was finished – it ended with a big cliffhanger that kept me wanting much more. In comparison, the end Shadow of Night gave me more closure. I know exactly where the third book is going to pick up, but I wasn't left with the same sense of desperation for the next book. That being said, I did have a bit of trouble picking up another book after this one was finished. I ended up sticking with a paranormal-ish historical fiction: The Historian, a book loosely woven around the legend of Dracula. I'm not going to lie, most of the time I pick up The Historian and try to remember where I am, the first pieces that come back to me are scenes from Shadow of Night. Talk about staying power!
Read my review of the final book in the trilogy, Book of Life, here.
[amazon_link asins='0143119680,B00G3L6KQI,0399564519,0143123629,0147517729′ template='ProductCarousel' store='booksncooks-20′ marketplace='US' link_id='c2548a68-d063-11e8-8987-1dc6b88ea03e']