I've been feeling bad because I've been kinda MIA here lately. It's been a busy summer – we had no power for almost a week, lots of travel to see my new niece and attend my future sister-in-law's bridal shower and bachelorette, work, and training for the 60-mile Susan G Komen walk this fall, among other things. On top of that, I've been super tired. It's no joke. There's been a couple of weekends where I woke up, had breakfast, dozed on the couch all day, had dinner, and went to bed. I've had zero energy to spend cooking or baking – which worked out since food hasn't really appealed to me either. I've spent the summer eating like a 6-year old – apple sauce, graham crackers, peanut butter sandwiches without the crust, and frozen pizzas. Oh yeah, and I've had zero interest in reading.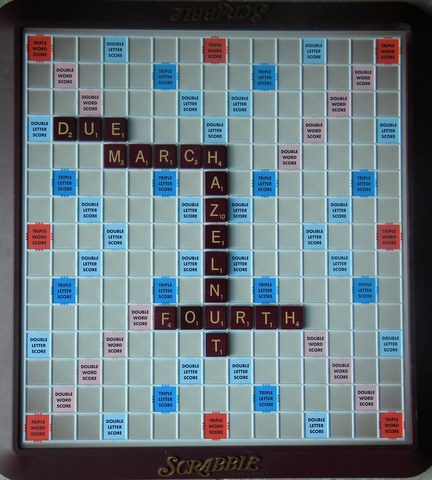 Although my schedule is still pretty chaotic, I've been feeling much better over the past couple of weeks. Thank goodness the first trimester is over. Yep, you read that right. My hubby and I are expecting our first baby! Hazelnut is due to arrive in early March, and we're thrilled. We just finished telling all of our family, friends, and coworkers.
I'm not going to lie, it's a little awkward telling people… especially telling all the guys that I work with. I ended up telling everyone with food. I sent the entire team an email asking them to come place their bets. Pink and blue sugar cookies were waiting for them. You'd think a team of analysts would be able to figure out what the cookies meant, but the team was not on their game that day. I had to explain the cookies to more than a few of them…. no, they're not for a horse race (there wasn't even a horse race in the area that week!!!); yes, there's a reason the cookies are colored; no, the sprinkles are not some secret code…. Oh yeah, it was amusing. Needless to say, the cookies were polished off. Most of the team voted for twins, a boy and a girl, because they wanted seconds (and thirds).
Decorating & Serving Notes: I love these cookies, not only because they taste better than the cookies I am obsessed with from the grocery store, but because they're so versatile. I made them for our Clue-Themed Halloween Party with plain white frosting and the murder weapons drawn on and colored the icing orange and used leaf-sprinkles as favors for Thanksgiving.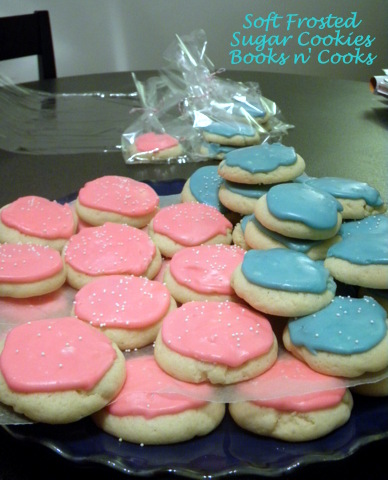 Super Soft Frosted Sugar Cookies
Adapted from Hostess with the Mostess via Annie's Eats
Makes about 3 dozen cookies
Ingredients for the Cookies:
4½ c. all-purpose flour
4½ tsp. baking powder
¾ tsp. salt
1½ c. (3 sticks) unsalted butter, at room temperature
1½ c. granulated sugar
3 large eggs
5 tsp. vanilla extract
Ingredients for the Frosting:
3¾ c. confectioners' sugar, sifted
4 Tbs. unsalted butter, melted
2 tsp. vanilla extract
5-6 Tbs. milk (more if needed)
food coloring, if desired
sprinkles, if desired
Make the Cookie Dough: In a stand mixer fitted with the paddle attachment, beat butter and sugar on medium-high speed until soft and fluffy, 2-3 minutes. With the mixer still running, beat in eggs, one at a time. Scrape down side of the bowl and return mixer to medium-high speed. Add vanilla. Scrape down sides of the bowl.
Reduce speed to and sprinkle in baking powder and salt. Continue to sprinkle in flour, half a cup at a time, until fully incorporated. Scrape down sides of mixer as needed.
Cover and chill cookie dough for 1 hour.
Make the Cookies: Preheat an oven to 350F. Line two baking sheets with parchment paper and begin portioning out cookie dough: use a 1-inch cookie scoop to portion out dough. Roll dough into a ball and place on the prepared baking sheet. Use the palm of your hand to flatten dough slightly. Continue portioning out cookie dough in this manner, placing dough about 2 inches apart.
Bake 10-12 minutes, until cookies are set and edges are just beginning to brown. Do not overbake! The cookies should be very pale in color.
Allow cookies to cool 5 minutes on the baking sheet before moving a wire rack to cool completely.
Make the Frosting & Frost the Cookies: Place sifted confectioners' sugar in a large mixing bowl. Make a well in the center and pour in melted butter, vanilla extract, and 5 Tbs. of milk. Whisk together until frosting is smooth. Frosting should be thin enough to spread but thick enough so that it won't move much after you frost the cookies. Add additional confectioners' sugar or milk if needed to adjust consistency. Whisk in food coloring, if using.
Using a butter knife or offset spatula, frost cooled cookies. Decorate immediately with sprinkles, as frosting will set a little bit as it sits. Allow to sit for an hour for the frosting to set.
Store in an airtight container until serving. Cookies will keep and stay soft for several days.