Since I attended Mixed last year, I've been considering refocusing this blog a bit. Since it's inception,I have blogged about two of my interests – books and food. But attending the conference made me think about that. The two topics, while I love them both, are a bit disconnected in the current blog format.
Over the past year, I've been thinking about how to change this. I'd like to move in a direction where I directly tie in books with menus or recipes inspired by the books. I've already done that a few times, when blogging about book clubs that I've hosted, but not with the vast majority book reviews (or recipes and menus) published. My intent would be to blog about a book and include at least one menu or recipe inspired by the book.
Consider this post a test drive. I've reviewed a book and included a couple different menu options at the end of it. (In the future, I'd post recipes either with the book review or later in the week). What do you think? Would you like to see Books n' Cooks post more like this? Or are you happy with whatever book reviews and recipes that I share? Please, take a minute and complete the poll at the bottom of this post or leave me a comment with your opinion (or suggestions!)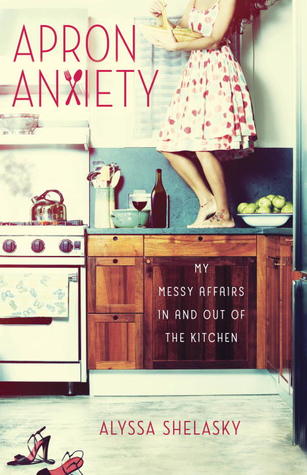 Book Review:
Apron Anxiety: My Messy Affairs In and Out Of the Kitchen
By Alyssa Shelasky
Celebrity journalist Alyssa Shelasky  moves from New York to Washington DC to be with her boyfriend, Top Chef contestant only identified as Chef. In a new, unfamiliar city and knowing nobody other than Chef, Shelasky feels lost and uninspired. She has no friends to pass time with and no work to lose herself in. She can't even connect with Chef's peers and coworkers because she can't relate – she can't even boil water! She continues on this path until her attitude starts to negatively impact her relationship with Chef. In an attempt to fill her time, do something positive, and reconnect with Chef, Shelasky takes up cooking. In the end, cooking not only helps repair her relationship with Chef but also helps Shelasky rediscover herself and her own happiness. 
Review/Recommendation: Apron Anxiety was a quick read but I wouldn't say that it was anything extraordinary. It followed a format that is becoming increasingly common nowadays: storytelling + recipe. I admit that this is a format I enjoy when I feel like the recipes are unique or add something to the book. In this case, I didn't feel like the most of the recipes were all that original or added any value to the story.
Shelasky was funny and sarcastic, I'll give her that. But sometimes she seemed to take the self-pity a bit far. I enjoyed reading about Shelasky learning to cook – reading about her mistakes, her excitement when a meal turned out well, and her discovering the joys of grocery shopping. But I'm not going to lie, my interest in the story might have been heightened by my obsession with Top Chef. I really wanted to figure out Chef's real identity. (I googled it after finishing the book – Spike Mendelsohn!).
Overall, Apron Anxiety wasn't bad. As I said, it was a quick read but certainly nothing extraordinary.
Grade: B-
Plan A Meal Around It: From Apron Anxiety
"The Pasta" (pasta with olive oil, fresh tomatoes, basil & Parmesan)
Neiman Marcus Cookies (

my recipe

, using espresso powder instead of shredded chocolate, is actually pretty similar to the one in the book)
Plan A Meal Around It: Inspired by Apron Anxiety
Your favorite burger + milkshakes (inspiration: Chef's restaurant,

Good Stuff Eatery

)
Cheese toasts + pastitsio (Greek lasagna)  + baklava or fresh fruit (inspiration: Chef takes Shelasky to Greece)
[poll id="2″]