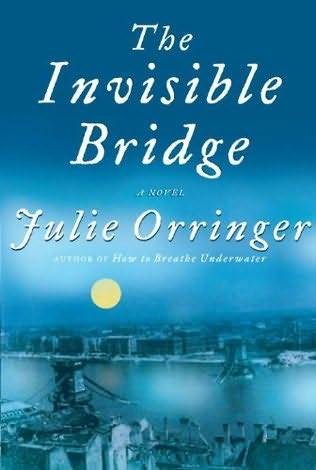 Book Review:
The Invisible Bridge
By Julie Orringer
In 1937, a young Hungarian Jew, Andras Lévi, receives a scholarship to study architecture in France. Not long after arriving, he is notified by the school that Hungary is no longer offering scholarships to Jews. The anti-Jew laws have begun. Andras figures out a way to continue his schooling without the scholarship, working hard first at a local theater and later with a set builder. His free time is spent with Claire Morgenstern, a dance teacher 9 years older than him who grew up in Hungary but had lived in Paris for 15 years. Meanwhile, Lévi's brothers – Tibor and Matyas – are pursuing their own education, Tibor at medical school in Italy and Matyas finishing high school in Hungary.
When World War II starts, Hungary refuses to reissue visas and the Lévi brothers are forced to return home. Claire Morgenstern, né Klara Hasz, returns with Andras at great risk to her life and family. As a young girl, Klara and a friend had been attacked by policemen and she ended up killing her attackers. A warrant was still out for her arrest.
The second half of the book takes place as Hungary becomes involved in WWII – switching back and forth between stories of Andras & his brothers and Klara & the rest of the family. All three brothers are conscripted into labor battalions, separated from each other and their families for most of the war. They suffer prejudice and abuse. They watch injustices taking place, and if they're lucky, they are shown a little bit of kindness by an officer or a guard. Meanwhile, Klara, Tibor's wife, and the rest of the family continue to live in changing city of Budapest. Curfews are imposed; food becomes scarce. They move to the ghettos; deportations start and stop. Letters between Andras and Klara trickle to a stop.
Review & Recommendation: For me, The Invisible Bridge started off a little tough. I think it took me a little while to get accustomed to the unfamiliar names and to remember the characters. While I read this book at a much slower pace than I read most others, within 25 pages or so, I found it easier to connect to the characters and became engrossed in the story.
The Invisible Bridge, Julie Orringer's first novel that was inspired by her grandparents>, is a great tale of war, courage, family, and love. This is not a story where everyone lives happily ever after. Not every romance turns out like Cinderella. Family members fight and make up. Mistakes are made and prices are paid. Not everyone lives at the end. It's reality. But this story reminds you not to take what you have for granted. It reminds you that a simple kindness, a small gesture, can mean the world to someone else both in times of peace as well as in times of war.
If you enjoy historical fiction, The Invisible Bridge is definitely worth reading.
Grade: B+
[amazon_link asins='B00DEKHZ7E,B00823RSIY' template='ProductCarousel' store='booksncooks-20′ marketplace='US' link_id='c6bb6bed-563b-4df1-b274-5771dba9b7f1′]