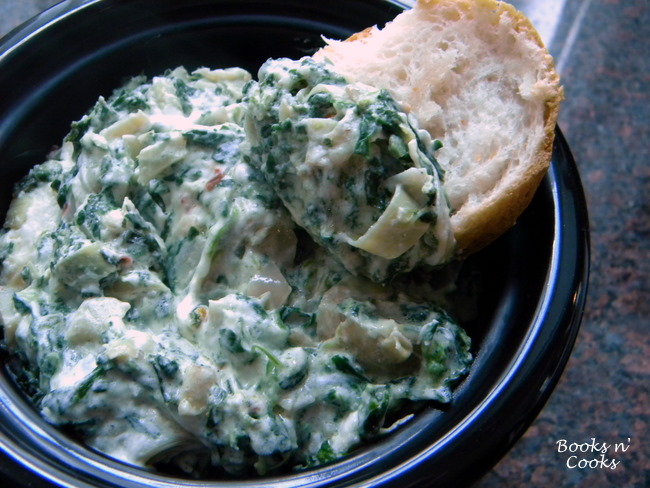 I love spinach and artichoke dip, but I have never make it very often. I had a hard time finding a recipe that lived up to what I would get at a restaurant. With a little bit trial and error, I've made Alton Brown's into something that my family and I both love. It's now something I'm making probably much too often – I made it three times within a month, and will probably continue to make it regularly since I can make it ahead and freeze until needed. The original Alton Brown recipe calls for a cup of spinach and a cup and a half of artichokes. Those seemed weird measurements since both are sold in 10 ounce boxes. I never measured the spinach, but in my version below, you'll end up with a little over 2 cups of artichokes. I also increased the amount of Parmesan and red pepper flakes suggested, since the original version was a little bland. As I make this, I stir together all the ingredients and then microwave a small spoonful of the mixture, so that I can make any adjustments needed. Then I bake. (Sorry Alton, baking everything for 20 minutes is way easier than boiling the veggies and microwaving the cream cheese.) How easy is that?
Spinach and Artichoke Dip
Ingredients:
1-10 oz. box frozen spinach, thawed and drained until all water is removed*
1-10 oz. box frozen artichoke hearts, thawed and chopped
6 oz. cream cheese, at room temperature or slightly softened
1/4 c. sour cream
1/4 c. mayonnaise
2/3 c. grated Parmesan
1/2-1 tsp. red pepper flakes (I like a full teaspoon, but if you're sensitive to spicy food, start at a 1/2 tsp. and taste before adding more)
1/2 tsp. kosher salt
1/2 tsp. ground black pepper
1/4 tsp. garlic powder
*Tip: I've found that the easiest way of removing all the water from frozen spinach is to line a colander or strainer with cheesecloth. Run cold water over spinach until completely thawed. Allow spinach to drain in the colander and cheesecloth for a few minutes after completely defrosted. Then, bring ends of cheesecloth together, and twist to seal in spinach. Squeeze or twist out any water remaining in spinach. The cheesecloth will keep you from losing spinach as you're squeezing out the water.
Instructions:
Preheat oven to 350F.
Combine all ingredients in a large mixing bowl.
I like to taste before baking – microwave a small spoonful in a bowl until hot. Taste and add more Parmesan, red pepper flakes, or anything else, to taste.
Transfer mixture to an oven-safe dish and bake for 20 minutes, until hot throughout. If desired, transfer to a mini crock pot to keep warm. Serve hot.
Serve with crackers or fresh bread. Or, serve in mini phyllo cups, for a super special presentation.
Make Ahead & Freeze:  The mixture can be frozen once combined. Transfer to a freezer-safe dish, wrap so that it's air-tight, and freeze until you need it. Can be baked straight from freezer or defrosted. Frozen dip will probably take 30-45 minutes to warm through, but check periodically.