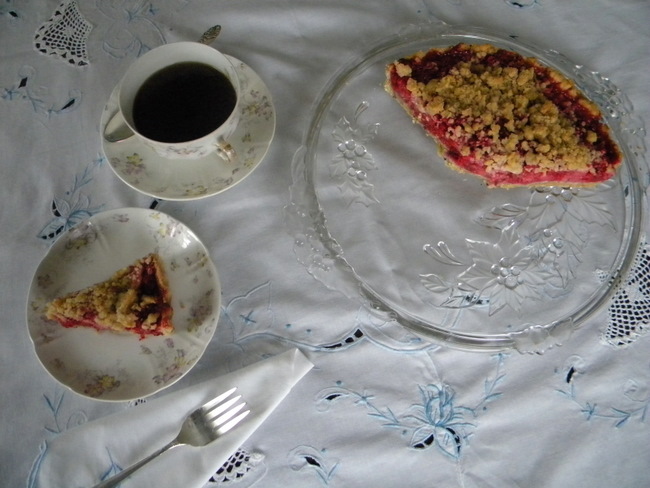 My hubby's family does pecan pie and pumpkin pie every Thanksgiving. For Christmas, my mother-in-law makes piles upon piles of her "candies," my favorites being the peanut butter balls and the Oreo truffles. My family makes this. At both. Because it's just that good, and we only can enjoy cranberries for so long.
A cranberry pear tart. It's bright pink. It's a little tart from the cranberries, but the pear mellows it out. But my favorite part is that little half a teaspoon of cardamon that's in the fruit filling. So little spice but so much flavor. Cardamom is really an underused spice, but it really makes this tart stand out from almost all other pies and tarts that I've ever had. So snag the last bag of cranberries from your local grocer (and maybe an extra bag for the freezer) and give this tart a shot
Cranberry Pear Tart
Adapted from Fine Cooking No. 74 p. 71 (also online here)
Ingredients for the Walnut Shortbread Crust:
1 large egg yolk
1 Tbs. half-and-half
1/2 tsp. vanilla extract
1 1/2 c. all-purpose flour
3 Tbs. granulated sugar
1/2 tsp. salt
1/2 c. cold unsalted butter, cut into 1/2-in. cubes
1/3 c. walnuts, toasted and finely chopped (I use the food processor)
3 large ripe pears, such as Anjou or Bartlett
2 c. fresh cranberries, picked through and rinsed
1 Tbs. brandy
2/3 c. granulated sugar
2 tsp.  all-purpose flour
1/2 tsp. ground cardamom
1/2 tsp. ground ginger
1/4 tsp. ground cinnamon
1/8 tsp. ground allspice
1/8 tsp. salt
Ingredients for the Crumble Topping:
1/3 c. plus 1 Tbs. all-purpose flour
1/4 c. packed light brown sugar
1/8 tsp. salt
2 Tbs. unsalted butter, melted
1/4 tsp. vanilla extract
Make the Walnut Shortbread Crust:
Ensure a rack is in the center of the oven and preheat to 400°F.
In a food processor, pulse flour, sugar, and salt until combined. Add butter one piece at a time, pulsing until mixture resembles peas. With the mixture running, slowly add egg yolk, half-and-half, and vanilla. Allow food processor to run until dough just starts to come together, 10-20 seconds. Transfer dough to bowl.
Add walnuts to dough in bowl. With your hands, mix in walnuts. Dough will be crumbly.
Turn out dough into a 9 1/2-in. round fluted tart pan with a removable bottom. Press dough up first against the sides and then against the bottom to form a 1/4-in. thick crust.
Pierce dough on the bottom of the tart pan with a fork, and then freeze for 10 minutes.
Remove from freezer and set dough on a baking sheet. Bake for 15 minutes, until crust begins to darken and bottom is set. Transfer to a cooling rack and lower temperature to 350°F.
Make the Fruit Filling & Crumble Topping:
Prepare the fruit: Peel pears. Quarter them, core, and cut into 1/4-in. thick slices. Coarsely chop cranberries in a food processor.
Assemble the filling: In a medium bowl, toss pears, cranberries, and brandy. In a separate bowl, mix dry ingredients. Add dry ingredients to fruit mixture and toss until all fruit is evenly coated. Spoon fruit into pie crust, evening it out and patting it down slightly with a spoon.
Make the Crumble Topping: In a small bowl, combine dry ingredients. Add melted butter and vanilla. Combine with a spoon (or your fingers) until mixture is crumbly. Sprinkle evenly on top of fruit.
Bake for 50 minutes, until fruit is tender and the topping and edges of crust are beginning to brown. Remove from oven and set on a baking rack to cool.
Storage: Store at room temperature, covered in plastic wrap. Tart will keep 2-3 days.