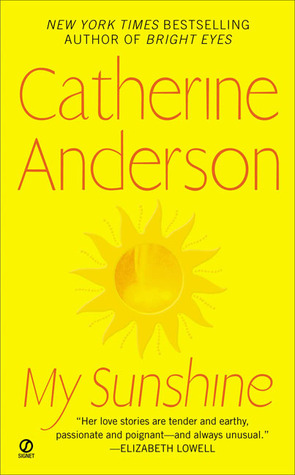 Book Review:
My Sunshine
By Catherine Anderson
Isaiah Coulter is a single veterinarian, successful but a little absentminded. His mother is determined to set him up with someone who will take care of him.
Enter Laura Townsend. She's a beautiful and PhD smart. But she was in an accident that left her with permanent brain damage, including difficulties speaking and staying focused. When Isaiah and Laura meet, Laura is lonely and working odd jobs, cleaning houses and walking dogs. Her love of animals (along with fearing his mother's reprisal) convinces Isaiah to give Laura a shot working at the veterinary clinic.
Laura's time at the clinic is a wonderful adventure. She loves working with the animals, and developing new friendships. However, it's not without problems. Mistakes occur on Laura's shift. Is Laura losing her focus or is someone plotting against her? Also, Laura falls hard for Isaiah. But how can it work out? He's her employer, and besides, why would someone like him fall for someone like her, who has trouble speaking words longer than two syllables. But she's wrong. Isaiah cares for Laura just as much as she cares for him….
Recommendation: Yes. My Sunshine was a light, sweet story. I liked the characters and felt the story was original. Although it is part of a series following the Coulter family, I read it as a standalone book and wouldn't have known it was a series except for 1 sentence at the end of the book.
Grade: B+