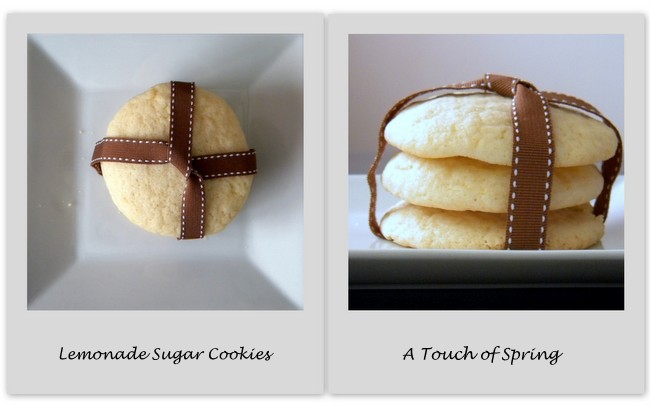 My hubby and I are hoping to move sometime within the next year. Keep your fingers crossed that the stars align for us.
I bring this up not only because I hope for your well-wishes (perhaps some money can fall from the sky on us?) but because I have my housewarming present to myself all picked out. I'm going to buy myself a mini lemon tree. Yep. For a while, I was feeling like so many recipes called for lemon juice or lemon zest – baked shrimp scampi, Parmesan artichoke pesto, crab cakes and mini crab cakes, herb grilled shrimp, roasted shrimp with tomatoes and feta, pomegranate cosmos and many other mixed drinks, lemonade, and so many fruit desserts. So when I move, you'll know it because of the large number of posts with lemons as an ingredient.
Oh, and now there are these cookies. They are slightly sweet and have a little tang from the lemon juice and lemon zest. These cookies are just barely crispy on the outside but are still soft on the inside. Even though I don't normally enjoy desserts with a strong lemon flavor, I enjoyed these very much, as did my coworkers. I brought a batch to work and they were gone within an hour.
Note: You do need to chill the dough for these cookies. I point this out here because I missed that when I started baking, and was very disappointed to have to wait!
PS I started a photo album of kitchen tips & tricks. Check it out here and be sure to follow me!
Lemonade Sugar Cookies
Adapted from Sweet Stuff:  Karen Barker's American Desserts via Just Baked
Makes 3 dozen cookies
Ingredients:
2 1/2 c. all-purpose flour
1/2 tsp. baking soda
1 tsp. baking powder
3/4 tsp. kosher salt
zest of 2 lemons, finely grated
1 stick (8 Tbs.) unsalted butter, at room temperature
1/4 c. canola or vegetable oil
1 1/4 c. granulated sugar, plus more for rolling
2 large eggs, at room temperature
1 tsp. vanilla
2 Tbs. fresh squeezed lemon juice, from about 1 1/2 lemons
Instructions:
Make the Dough: In a stand mixer fitted with the paddle attachment, combine butter and lemon zest on medium-high speed until smooth. Lower speed to low or medium-low and add vegetable oil. When thoroughly mixed, add granulated sugar. Scrape down sides of the bowl and briefly beat to make sure everything is incorporated. Add eggs one at a time, followed by vanilla and lemon zest. Slowly sprinkle in baking soda, baking powder, salt, and flour. Continue mixing until completely combined, scraping down the sides of the bowl as necessary.
Cover bowl of dough with plastic wrap and chill in the fridge for several hours to overnight. (I was impatient and only chilled mine for 3ish hours, and the cookies came out just fine. Just be sure to make sure the dough is properly chilled.)
Make the Cookies: Preheat oven to 350 and line two baking sheets with parchment paper. Place 1/4-1/2 c. granulated sugar in a small bowl or on a salad plate that has a lip. Using a small ice cream scoop or two tablespoons, portion out dough and roll into balls slightly smaller than golf-balls. Roll dough in sugar and place on prepared baking sheet about 2-inches apart. Press down slightly on each ball of dough. Bake for 9-12 minutes, until cookies are cooked through and edges starting to brown just barely. (Keep extra dough in the fridge between batches to keep it chilled.) Remove from oven, allow to cool on baking sheet for a few minutes before moving to a wire rack to cool completely.