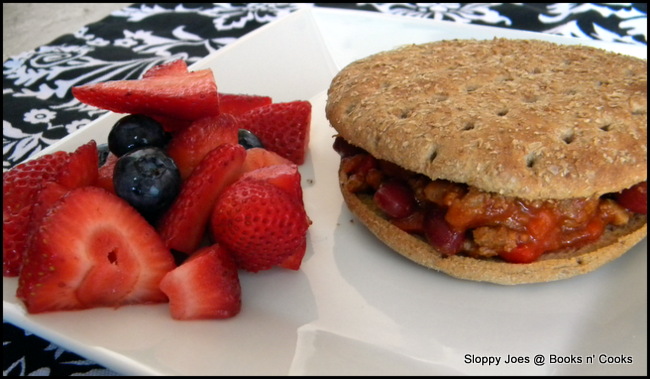 I'm not feeling very inspired to write today. Maybe it's because me and sloppy joes don't really have a history. I had them at my in-law house one of the first times I went home with my hubby. Something about this recipe struck me and I ended up loving it. I think it's the slight tang of the sauce. Sloppy joes quickly became a regular in our weeknight menu – it's healthy & filling; it comes together pretty quickly; and it's one of my favorite leftovers to take to work. Enjoy!
Above, served with mixed berry salad with vanilla syrup.
Sloppy Joes
Adapted from Ellie Krieger's The Food You Crave p. 91
Makes 6-8 sandwiches
Ingredients:
1 lb. lean ground beef or turkey
1 medium onion, diced
4 tsp. minced garlic (4 cloves)
1 medium red bell pepper, seeded & small diced
1-15.5 oz. can low-sodium red beans, drained & rinsed
1 1/2 c. no salt added tomato sauce
2 Tbs. tomato paste
1 Tbs. red wine vinegar
1 Tbs. unsulfured molasses
1 Tbs. Worcestershire sauce
1 tsp. dry mustard
3/4 tsp. kosher salt
1/2 tsp. ground black pepper
8 burger buns or sandwich thins for serving
Instructions:
In a large nonstick skillet over medium heat, brown meat and onions until meat is mostly browned.
Remove drippings from pan – pour or use a turkey baster to remove them – and add bell pepper and garlic, cooking for 5 minutes.
Stir in the rest of the ingredients, minus the burger buns. Cook for another 5 minutes until flavors meld together.
Serve on burger buns or sandwich this.
Make ahead and reheat in a crock-pot on low for 2-4 hours.
Nutrition: 1/2 c. of the sloppy joe mixture is 220 calories and will yield a full 8 servings.