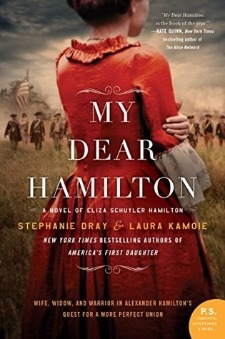 {Book Review}
My Dear Hamilton: A Novel of Eliza Schuyler Hamilton
By: Stephanie Dray & Laura Kamoie
Eliza Schuyler Hamilton may have been the wife of one of our nation's Founding Fathers, but she was a formidable woman in her own right. She had a front line seat to the American Revolution, the creation of our government, and the creation of a united nation. If that's not enough, she was faced her husband's infidelity and as a result, was a victim of the nation's first sex scandal. She struggled with loss after loss; she coped with mental illness hitting close to home at a time when those with "disordered minds" were immediately instituted; she fought to keep her family close and safe. She protected her family close and throughout her life, continued to rebound to fight for the new nation and her morals – to include a dedication to both her husband's memory as well as equality and charity work.
If Alexander Hamilton is one of the Founding Fathers, Eliza Hamilton is one of our nation's Founding Mothers. Strong-willed, loyal and patriotic, My Dear Hamilton tells her story.
Review/Recommendation: I picked up this book after (finally!) getting to see Hamilton when visiting Chicago this summer. (Wow! Did that show live up to the hype! Amazing! I'm already checking theaters to find out when I can see it again!) The music and story were amazing, but hit show reminded me of the history that I'd long forgotten, and awakened a curiosity in me to learn more about the story of Alexander and Eliza Hamilton.
My Dear Hamilton certainly satisfied the itch to learn more about the Founding Couple. The Note to the Reader and the Note From the Author, at the start and ending of the book, respectively, both call out that while the novel was based as much as possible on historical documents, there were some creative liberties taken to enhance reader experience. Language was simplified and abbreviated; events were condensed to convey relationships and events in the interest of conciseness; suppositions made in the absence of fact. In the Note From the Author, Dray and Kamoie call out where they took creative liberties and what was based on source documents (and which document) – something that was important to me so that I had a better understanding of where the lines of fact and fiction blurred.
As a story, the novel was engaging and well-informed. The more modern language made it easy to read while the reader still got an understanding of both the history as well as the characters – their passions, strengths and weaknesses. As I read, I was struck by the just how big a role Eliza played in our nation's history, and how powerful a woman she was in her own right. She had a hand in the famous Federalist Papers and so much of Hamilton's other words. She was her husband's partner in so many ways. And after his death? She was dedicated to preserving his memory, telling his story of founding the nation. And to her charity work, helping widows and orphans.
But Eliza's life was not easy – and reading of how she struggled through and coped with challenges – sometimes drowning in them before she was able to rise up and overcome them – was where her real strength shone. Marriage is not easy, but she and Hamilton worked through their issues. She stood by him loyalty, and together, they created a powerful, fierce love. She fought to keep her life together after the untimely death of a son; she made the hard decision to keep her family safe despite mental illness. She battled resentment and hurt only to return to faith, love, and loyalty.
If you enjoy getting a glimpse into history's past, or are a fan of the hit musical Hamilton, read My Dear Hamilton. It's not a short book but it is one of the few books written providing insight into one of our nation's Founding Mothers – and she deserves her time to shine.