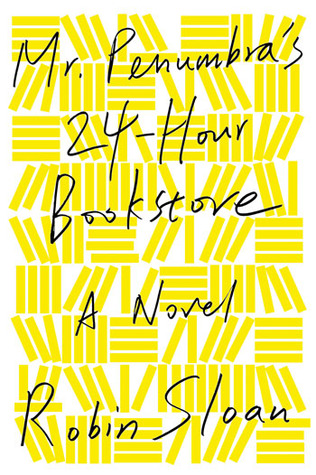 Book Review:
Mr. Penumbra's 24-Hour Bookstore
By Robin Sloan
Web designer Clay Jannon is in his late 20s and a victim of the economic recession – recently unemployed and unable to find a new job in his field. One day, he stumbles upon a help wanted sign in the window of Ajax Penumbra's 24-hour bookstore. A couple of quick questions and Clay is hired to work the graveyard shift.
Mr. Penumbra's bookstore is unique – there is a very small area in the front of the store for books for sale. The larger section in the back of the store – from floor to a very high ceiling – is a sort of library. Clay isn't supposed to touch these books but a mischievous friend couldn't resist, revealing that each of the library books is written in some sort of code.
Review/Recommendation: Mr. Penumbra's 24-Hour Bookstore is the debut novel written by former Twitter manager Robin Sloan. I thoroughly enjoyed this book and was bummed when it ended. It appealed to me on so many levels – my curiosity, my love of books, my dorkiness… I loved the mystery surrounding the encoded books and the 500-year old secret society of bibliophiles (the Unbroken Spine) who sought to solve the mystery. I loved how Sloan intertwined the old and traditional of the Unbroken Spine with the most modern aspects of today's world – what one can do with a bit of computer programming and the all-powerful Google. Combined with the references to a childhood favorite book, The Dragon-Song Chronicles, I couldn't help thinking about some of my friends growing up, and today. Just a bit dorky. 🙂
This book is a quick read, but really something fun, a unique blend of interests – from the mystery to a historical fiction-ish feel, with just a little romance. I'd definitely recommend it!
Grade: A