I've spent the past couple of weeks trying to get used to being back at work full-time. It's been an adjustment all around. How do I manage to balance work with not just home life – cooking, cleaning, being a wife – but also being a mom? It has been a challenge for sure, but my husband and I are beginning to find our routine, even if that means me going to sleep right after the baby to compensate for her new wake-3-times-a-night habit.
This new schedule has meant that I'm focusing on simpler meals in the kitchen. We've been doing a lot of grilling and pairing whatever we grill with fresh and easy sides. This southwest quinoa salad is one of our new favorites. The slight kick from the jalapeno is balanced with sweetness from the mango and red bell pepper. Feel free to toss in a little more mango and veggie than the quantities listed below, I know I do.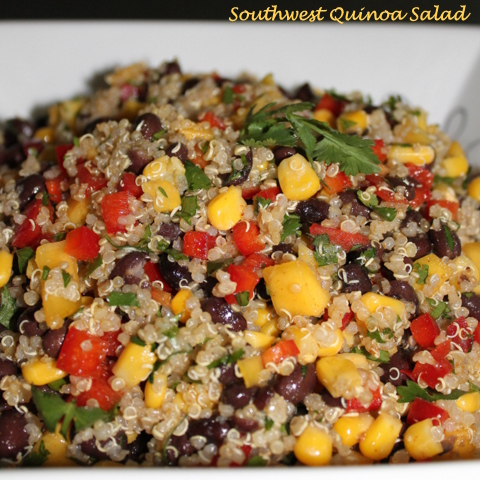 Southwest Quinoa Salad
Adapted from The Plant-Powered Diet by Sharon Palmer via Skinny Taste
Yields 6 1-cup servings
Ingredients: 
juice from 1 lemon
1 1/2 Tbs. extra virgin olive oil
2 cloves garlic, minced
1/2 tsp. ground cumin
1/2 tsp. chili powder
1/4 tsp. ground tumeric

15 oz. can low-sodium black beans, rinsed & drained

1 c. cooked quinoa
1 c. fresh or frozen corn
1 small red bell pepper, chopped
1 c. fresh mango, chopped
1/4 c. red onion, finely chopped
1/2 c. fresh cilantro, chopped
1 small jalapeno, seeded and finely chopped
Whisk together lemon juice, olive oil, garlic, cumin, chili powder, and tumeric in a small bowl. Set aside.
Combine remaining ingredients in a large bowl. Pour dressing over salad, stirring to combine.
Serve immediately (at room temperature) or refrigerate until serving.
Save