Captain Morgan Original Spiced Rum has always been a favorite among my husband and his friends. Don't believe me? We had to supplement the liquor package at our wedding with a couple bottles of Captain Morgan, because they wouldn't drink the rum included in the package.
When I received a bottle of Captain Morgan Black Spiced Rum for review, I couldn't keep my husband away from it. He opened it before I could hide it, and I spent the next week shooing him away from the bottle until I could test it out in a couple of recipes. I started off with a Black Spiced and Peachy*, a recipe that was featured on Bar Rescue, one of my recent obsessions. I enjoyed the drink but my husband was less excited about it. The next day I made Tortuga Nights, a summer punch made with Cap't Morgan Black Spiced Rum, wine, pineapple juice, Sprite, and fruit. Both my husband and I agreed (as did several friends) that the recipe was a winner.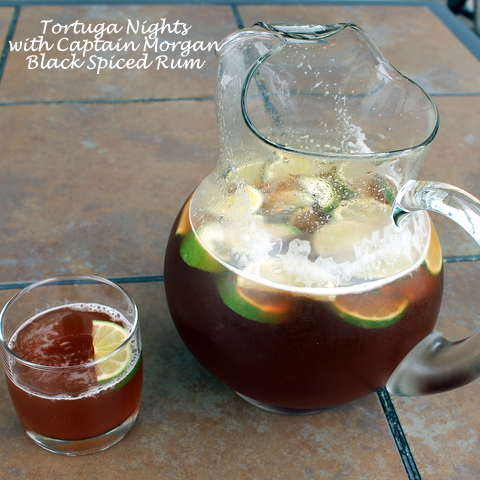 After making the below, I gave my husband free reign to finish the bottle. While I enjoyed a glass of the Black Spiced Rum on the rocks, my husband used his in a traditional rum and coke. Needless to say that a bottle Captain Morgan Black Spiced Rum (the largest size he can find) has become  a permanent fixture in our liquor cabinet.
Tortuga Nights
I received this recipe in an email, but also found it online here.
Serves 10-15
Ingredients:
375 mL Captain Morgan Black Spiced Rum, chilled
375 mL white zinfandel, chilled
12 oz. pineapple juice, chilled
33 oz. (1 L) Sprite or other lemon-lime soda, chilled
2 limes, sliced
15 cherries (I used maraschino cherries, as fresh cherries aren't in season right now)
In a large pitcher or punch bowl, crush cherries and lime slices to release the juices. Add rum, zinfandel, pineapple juice, and Sprite. Stir to combine. Serve immediately, or refrigerate until serving
Disclaimer: I received a complimentary bottle of Captain Morgan's Black Spiced Rum for review, but all opinions are my own (and my husbands 🙂 )
* The link to the Black Spiced and Peachy was removed in January 2019, as the webpage moved or was taken down. I was unable to find an updated link for the recipe at that time.