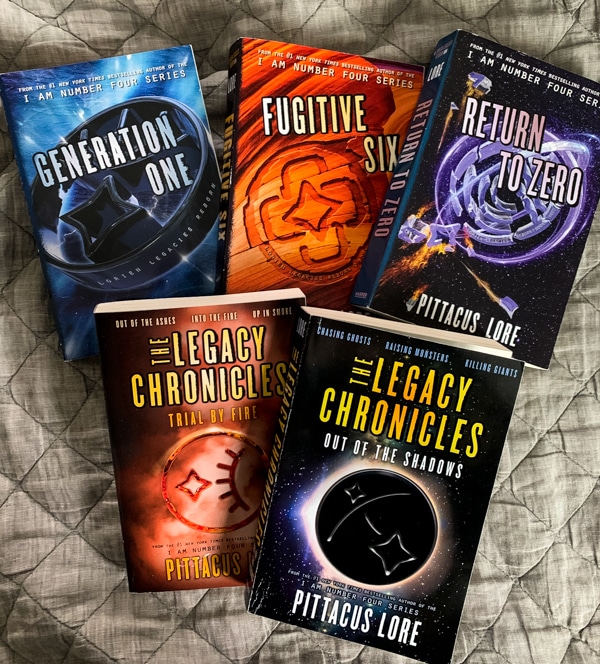 {Book Review}
Lorien Legacies: Reborn and
The Legacy Chronicles
By Pittacus Lore
Disclaimer: This posts contains affiliate links. (That means that I earn a tiny percentage from your purchase – at no extra cost to you! – for the maintenance of this blog.)
These two series takes place after The Lorien Legacies and The Lorien Legacies: The Legacies. I review those two series here. Although the series I review today can be read standalone, I'd strongly encourage you to read my review of its predecessors and consider reading them first. There's so much story and history there that I think it would make for a very different reading experience if you were to read these without that background. This review will contain spoilers for those that haven't read The Lorien Legacies and The Lorien Legacies: The Legacies.
The Mogadore are defeated and Earth is safe from invasion. However, life on Earth has changed forever. The Loric Garde – children with special powers who fled the planet Lorien – awoke the energy source on Earth, creating a new race of Human Garde. But post-war Earth is faced with challenges they never imagined. How will the Garde learn to use their new powers? Is there anything to fear of the new Garde? Are the people of Earth safe? And some will ask, are the Garde safe from others on Earth?
And so countries join together under the banner of the United Nations to create a new set of rules to govern the Human Garde. Human Garde must register with the UN and enroll in a training academy, where they will learn to use their powers under supervision and guidance of original Loric Garde and trusted friends. Upon completion of training, Human Garde will be enrolled in the UN's Earth Garde, a force that helps those that need it all over the world – rebuilding from the war, recovering from natural disasters, and when necessary, fighting for the good of Earth.
It sounds fairly benign but there is corruption within all parts of the government and covert organizations are exploiting unregistered Garde for power and money. So who can be trusted?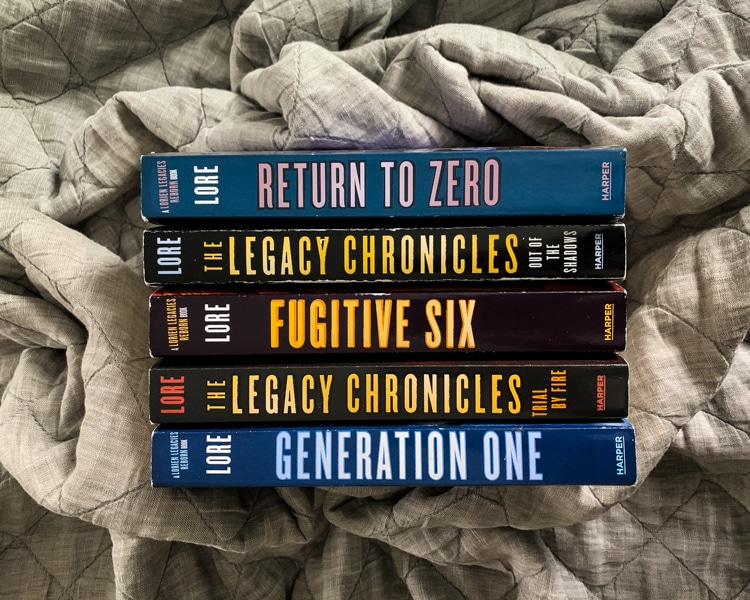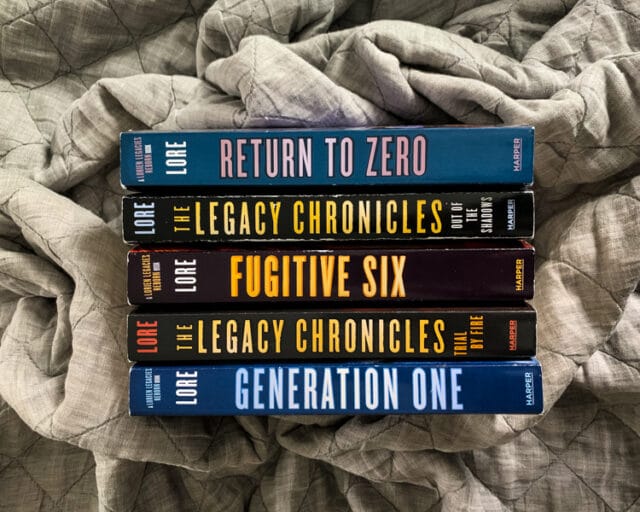 The Series and How To Read It:
This review covers a series of 3 books (Lorien Legacies: Reborn) and 6 novellas (The Legacy Chronicles). Unlike most novellas, these are really part of the story, so I wouldn't recommend skipping them (more to follow on that). I used Goodreads and a post from How to Read to come up with the order in which I read the works. That order is below, with (affiliate) links to the books the novels and novellas are found in:
Out of the Ashes (The Legacy Chronicles #1 found within The Legacy Chronicles: Trial by Fire)
Into the Fire (The Legacy Chronicles #2 found within The Legacy Chronicles: Trial by Fire)
Up in Smoke (The Legacy Chronicles #3 found within The Legacy Chronicles: Trial by Fire)
Chasing Ghosts (The Legacy Chronicles #4 found within The Legacy Chronicles: Out of the Shadows)
Raising Monsters (The Legacy Chronicles #5 found within The Legacy Chronicles: Out of the Shadows)
Killing Giants (The Legacy Chronicles #6 found within The Legacy Chronicles: Out of the Shadows)
Download the Printable List of my Suggested Reading Order.
The Novellas:
Novellas accompanying young adult novels are usually used to fill in pieces of the story – background on main characters or secondary characters that the main stories miss, insight into a significant event that is referenced in the main story… Sometimes they can be a bit repetitive, if not done right, but novellas usually fill in a gap.
The novellas in The Legacy Chronicles don't really do this. The novellas aren't really individual stories but follow a different set of characters (more on that below) and flow much more continuously than a normal volume of novellas would. I actually think that this set of books should have been a 5-book series, rather than books with accompanying novellas. The novellas just weren't supplemental to a series, the way most novellas are, and in my opinion, are needed in order to get the full picture.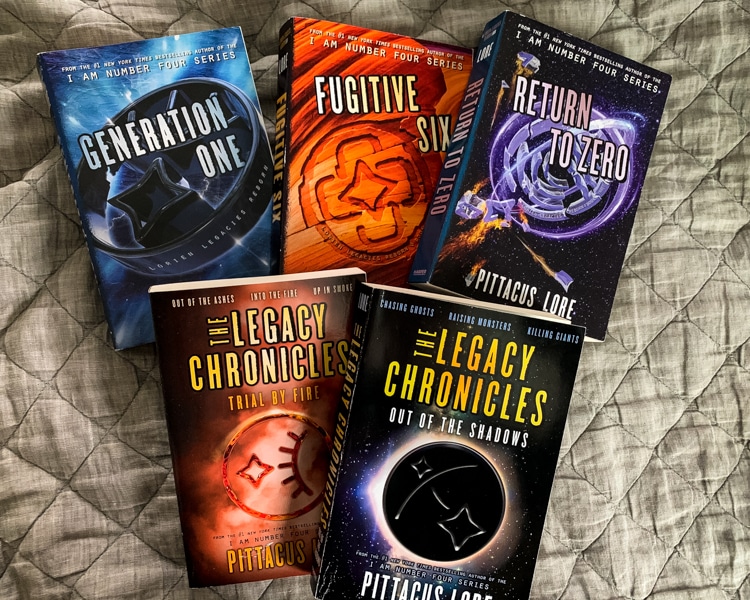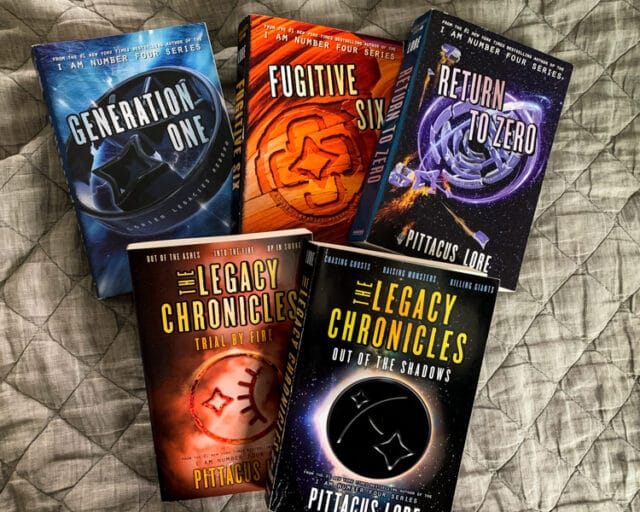 Series Review:
I did enjoy this series. You basically have two storylines.
The first storyline runs throughout Lorien Legacies: Reborn, which follows a series of humans that came into legacies when Lorien was awoken. Those human Garde – Taylor, Kopano, Nigel, Isabela, Caleb, Ran – are still training, still honing their powers at the Human Garde Academy (HGA). Despite being students, they are quickly thrown into the fray, learning on the go. Throughout the series, they are challenged with rescuing one another, learning about and stopping a secret organization that kidnaps Garde to use for profit and power, and saving the academy from those that don't have their best interest at heart. The group don't see eye to eye on everything, but in the end, they want to help people and grow up safe.
Intermingled with this storyline is a second, which follows Six, one of the original Loric Garde, and Sam, one of the original Human Garde. This second storyline is the focus of the novellas, The Legacy Chronicles, but aspects appear within Lorien Legacies: Reborn as well. After the war, Six and Sam wander the globe before choosing to work for a secret quasi-government organization that investigates suspicious activity possibly related to unregistered Human Garde, teens that don't want to leave home or become part of the system. Their assignments find them working side by side with HGA students, old Loric Garde, and some government officials whose loyalty is questionable. Six and Sam's journey is a roller coaster of ups and downs – helping some, angering others, even getting caught themselves.
There was a lot going on throughout these two series, but it kept things fast-paced and, in my opinion, enjoyable. I very much wanted to keep reading to find out what would happen next. And if you can't tell, the plot was sufficiently different from its predecessors to keep from becoming boring.
There was also a nice mix of new and old characters, each with a distinct personality. The variety made it easy to find a character or two to really like, and the annoying ones were never focused on too long. I'll also add that for older readers – adults who enjoy young adult genre – many of the characters seemed a bit old beyond their years. Thus, there was very little teenage angst that sometimes permeates books of this genre. It made it more enjoyable, at least for me.
In sum, this series is worth a read, but make sure you read the predecessors first. It'll mean a pile of books on your nightstand, but it's a good set to lose yourself in at the end of the night, or perhaps over a vacation or staycation.
Have you read this series? Leave me a comment and tell me what you thought!