These Honey & Rosemary Almonds are a fun option for a charcuterie or cheese board, an appetizer spread, or afternoon munchies. Sweet honey, savory rosemary… it's hard to stop at just one.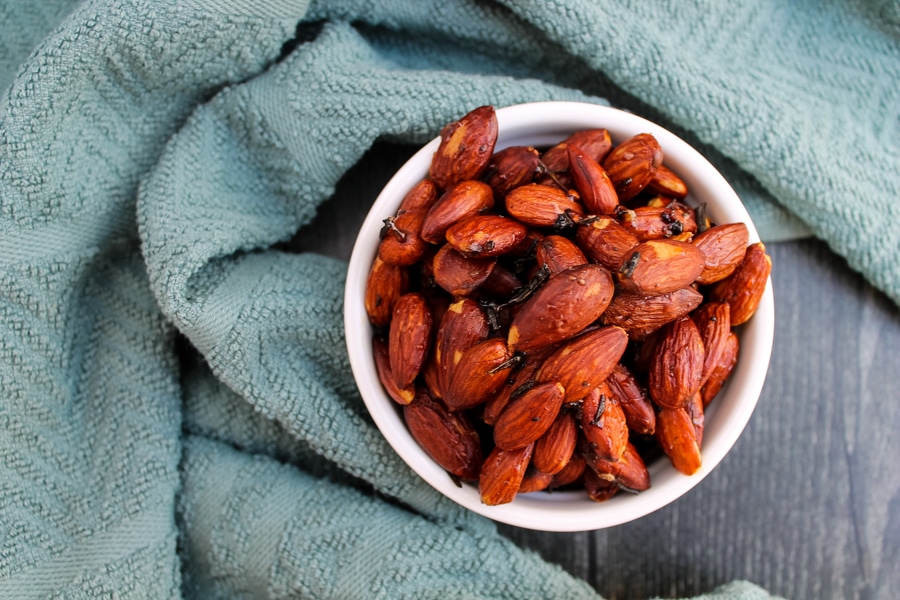 I know this was totally unrealistic, but I was really hoping that when the calendar flipped from 2020 to 2021, the outlook would be more positive. You don't need to tell me what I really need to wait until February or March to start seeing COVID numbers decline after holiday celebrations and hopefully more vaccinations…. but I really wasn't expecting to start the year with the extra contagious strain of COVID spreading, my BFF in her 3rd lockdown in England, and the news full of one man's delusions, disinformation, and chaos. It makes me so sad.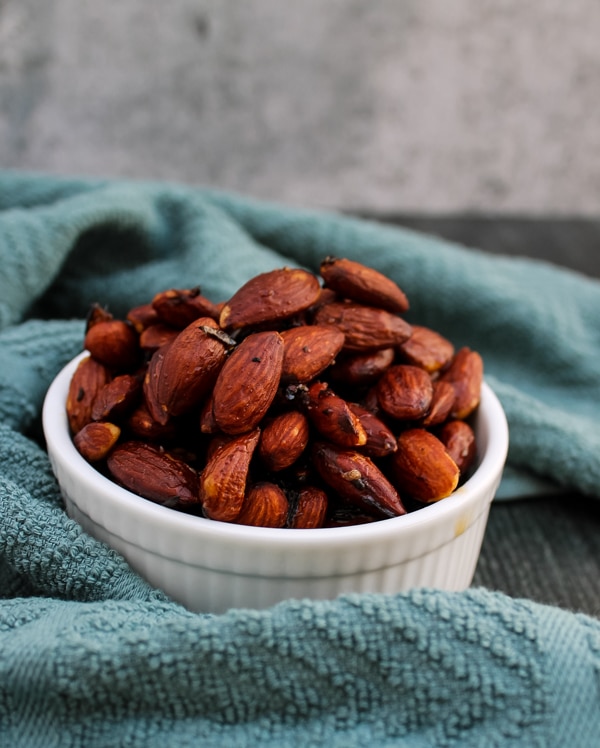 We have hunkered down with just one family and my parents in our COVID bubble since November and I miss my friends and my family. I'm thankful that we still have our besties in our bubble – it's been huge for my mental wellbeing as well as the kids'. We support each other, provide childcare for each other, and are an outlet, a break from the people we live with. They are the family we choose and I love having them in our lives.
And because they are family, when they're over, we don't usually get fancy. I serve comfort food without worry. I make new recipes (most recently, these Parmesan & Garlic Roasted Sweet Potatoes along with roast chicken) and if it is a flop, we order pizza.
Family or not, I frequently "entertain" them with some cheese, crackers, and a bit of salami for snacking. Recently, I got a bit fancy (because I wanted an excuse to try this recipe) and jazzed up my little cheese and cracker plate with these honey and rosemary almonds. These sweet and savory almonds were enjoyed by all.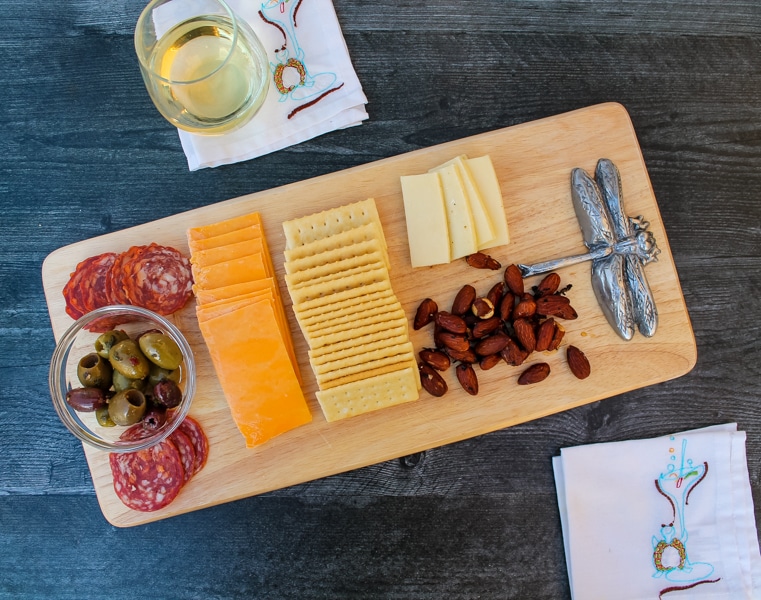 How are you all remaining sane right now? Does life feel as monotonous for you as it does for me? How are you keeping things interesting?
Let's all keep our fingers crossed that 2021 turns a corner real soon, and that the outlook becomes increasingly optimistic as a more and more people receive vaccines and a new administration is welcomed in.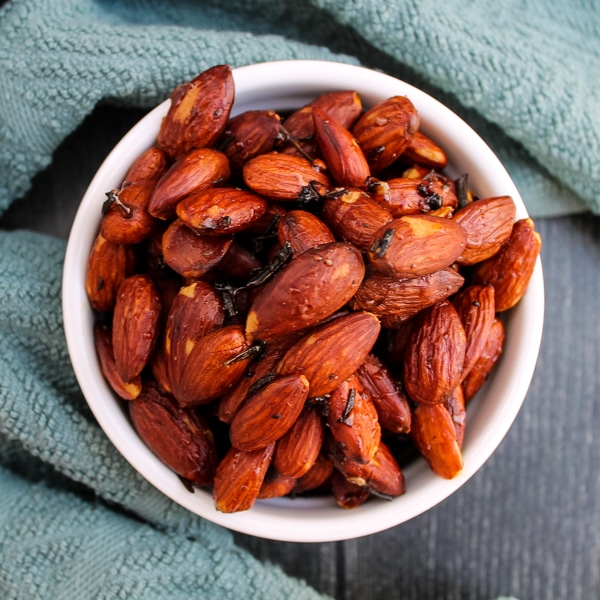 Print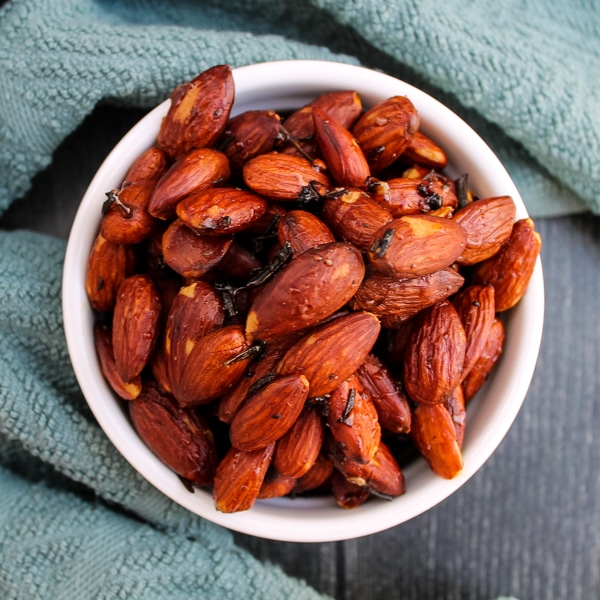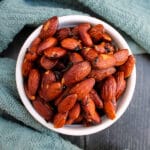 Honey & Rosemary Almonds
Roasted, spiced, and sugared nuts are a fun option for a charcuterie or cheese board, an appetizer spread, or afternoon munchies. These Honey & Rosemary Almonds are no exception - sweet honey, savory rosemary... it's hard to stop at just one.
Ingredients
1

Tbs.

extra virgin olive oil

1

Tbs.

minced fresh rosemary

1

clove

garlic

minced

1/4

tsp.

kosher salt

2

c.

roasted, unsalted whole almonds

1

Tbs.

honey
Instructions
Preheat oven to 200F. Line a baking sheet with parchment paper and set aside.

In a medium skillet or saucepan set over medium heat, add olive oil and rosemary. Sauté for 2 minutes, stirring constantly. Add garlic and sauté for another 30 seconds, until garlic becomes fragrant. Add salt and almonds, stirring to combine. Finally, add honey and stir so that honey evenly coats almonds.

Spread almonds in a single layer on prepared baking sheet. Bake in preheated oven for 15-20 minutes before removing baking sheet from oven.

Allow almonds to cool on baking sheet. Serve almonds slightly warm, or at room temperature.
Recipe Notes
I used unsalted, roasted almonds in this recipe. If you choose to use raw almonds, roast on a parchment-lined baking sheet at 300F for 15 minutes, stirring halfway through, before proceeding with this recipe.
This recipe makes 2 cups of almonds, or 8-1/4 c. servings.
This recipe was rewritten but barely adapted from The Mediterranean Diet Made Easy (affiliate link), p. 49.