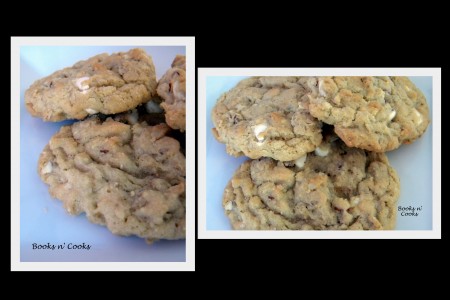 I'm don't normally crave sweets. I'll eat a cookie or try a piece of cake, but it's not often that I want to have seconds. However, if you give me a plate of french fries or a bowl of potato chips, it's another story. I love the saltiness and will eat more than my fair share of fries and chips. Anyway, these cookies are the exception to the rule – they're sweet and they stayed soft, even a couple of days after baking them. I have one and keep going back for me.
I did make these cookies twice, and adjusted the recipe slightly. The original recipe called for 3 c. flour, 2 c. white chocolate chips, and 1 c. coarsely chopped pecans. I found that the dough was just too crumbly, and the chocolate chips and nuts were not well mixed into the dough. The second time, I used a little less flour and half the recommended quantities of chocolate chips and nuts, and found the ingredients were all incorporated into the dough much better. These changes are reflected in the recipe below.
White Chocolate Chip Oatmeal Cookies
Adapted from Southern Living's Best Loved Cookies, p. 10 (also online here)
Makes 3 Dozen Cookies
Ingredients:
1 c. unsalted butter, at room temperature
1 c. packed light brown sugar
1 c. granulated sugar
2 large eggs
2 tsp. vanilla extract
2 1/2 c. all-purpose flour
1 tsp. baking soda
1 tsp. baking powder
1 tsp. salt
1 1/2 c. uncooked oats
1 c.  white chocolate chips
1/2 c. coarsely chopped pecans (or slivered almonds)
Preheat oven to 350F and line a couple of baking sheets with parchment paper. Set aside.
In a stand mixer fitted with the paddle attachment, beat butter on high-speed until light and fluffy, about a minute. Add sugars slowly until well combined. Lower speed to low, and add eggs (one at a time) and vanilla. Slowly add baking soda, baking powder, salt, and flour, with the mixer still on low-speed, until jut incorporated. Add oats, chocolate chips, and chopped nuts – either with the mixer on low-speed or by hand using a wooden spoon.
Using tablespoons or an ice cream scoop, portion dough onto prepared baking sheets.
Bake 12 minutes, until cookies are slightly browned. Allow to cool for a few minutes on baking sheet before moving to a wire rack to cool completely.