Happy Sunday! I hope you are enjoying a long weekend celebrating our great country.
My family and I are thankfully having a mostly lazy weekend – play dates, baking, and chores, with a dinner with friends planned for the 4th. We've had a whirlwind could of weeks with me away for a week and some family in town. I've been enjoying playing catch up. Enjoying the relative quiet in the house. And enjoying taking a little bit of time to menu plan, blog plan, and vacation plan.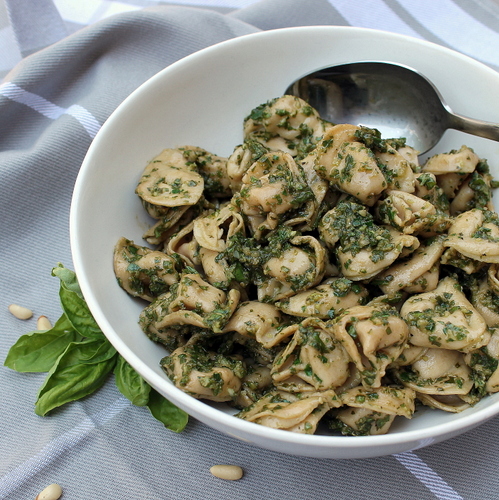 Store-bought ravioli or tortellini with homemade pesto from the freezer has become an easy weeknight staple in our house. It takes so little effort and time to make that we really have no excused for ordering out when I've got the pasta and pesto in the freezer. I stock up on homemade pesto when my herbs (or my mom's herbs) are growing like crazy over the summer time. They've been planted for less than two months and they've already started to grow a bit wild. I've already have to trim them back several times, freezing sage leaves and making both cilantro and basil pesto.
Tortellini with Fresh Basil Pesto
By Books n' Cooks
Serves 2 as a main dish, 3-4 as a side dish
Ingredients for the Tortellini:
1-9 oz. package store-bought cheese tortellini
1 c. fresh basil pesto (ingredients and instructions below)
Ingredients for the Basil Pesto: (makes 1 cup) 
2 c. packed fresh basil leaves, washed and dried
¼ c. pine nuts
2 cloves garlic, skins removed
pinch of kosher salt
pinch of black pepper
Pinch of red pepper flakes
1/4 c. extra virgin olive oil, more if needed
Prepare tortellini according to package. While tortellini are cooking, make the pesto. (If tortellini are finished before pesto, drain, toss with a little bit of olive oil to avoid sticking, and cover to keep warm.)
Make the Pesto: Place all ingredients except olive oil in a food processor. Pulse until large chunks. With the food processor still running, slowly pour in olive oil. Turn off when thoroughly combined.
Toss tortellini and pesto, until tortellini are completely coated. You may not need the entire cup.
Freezing Pesto: Basil pesto freezes wonderfully and is one of my favorite things to stock up on over summer, for quick weeknight dinners throughout the year.
To freeze, transfer pesto to an airtight container (I use mason jars) and freeze until ready to use. Pesto may be defrosted in the fridge or for 30-60 seconds in the microwave (don't forget to take off the metal lid and rim!)