Sweet and tangy pomegranate combines with bright grapefruit to make a refreshing summer cocktail that is just slightly sweet.
By now, you must be realizing that there's a foodie holiday for everything. Last week's National Iced Tea Day, National Doughnut Day earlier this month… These holidays are a lot of fun for bloggers who use them as inspiration for their blog and social media posts. After all, who wouldn't love to drool over the over the top recipes that come out for National Ice Cream Day?
Welcome to #NationalMartiniDay!
Whether you enjoy your martini with vodka or gin, shaken or stirred, we've got some libations for your happy hour.
This is one foodie holiday I couldn't wait to celebrate. While I'm usually a wine drinker, I increasingly enjoy experimenting with new cocktails when we go out for dinner or at home in my own kitchen. This foodie holiday was perfectly timed this year, as I had recently had a wonderful cocktail at a local restaurant, The Wine Kitchen on the Creek, that I was anxious to recreate. You see, they had a spin on the classic cosmo – one of my go-to cocktails of cranberry juice, vodka, orange liquor, and a splash of lime – that featured pomegranate juice and grapefruit juice instead of the cranberry and lime. So good!
My recreation took me a few times to get right. It needed to be a little bit sweet but not overpowering. Take 1 was definitely too sweet. Take 2 was better but still not the perfect balance of flavors. Take 3 was it. I made sure by having two cocktails. The things I do for you… 😉
Cheers to the start of a good week!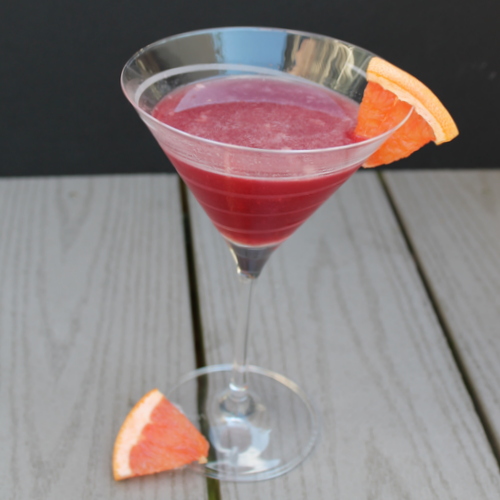 Pomegranate Grapefruit Vodka Martini
By Books n' Cooks
Makes 1 Cocktail
Ingredients:
1 1/2 oz. good-quality vodka
1/2 oz. Cointreau
1 3/4 oz. pomegranate juice
1 1/2 oz. freshly squeezed grapefruit juice
grapefruit wedge and/or pomegranate arils for garnish
Fill a cocktail shaker halfway with ice. Add vodka, Cointreau, pomegranate juice, and grapefruit juice. Shake vigorously for 10-15 seconds. Pour into a martini glass and serve immediately.
Save
Save
Save
Check out the collection of martinis that our bloggers have created for you!
And big thanks to Ellen at Family Around the Table for hosting this one!
Save