Disclaimer: Thank you to our #IcedTeaDay Sponsor: Adagio Tea for providing the prizes free of charge. This company also provided the bloggers with samples and product to use for #IcedTeaDay. All opinions are my own.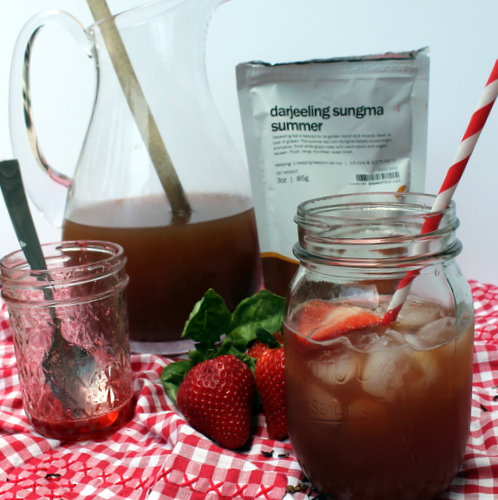 It's #IcedTeaDay! Are you ready for some fun?
Welcome to #IcedTeaDay hosted by Sue from PalatablePastime. We are so excited to have you join us as we cool off with drinks and treats made with Adagio Tea. Thank you so much, Adagio Teas, for generously supplying the bloggers with product for development and providing a prize package for our readers! We have an incredible giveaway below and we'd love if you would take a moment to read about it and what you can win!
Bloggers are hanging together today to share their favorite iced tea recipes using gourmet teas. In addition to the giveaway below, you can also find a collection of recipes that bloggers have created using Adagio Teas, inspired by Iced Tea Day. There are some great recipes for cold beverages and even a popsicle recipes, so be sure to check it out!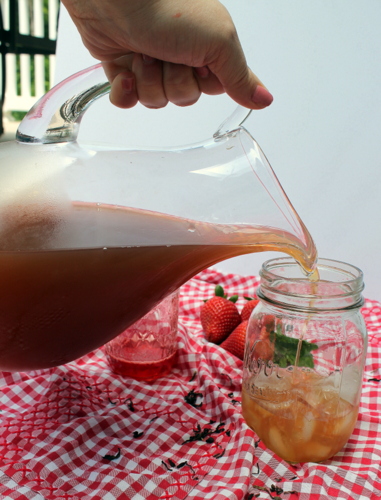 I am a long-time hot tea drinker and usually have a couple of cups a day. But I have never been one to drink a lot of iced tea. I'll drink the occasional glass of unsweetened iced tea, but by comparison to my sweet-tea-loving hubby, I drink very little. Iced Tea Day was a fun experiment, and I completely loved the results.
I knew pretty quickly that I wanted to create an iced tea with a black tea. The Darjeeling Sungma Summer Tea, a black tea that is much lighter in flavor than my favored Earl Grey, was the perfect pick. It has subtle floral white grape notes, making it just sightly sweet. As a hot tea, I enjoyed it on its own, or with a touch of orange blossom honey (also available from Adagio – I might have gone a little nuts shopping!). As an iced tea, it's light floral notes paired with a touch of a strawberry basil simple syrup were right up my alley. The Darjeeling Sungma Summer Tea was killer with a couple teaspoons of the simple syrup – just enough to add a sweet berry flavor. I loved this so much that I was seriously thinking about running back to the grocery store for more strawberries to make another big pitcher of this tea and more simple syrup. I couldn't get enough of it.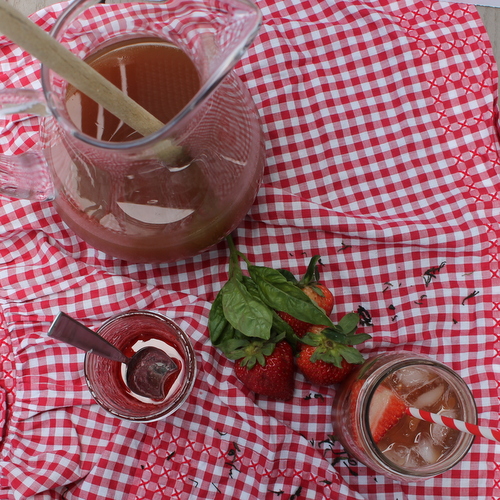 As promised – some more great #IcedTeaDay recipes created for you using Adagio Teas:
And now for my own recipe…
Strawberry Basil Darjeeling Iced Tea
By Books n' Cooks
Ingredients for the Iced Tea:
8 c. water
a heaping 1/4 c. Darjeeling Sungma Summer tea from Adagio Teas
Ingredients for the Strawberry Basil Simple Syrup:
1 c. water
1 c. granulated sugar
1 c. sliced fresh strawberries
12-15 large basil leaves, roughly torn
Optional Garnish:
sliced strawberries
fresh basil
Make the Iced Tea: Add water to a large pot. Add tea – either loose or within a paper tea filter. Bring to a boil. Turn off and allow to steep at least 10 minutes, or until cool enough to transfer to a pitcher. When cool enough to handle, remove tea filter (or strain over a fine mesh sieve or through cheesecloth, if you used loose tea) and transfer to a pitcher and refrigerate until real to server.
Make the Strawberry Basil Simple Syrup: In a small pot set over medium-low heat, combine all ingredients. Bring to a rolling boil, stirring occasionally until sugar is dissolved. Boil for 5 minutes. Turn off and allow to cool.
Strain out solids with a fine mesh sieve. Discard solids. Transfer syrup to an airtight glass jar and store in the refrigerator.
To Make Tea: Fill a glass halfway with ice. Add iced tea and desired amount of simple syrup, to taste. (I use 2 teaspoons – from my everyday silverware – for a 16 oz. glass.) Stir and serve immediately.
Recipe Notes:
I like to make the iced tea and flavored simple syrup and keep the two separate. This allows everyone to mix up their own flavored iced tea, adding more or less per their preference.
Simple Syrup will keep for a couple of weeks in an airtight jar in the fridge.
Save
Adagio Teas is giving away a gourmet teas gift pack (valued at $92)
Enter the Contest~Giveaway
Giveaway is open to residents of the United States who are 18 years of age or older. Winner will be announced and the prize package sent after the giveaway ends on June 16, 2017. Bloggers are not responsible for prize fulfillment.
Save
Save
Save