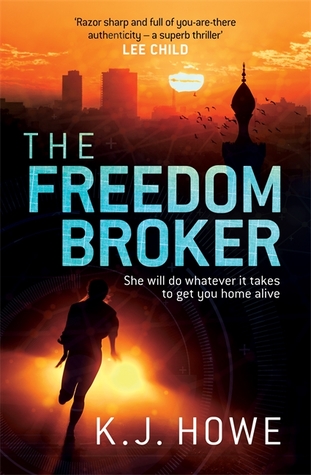 {Book Review}
The Freedom Broker
By K.J. Howe
Thea Paris, nicknamed "Liberata," is an expert in the kidnap-and-ransom field, working for a private consulting firm. She routinely negotiates for the release of hostages, but sometimes, works with an elite team to bring the hostages home through covert missions and/or forceful means.
When Thea's father, a prominent oil executive, is abducted from his home in Greece, she sets off to find him. Thea jets from Greece to Africa, unsure of who she can trust and having no idea what she'll unravel.
Review/Recommendation: Super short summary, right? The truth is that, while the above is the main plot line, there are a lot of smaller stories that run through the course of the book, all tying into the above at the end.
This mystery/suspense novel was a breath of fresh air from others in the genre. With a lead character a profession other than a cop, federal agent, or a lawyer, it was still fast-paced and very engaging like others in the genre. There were a number of connected story lines that the reader had to puzzle through – how were those story lines connected to Thea's missing father? Who was lying and about what? Who was trustworthy and who was not? Some answers were clearer than others, which is part of what made the novel so entertaining.
I also appreciated how Howe drew upon the childhood experiences of the main characters. Thea's brother was kidnapped when the two were children and was missing for about a year. Thea was the intended target. These experiences shaped Thea and her brother's paths in life, from their occupation to their relationships with others.
If you enjoy mysteries and suspense novels, I'd encourage you to pick up this one.
The Freedom Broker is K.J. Howe's first novel. It was published in February 2017.
This book is available on Amazon
Save