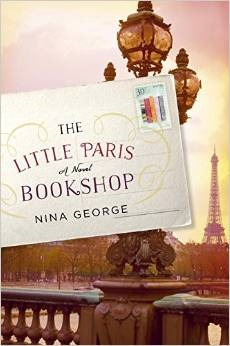 {Book Review}
The Little Paris Bookshop
By Nina George
Jean Perdu is a bit eccentric. He is know as a literary apothecary. Perdu owns a little bookshop, a barge docked on the Seine River. From here, Perdu prescribes books for helping and for healing whatever troubles his customers. "To a certain degree, [Perdu] could read from a body's posture, its movement and its gestures, what was burdening or oppressing it" (p. 27). Intuitively, Perdu knows exactly what his customers need.
It's a quiet life, with Perdu going through the motions of everyday life without really living, numb inside. But after a neighbor returns a long-forgotten letter from an old lover, Perdu's world is turned upside down. Memories and feelings are woken. Perdu must learn to not just cope but to live and love again.
Recommendation/Review: I have mixed feelings on this book. On the one hand, I enjoyed the story. The books chronicles Perdu's emotional journey starting with reading the letter from his old lover – breaking his heart all over again and inducing great guilt – through experiencing loss, mourning, and healing as he sails to his lover's homeland. Along his journey, Perdu picks up other men that are in need to healing and self-discovery in their own way. The men provide support for one another, showing and experiencing life's joys again, and gradually find their way back to living again. I found this touching, and enjoyed seeing Perdu and the other characters grow, learn, and find themselves. Especially Perdu – following him through the stages of grief before he was able to come to terms with history and move on with life.
However, on the other hand, I did find some of the dialog and descriptions in the book a little too flowery and unreal. Nicely written, but I couldn't help rolling my eyes or skimming ahead a bit. It was just a little too over the top for me, at some parts.
Overall, the book was enjoyable, and I'm glad I read it.
If you've read this book, what did you think? 
[amazon_link asins='0553418793′ template='ProductCarousel' store='booksncooks-20′ marketplace='US' link_id='4715ff37-a731-11e8-8e90-779bee5fee31′]
Save