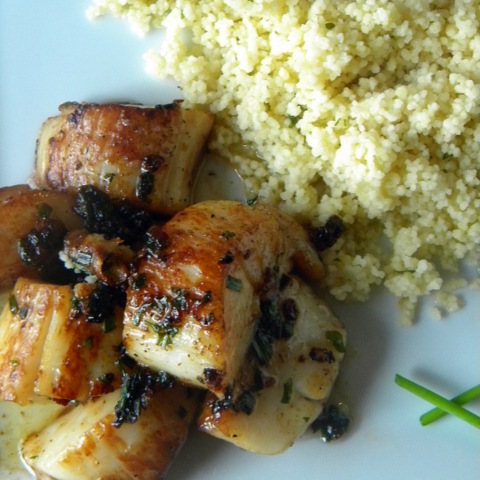 I've really been craving scallops lately. I've been drooling over googlereader recipes, pinning new recipes… I just can't stop thinking about them. I was going to splurge on them for dinner one night a couple of weeks ago – when I was home alone, drinking a citrus martini and blogging – but I completely forgot to get them at the grocery store. There was no way I was going back to get them – the store was particularly crowded and had a short power outage which added to the madness. Last week, with my hubby out of town, I indulged with two of my besties. A light, tasty meal, a little wine… it was the perfect way to break up the week.
This was the first time I've ever made scallops and it was a great success. I did make sure all of the ingredients were prepped beforehand, which helped ensure that the scallops were cooked properly. In fact, the scallops were cooked perfectly. Melt in your mouth perfectly. The herb-butter sauce gave the dish an indulgence I don't often find in quick-cooking meals, making these scallops great for a weeknight dinner or a special occasion.
I still haven't satisfied my scallop craving, so you might be seeing another recipe or two over the next couple of weeks.
Serve with a couscous and  side salad for dinner, or for an appetizer. I served Pinot Grigio with this dish but you can also try a Oregon Pinot Gris per Fine Cooking's recommendation.
Seared Scallops with Herb-Butter Sauce
Adapted from Fine Cooking No. 72 (p. 49)
Serves 2-3
Ingredients:
1 lb. large sea scallops
4 Tbs. unsalted butter, divided
1 Tbs. extra-virgin olive oil
kosher salt
freshly ground black pepper
2 Tbs. finely diced shallots (from 1 medium-sized shallot)
1/4 c. dry white wine
1/4 c. finely chopped mixed fresh herbs (i.e. 1/8 c. chopped parsley and 1/8 c. chopped chives)
1/4 tsp. grated lemon zest (from 1/2 a lemon)
lemon wedges, for serving (optional)
Instructions:
Prep the Scallops: If scallops don't come with the muscle removed, remove the muscle from the side of each scallop. Rinse under cold water to remove any grit and pat dry with paper towels. If desired, cut scallops in half (mine were huge – I cut them in half so that the portions didn't look so tiny). Set aside.
Mise en Place: If you haven't prepped your ingredients – chopped and measured your herbs, zested your lemon, etc. – do so now. The scallops cook very quickly – you want to make sure your ingredients are ready to go so that you don't overcook the scallops or burn the herb-butter sauce.
Cook the Scallops: Heat a 10-12 in. skillet (I used a cast-iron one) over medium-high heat. Add 1 Tbs. butter and olive oil, heating until hot and starting to sizzle. Check scallops and pat dry again, if necessary. Season with a little salt and pepper and place in pan in a single layer. Cook 2-4 minutes per side, until browned and crisp. Flip and cook another 2-4 minutes. Move to a clean plate set near the stove to keep warm.
Make the Pan Sauce: Lower heat to medium and add 1/2 Tbs. butter. Once melted, add shallots, cooking until soft, about 1 minute. Add wine and cook until reduced by half, another minute or two. Use a wooden spoon to get up any bits from the bottom of the pan. Add herbs, lemon zest, and remaining butter, cut into 3-4 pieces. Whisk until butter is melted.
Finishing Up & Serve: Return scallops to pan. Using tongs or spoon, toss scallops to coat in sauce.  When scallops are warmed through, remove and serve immediately, with lemon wedges if desired.