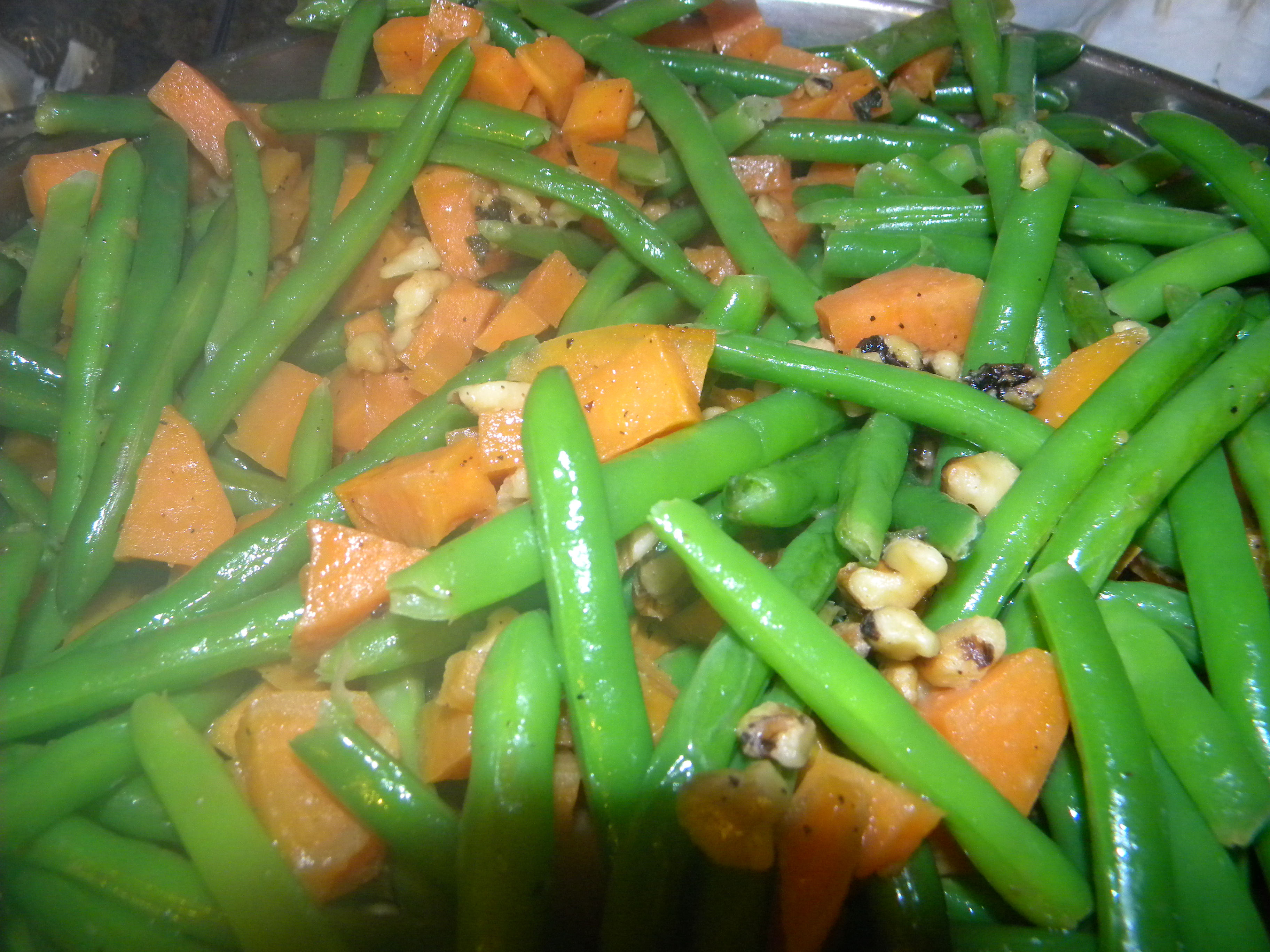 This recipe is from one of my favorite cooking magazines, Fine Cooking (issue no. 82). Other than skipping the recommended 2/3 c. dried cranberries, I followed the recipe pretty closely. I made the recipe ahead, stopping after I boiled the green beans – removed green beans from boiling water and plunged in an ice bath to stop the cooking. Drained, and set aside until just prior to dinner.
2/3 c. (about 3 oz.) dried cranberries
1-1/4 c. fresh orange juice
2/3 c. walnut halves, toasted
3/4 lb. sweet potatoes, peeled and cut into 1/4-inch dice
1/4 c. maple syrup
1/2 tsp. plus 1/4 c. kosher salt; more as needed
1/4 tsp. freshly ground black pepper; more as needed
1 to 1-1/4 lb. fresh green beans, rinsed well, stem ends trimmed
6 Tbs. unsalted butter
2 Tbs. finely chopped fresh sage
If using the cranberries, place cranberries and 1 c. of the orange juice into a bowl. Let it sit at room temperature for 30 minutes. Otherwise, simply let orange juice come to room temperature.
Heat oven to 450. Combine the sweet potatoes, maple syrup, 1/4 cup orange juice, 1/2 tsp. salt, and pepper. Spread on a baking sheet and roast until potatoes are tender, 10-15 minutes.
Boil 4 quarts water and the remaining 1/4 c. salt. When boiling, add green beans, stir, and cook until tender, 4-5 minutes. Drain.
When ready to serve, melt butter in a large skillet (until bubbling but not browned). Add chopped sage. Stir. Allow sage to crisp slightly and season butter. Add green beans. Cook for 2-3 minute. Add sweet potatoes, walnuts, and if desired, cranberries (strained, with juice set aside). Toss and continue cooking for another few minutes.  Add remaining 1 c. orange juice (or remaining juice from strained cranberries) and cook until most of the juice has evaporated, about 1 minutes.
Serve immediately.