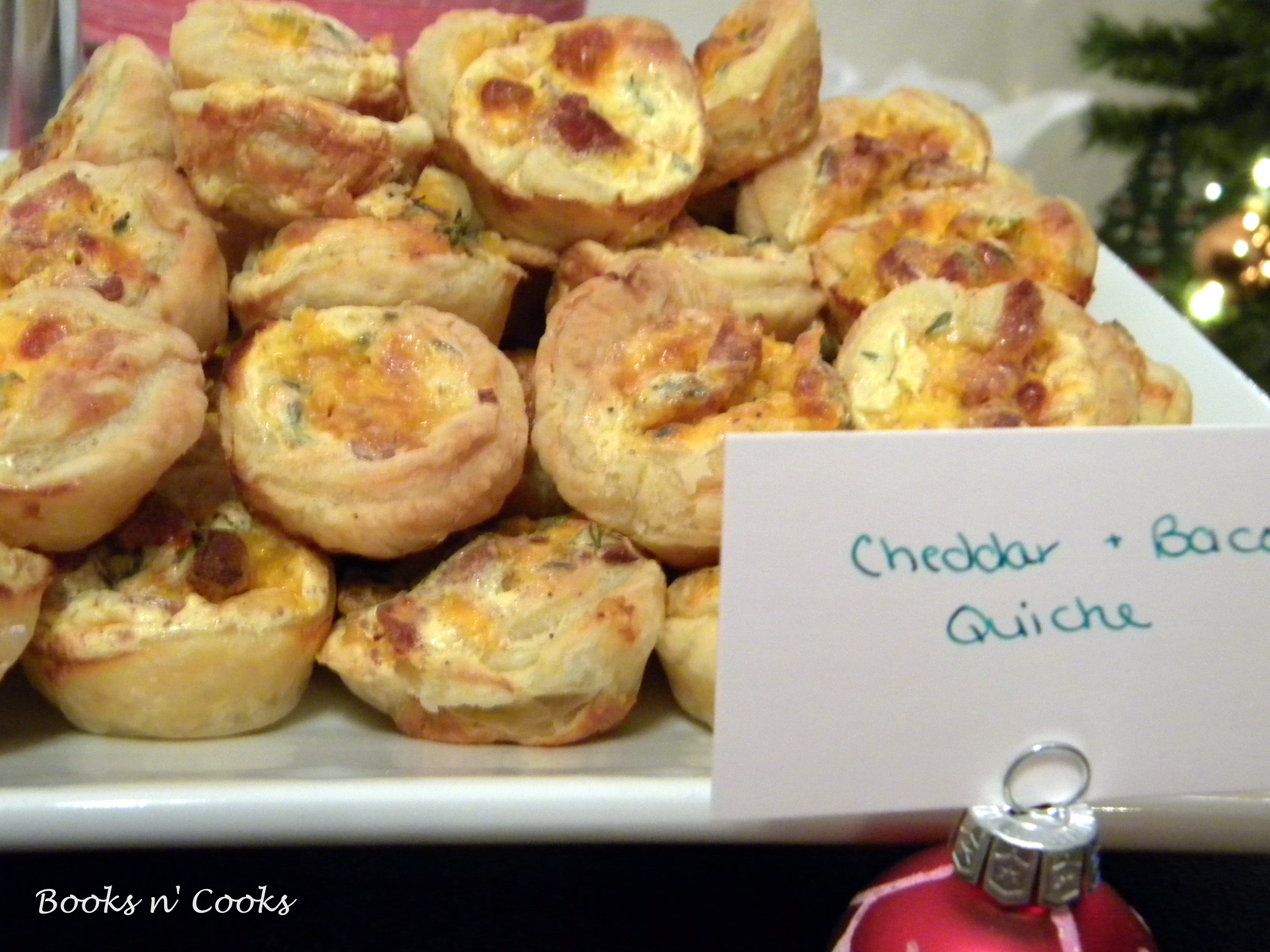 These quiche are billed as appetizers but are also perfect for breakfasts. They can be made ahead of time and heat up prior to serving, or may be served at room temperature. They can also be assembled and frozen, and baked right before serving.
Bacon, Leek & Cheddar Mini Quiches
Source: Fine Cooking (issue no. 82)
Ingredients:
3/4 lb. bacon, cut into medium dice
3 c. diced leeks  (3 leeks, white and light green parts only)
1-1/4 c. half-and-half
1 c. grated extra-sharp Cheddar (4 oz.)
2 large eggs
2 large egg yolks
2 Tbs. chopped fresh thyme leaves
1 tsp. kosher salt
1/2 tsp. freshly ground black pepper
1/4 tsp. ground nutmeg
Cooking spray
1  (1 lb.) pkg frozen puff pastry sheets, thawed according to package directions (FC actually calls for two packages, but I use 1 package, reusing the scraps)
Flour as needed for rolling out the dough
Brown bacon until crispy, 6-8 minutes. Remove bacon from skillet and put on a plate lined with a paper towel.  Pour off all but a tablespoon of bacon fat and return skillet to stove. Cook leeks until soft.
While leeks cool, mix half-and-half, cheese, eggs & egg yolks, and spices. When slightly cooled, add leeks and bacon and combine.
Lightly spray mini-muffin tins… you'll need 4 12-muffin tins. If you're short, don't worry, make half, refrigerate the rest of the dough and filling, bake or freeze a batch, and then finish the rest.
On a floured surface, roll out one sheet of puff pastry at a time. Per FC, you should get a 10×18 rectangle. I didn't measure, just thinned the dough out a bit. Use a cookie cutter (or juice glass) to cut out 3-inch circles. Place dough circles  into the muffin tins. Fill each cup with 1 Tbs. of filling, to the top of the dough.  Repeat until done with filling & dough.
To Freeze: If you're going to freeze the quiches, now's the point to do so. Place the muffin tins in the freezer for 30-45 minutes, or until frozen. Pop out of muffin tins (I had to use a butter knife to pry them out) and place into a sealable bag or tupperware. (FC says these will keep frozen for up to a month.)
To Bake: Bake at 400°F, with quiches at top and bottom thirds of the oven. Bake about 20 minutes (switching tins halfway through if using two oven racks) or until filling is puffed up and crust is browned.
If using frozen quiches, return to muffin tins to cook. Cooking time will be 30-35 minutes.
Dec. 2010 Editorial Note: Added photos since original post did not have any.