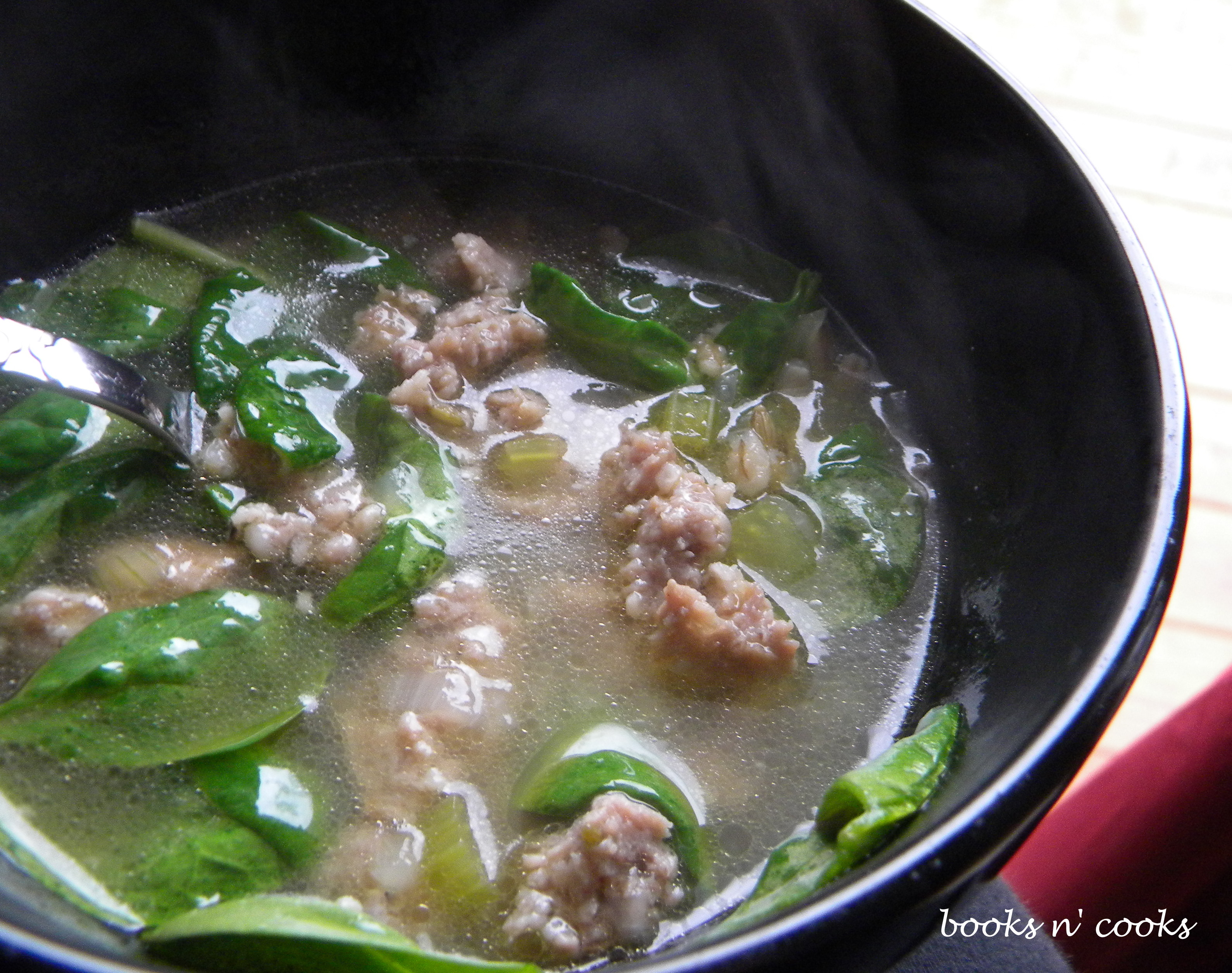 It's been cold and rainy and I've been craving soup. I love the Sausage soup at Bertucci's, and had hoped to find something like it.
This recipe is heavily adapted from Everyday Food magazine. I used twice the amount of sausage than the original recipe, both because I like a hearty soup and because that's what the package came in. To balance it out next time, I would add a couple more cups of chicken broth as well as another 1/2 c. of barley.  If you have a little bit of hot Italian sausage on hand, this soup would probably be very good with that as well
Sausage, Barley & Spinach Soup
Heavily adapted from: Everyday Food Magazine
Ingredients:
2 tsp. olive oil
16 oz. sweet Italian sausage, casings removed
2 celery stalks, diced
1 medium yellow onion, diced
1/2 c. dried barley
1/2 c. water
6 c. low-sodium chicken broth
10 oz. fresh spinach (add as much as you'd like!)
kosher salt and ground pepper
other spices to taste (I added 1 tsp. of fennel seeds)
Directions:
In a heavy stockpot or dutch oven, heat olive oil over medium heat. When hot, add sausage and brown.
Add onions and celery, cooking for a few minutes until soft.
Add barley, water, and chicken broth. Bring to a boil. Add salt, pepper, and any other spices to taste.
Reduce to a simmer and partially cover pot (I left the lid open just a crack). Allow to simmer for about 45 minutes or until barley is tender.
Remove from heat and stir in spinach. Spinach will wilt quickly.
Enjoy with a warm piece of bread on a cold and rainy day.