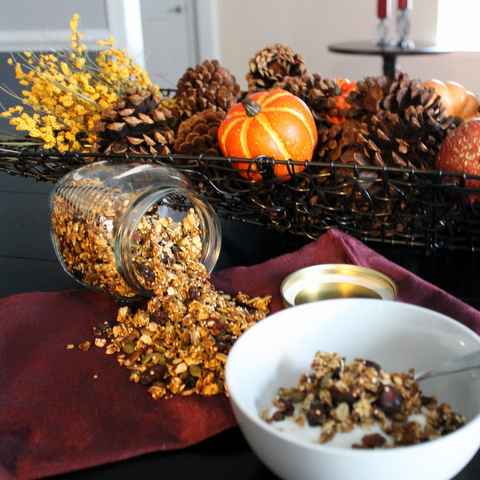 I feel like I'm one of those weirdos that doesn't go crazy for pumpkin lattes, pumpkin pie, and all other pumpkin products/baked goods that arrive in stores and shops at the beginning of fall. I didn't grow up with it, so I tend to find the textures and flavors a bit too much for me. But every once and a while, there's a pumpkin recipe that catches my eye enough to bookmark it. And once in a blue moon, there's a pumpkin recipe that I actually make.
This year, a recipe for quinoa pumpkin granola caught my eye. I love granola in my morning yogurt and was intrigued by the addition of quinoa, a protein-packed seed. I was pleasantly surprised at how much I enjoyed this recipe. The pumpkin flavor was understated enough for me to enjoy the hint of that fall flavor. I loved the crunch of the quinua-oat granola, the slight nuttiness of the pepitas, and the brightness of the dried cranberries in my morning yogurt. Maybe I'm not such a pumpkin hater after all…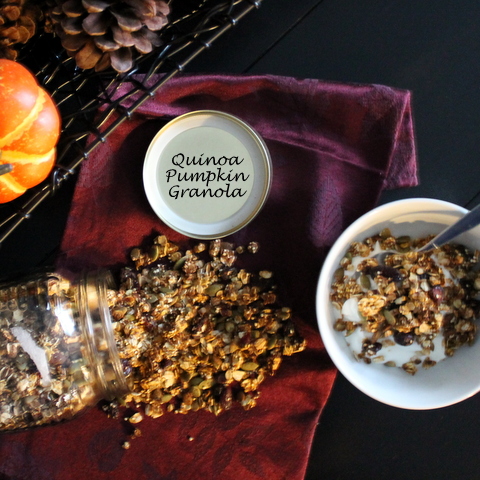 Quinoa Pumpkin Granola
Adapted from A Cookie Named Desire
Yields ~4 cups
Preheat oven to 325F.
Toast
1/2 c. uncooked quinoa, rinsed & dried
on a baking sheet in preheated oven for 10 minutes. Remove from oven.
In a large bowl, combine quinoa with
2 c. old-fashioned oats
1/2 c. ground flaxseeds
2 1/2 tsp. pumpkin spice
1/2 tsp. cinnamon
1/4 tsp. ginger
1/4 tsp. salt
1/2 c. pepitas
1/2 c. chopped pecans*
1/2 c. dried cranberries
2 Tbs. brown sugar
* For a nut-free granola, I skipped the pecans and instead used 1 c. pepitas.
In a smaller bowl, whisk together
1/2 c. agave nectar
1/2 c. pumpkin puree
1 tsp. vanilla extract
until combined. Stir into bowl with dry ingredients, until everything is coated. Pour onto baking sheet and bake until golden, about 25-30 minutes, stirring halfway through.
Turn off oven and crack door. Allow granola to cool on baking sheet in the oven for 2 hours to get  crunch.
Store in an airtight container.