Lately, my little girl has wanted to join me in the kitchen. It's what I've been waiting for, but she's still a little too young (two and a half) to actually be helpful. She's gotten pretty good at dumping cups in a bowl, but she still misses and I end up with flour all over the counter a good bit of the time. When she stirs, everything tends to slosh out of the bowl, no matter how careful she is. If we bake with chocolate, I can't keep her little hands out of the mixing bowl.
Nevertheless, I've been enjoying every minute with her and have been brainstorming new ways to play in the kitchen with her. Most recently, we made homemade pizza together and Miss. Hazelnut surprised me by actually touching the pizza dough (she doesn't like wet or sticky things), cheese, and sausage topping, but actually eating the pizza. I was shocked that Miss. Picky wanted not one but two pieces. Completely worth the mess we created!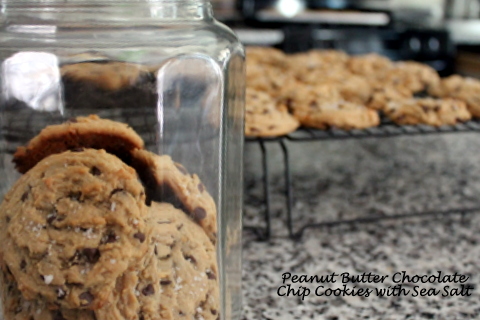 This particular recipe is one that Miss Hazelnut helped with… and we lost a good number of chocolate chips in the process. Despite my helper eating from the bowl, these cookies are my new favorite. No joke. I can't keep them in the house because they will not last more than a couple of days, if that long. The sweet-salty combination makes these super soft cookies incredibly addictive. This is definitely a recipe that I'll return to, time and time again.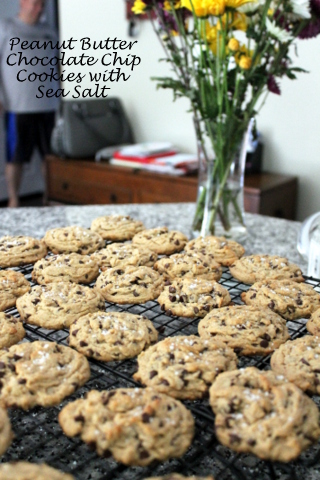 Peanut Butter Chocolate Chip Cookies with Sea Salt
Adapted from Ambitious Kitchen
Makes 2 dozen cookies
Ingredients:
½

c. unsalted butter, at room temperature

½

c. creamy peanut butter, at room temperature

¾

c. dark brown sugar

¼

c. granulated sugar

½

Tbs. honey
1 egg plus 1 egg yolk
1 tsp. vanilla extract
1 Tbs. sour cream or plain Greek yogurt
1

⅓

c. all-purpose flour

¾

tsp. baking soda

¾

tsp. baking powder

¼

 tsp. sea salt, plus more for sprinkling
1

½

c. mini chocolate chips
In the bowl of a stand mixer fitted with the paddle attachment, cream butter and sugar. Scrape down sides of the bowl and with mixer on medium speed, add sugars. With the mixer still running, slowly add egg and yolk, honey, vanilla, and sour cream until combined. Scrape down sides of the bowl.
Reduce speed to low and slowly add in flour, baking soda, baking powder, and sea salt. Add chocolate chips.
Chill dough in the fridge for 30-60 minutes or in freezer for 20 minutes.
Before removing dough from fridge or freezer, preheat oven to 350F and line two baking sheets with parchment paper.
Remove dough from fridge/freezer. Using an ice cream scoop, portion out dough until 1-inch balls. Roll dough between clean palms before setting on the prepared baking sheet. Bake 9-12 minutes, until cookies begin to brown and get slightly crisp along the edges. The middle may appear a bit underdone, but do not overbake! Remove from oven and allow to cool for 5 minutes on a baking sheet. Cookies will firm up a bit as they cool, but will stay very soft. Move cookies to a wire rack and sprinkle generously with sea salt.
Serve warm or at room temperature.
Store cooled cookies in an airtight container. (Note: These cookies are super soft, and did not freeze well for me.)