This past weekend was amazing. I got to attend my first foodie conference! The first ever Mixed!
Mixed was hosted by Paula of bell'alimento and Susan of Doughmesstic. The conference was held at the Mountain Lake Hotel in Virginia. Look familiar? The classic movie Dirty Dancing was filmed here. I was beyond excited. Since I arrived on Friday with plenty of time, me and my new camera went on a Dirty Dancing walking tour (photos here). I was happy to have the opportunity to test out my DSLR.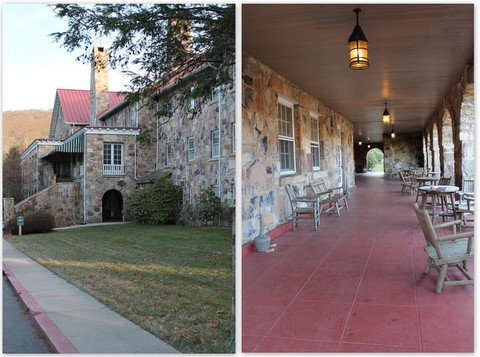 I was a little nervous at the start of the weekend – so many talented foodies and photographers and I had never met any of them in person. There were five women, my "internet friends" that I have been chatting with online for quite some time, that I immediately met up with. The six of us (Heather from Hezzi-D's Books and Cooks, Lynsey from Lynsey Lou's, Maeghan from The Way to His Heart, Stephanie from Brownies and Blondies, and Amy from What's Brewing in the Kitchen) hit it off, sharing stories about our families, homes, and of course cooking and baking, like we were old friends. We met and mingled with fellow foodies throughout the weekend – everyone was so nice! And it was awesome to meet some foodies that lived relatively close to my hometown.
Saturday was filled with lectures and activities. Bree Hester of Baked Bree spoke about food photography (and took professional headshots for us!); Tami Hardeman from Running with Tweezers spoke about food styling, Lenny Ferreira of Chez Us spoke about videography, and Heidi Larsen of Foodie Crush spoke about creating an ebook. There were two interactive sessions – Marian Poirier of Sweetopia gave a demo on decorating holiday sugar cookies before we got to decorate our own and Duff Goldman, Mary Smith, and Elena Fox of Ace of Cakes led us in cake decorating using Duff's own line of gear. I had a blast, even if my cake wasn't the prettiest out there. 🙂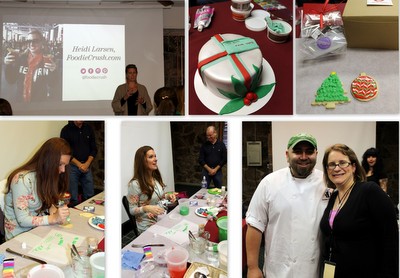 Finally, I can't say enough about the fantastic sponsors that Paula and Susan lined up for this event. These companies (and their representatives who participated in the conference) made it a fantastic experience for one and all. Thanks to them, I had a tasty lunch for my long drive home (the Wisconsin Cheese brie, arugula, and fig jam sandwich was amazing) and I now have a new favorite snack (the tortilla chips from Way Better Snacks are like crack – and healthy too!).  I came home with a huge bag of swag from Hershey, Oxo, KitchenAid, and Dixie Crystals Sugar, Real Butter, Dreamfields Pastas, Attune Foods, Lucky Leaf, Duff, and Stoneyfield, just to name a few.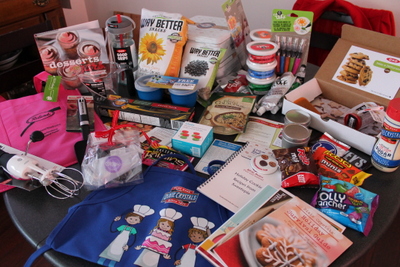 Finally, the event was not without thinking of others. Oxo matched raffleticket purchases, with all proceeds going  to Cookies for Cancer. Participates also went home with a tin, encouraging them to Bake It Forward – to whip up some baked goods, send them in the provided tin which will be registered online, and then send the goodies to someone who needs a smile.  The idea is that the recipient will eventually send it to someone else, spreading kindness and smiles to those who could use it.
The weekend was fabulous. I thoroughly enjoyed my first food blogger conference. I learned a ton and met some amazing people. Thanks again to Paula and Susan for organizing such a wonderful weekend!