This easy loaf cake is full of bright flavors, thanks to tart cranberries and lemons. Topped with a sweet lemon glaze, this Lemon-Cranberry Cake will be a welcomed addition to any fall dessert table… or afternoon snack.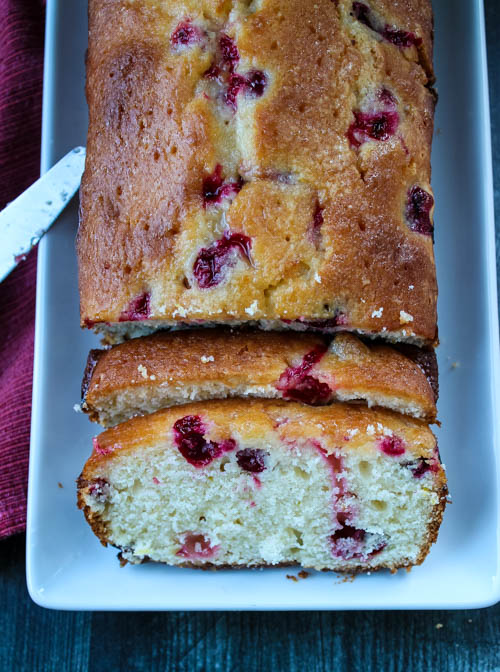 'Tis the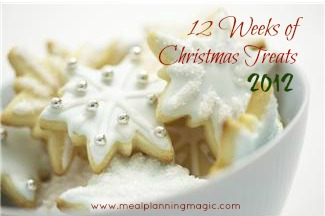 1oth week of the 12 Weeks of Christmas Treats, hosted by Meal Planning Magic. This year has flown by – I can't believe Christmas is just around the corner! Most of my holiday shopping is done, although I didn't have much of a choice because of the upcoming move. I'm really looking forward to some down time during Christmas week. While I know we'll be visiting a lot of family, I'm hoping for a few hours to curl up with a book while my hubby serves me tea or cocoa (ha! wishful thinking, right?)
Anyway, after last week's rich, decadent Bourbon Balls, I thought I'd bring you something a little lighter. I made this Lemon-Cranberry Cake for no special occasion, just for my hubby and I to have a sweet around the house. I enjoyed the cake for breakfast (it's got fruit in it!), snack with tea, and for dessert. With all of the rich sweets that are served from mid-November through the Christmas season, this cake felt refreshing, with a burst of lemon and cranberry flavors.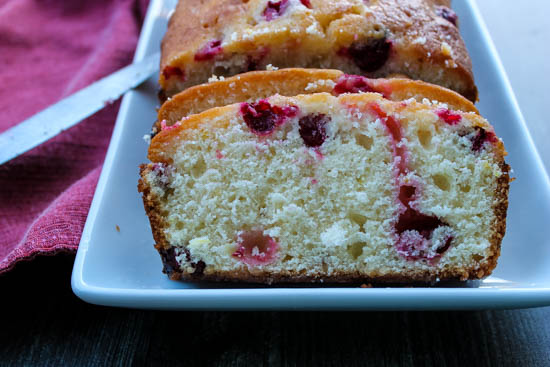 I remade this recipe years later for coworkers and the cake continued to be a hit. There's something about the bursts of fresh cranberries and that lemony glaze that seeps into the cake that everyone just loved. My little team of 6 had this cake knocked out in a day. Pretty impressive, right?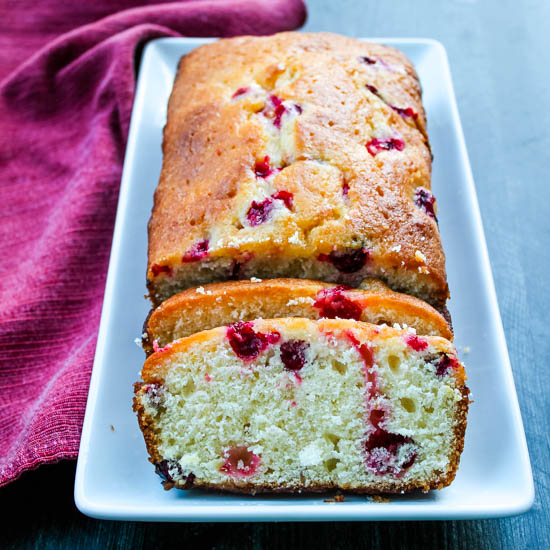 Looking for more fall baking ideas? Here are a few of my favorites:
Cranberry Oatmeal Cookies – dried cranberries, white chocolate chips, and coconut are a favorite fall cookie, although it's unique enough that it's enjoyed all year round.
Fall Magic Bars – my fun play on a childhood classic, these Magic Bars are amazing warm.
Pecan Pie Bars – a big-batch bar cookie that freezes well, making it one of my go-to options for fall entertaining and potlucks. It's got all of the goodness of Pecan Pie, but much easier for serving.
What are your favorite fall sweets to indulge in?
Print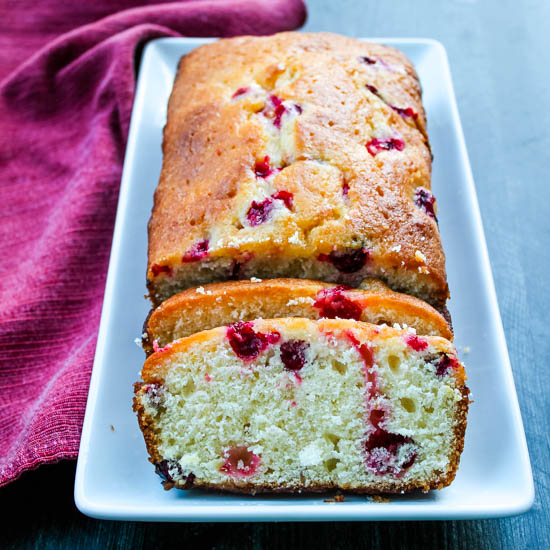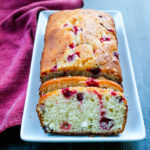 Lemon-Cranberry Cake
This easy loaf cake is full of bright flavors, thanks to tart cranberries and lemons. Topped with a sweet lemon glaze, this Lemon-Cranberry Cake will be a welcomed addition to any fall dessert table... or afternoon snack. 
Prep Time
1
hour
20
minutes
Total Time
2
hours
40
minutes
Ingredients
Ingredients for the Cake:
1 1/4

c.

fresh cranberries

1 2/3

c.

plus 1 Tbs. all purpose flour

divided

1/2

c.

plus 1 Tbs. unsalted butter

divided, at room temperature

1

c.

granulated sugar

2

large eggs

1 1/2

tsp.

baking powder

1/4

tsp.

salt

1/2

c.

milk

1

Tbs.

lemon zest
Ingredients for the Lemon Glaze:
1/4

c.

granulated sugar

1/4

c.

freshly squeezed lemon juice

(from 1 lemon)
Instructions
Make the Cake:
Preheat oven to 350F. Grease a 9x5 loaf pan with 1 Tbs. of butter. Be sure to get the edges so that the cake doesn't stick to the pan! Flour lightly, tap out excess flour, and set aside.

In a small bowl, toss cranberries in 1 Tbs. flour. (Don't skip this step! This will prevent cranberries from sticking together.) Set aside.

In a stand mixer fitted with the paddle attachment, beat butter and sugar on high speed until light and fluffy, about a minute. Lower speed slight and add eggs, one at a time. Scrape down sides of the bowl with a rubber spatula. With mixer on low speed, add baking powder, salt, and half of remaining flour. Add half of milk, and when incorporated, add the rest of the flour, followed by the remainder of the milk. Scrape down sides of the bowl, mixing again on low speed if needed. Fold in lemon zest and floured cranberries. (It's fine to dump in any extra flour that wasn't stuck to the cranberries.)

Pour mixture into prepared pan and bake until a toothpick inserted into the center comes out clean, 55-65 minutes. Remove from oven and allow to cool for 15 minutes.

Set a cooling rack on top of a piece of parchment or wax paper (to catch any glaze that may drip if you glaze the cake). Remove cake from pan and allow to finish cooling on the wire rack.
Make the Glaze:
In a small saucepan over medium-high heat, cook sugar and lemon juice until sugar has melted, stirring occasionally. Continue to cook until it has come to a boil. Allow to boil for 30 seconds before removing pan from heat. Allow to cool slightly, as glaze will thicken a little as it cools.
Glaze the Cake:
Pierce top of cake all over with a toothpick, or better yet, a wooden skewer (which will go deeper than the toothpick). Use a pastry brush to apply warm glaze to cake. (My cake was still warm when I glazed it.)

Store covered tightly with plastic wrap at room temperature.
This recipe was adapted from The Pastry Queen p. 76.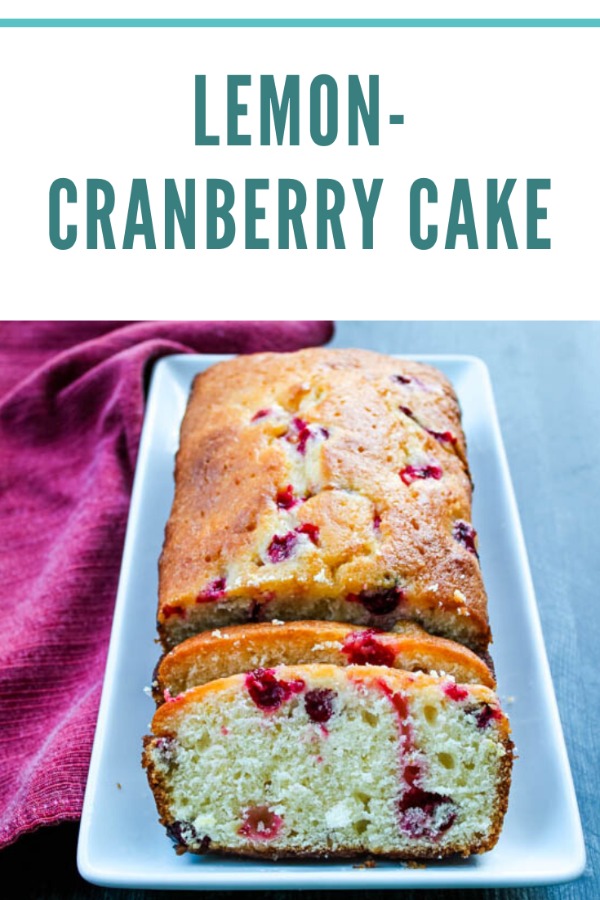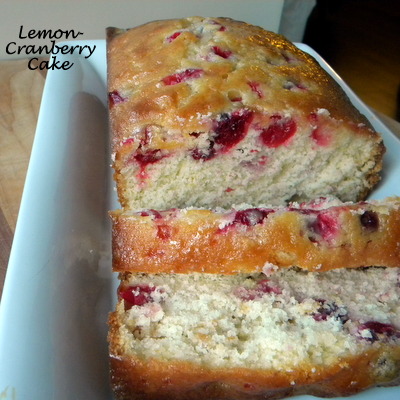 This post was updated with new photos and a recipe card, to improve reader experience, in November 2019. The recipe remains unchanged.