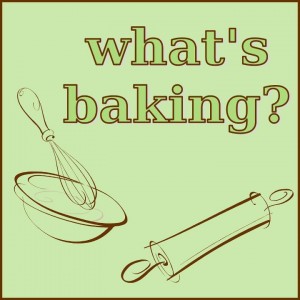 I feel like I just joined the What's Baking? group and all of a sudden, it was my turn to choose the theme. Since my hubby and I have been trying to eat well (in other words, avoid the sweets) and we've been spending a lot of time entertaining around brunch time, I knew immediately that I wanted to go with quiche.
Unlike a frittata (my other go-to type of dish for brunch) which starts off being cooked stove-top and then is finished in the oven, a quiche is baked entirely in the oven. Quiche frequently are baked with a crust, but this time, I went with a crustless quiche, for something extra light. The zucchini was really not noticeable, making this a good recipe for picky eaters (my 3-year old daughter) and uses whole wheat flour for a nutritional boost. The star of this recipe is really whatever herb you choose to use in this recipe.
Come back next Wednesday (April 27) to see what other quiche recipes the What's Baking? group has cooked up this month!
Also pictured: fruit salad with mint and poppy seed vinaigrette.
Side Note: Quiche are also a wonderful, light option for a savory appetizer. I like to make mini quiche when entertaining a large crowd. Simple make ahead of time and warm in the oven before serving.
Mini Zucchini Quiche
Adapted from Weight Watchers
Makes 3-4 dozen mini quiche
Ingredients:
cooking spray (optional, depends on your muffin tin)
1/2 c. whole wheat flour
1 c. grated Parmesan cheese
2 tsp. baking powder
1 tsp. granulated sugar
1 tsp. kosher salt
1/2 tsp. black pepper
2 small zucchini, finely chopped
1 small onion, finely chopped
1/4 c. fresh basil or rosemary, finely chopped
6 large eggs
3 Tbs. extra virgin olive oil
Preheat oven to 375°F. If you have a silicon muffin mold, use that, placed on a baking sheet.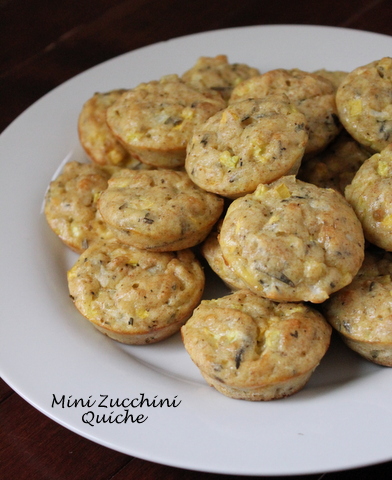 If not, spray mini muffin tins with cooking spray and set aside. (May need to cook in batches.)
In a medium bowl, whisk together flour, cheese, baking powder, sugar, salt, and black pepper. Add diced zucchini, onion, and herbs, tossing to coat in flour. Set aside.
In a small bowl, gently whisk together eggs and olive oil just to combine. Stir into dried ingredients until just incorporated.
Portion into prepared muffin cups – a heaping tablespoon per muffin cup.
Bake for 15 minutes, until quiche are golden brown and quiche are cooked through. Remove from oven and allow to cool for a few minutes before removing from pan.
Serve hot.