The past couple weeks have been pretty rough. Too much work, too little sleep. Too many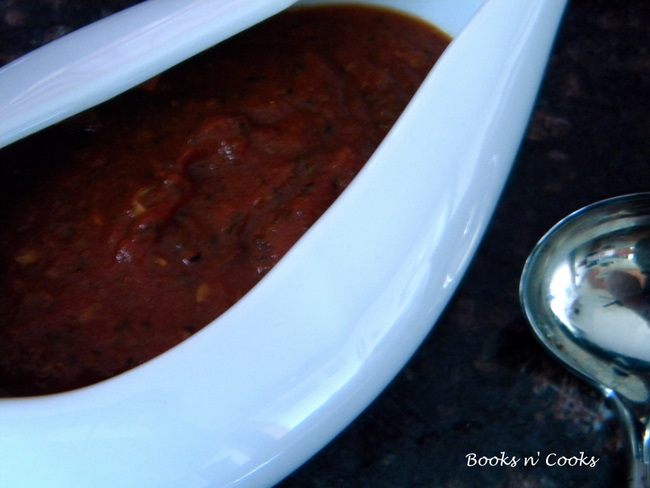 errands and chores, too little relaxation. So this past weekend, I promised myself that I would do what I wanted to do. I refused to do any work; I refused to do chores or errands. It was all about me.
The weekend ended up being packed. I went for a walk with a friend. I made strawberry muffins for Stampin' Up, and at Stampin' Up, I made Christmas cards (Christmas in August). I went out to dinner and drinks and to see Wicked in the city. And then, since I've been craving warm, cozy meals (hopefully thinking that the heat would finally break), I spent the day making marinara sauce, two batches of veggie lasagna, ziti with spinach and spicy Italian sausage, and homemade focaccia bread. (Stay tuned for recipes this week). This was lunch, dinner and dessert for the week as well as breakfast and lunch for the "Bakery."
The below marinara sauce was the base for the weekend's cooking. It's taken me a while to perfect it. I loved my mom's marinara sauce, but her recipe wasn't very helpful when I first started cooking – a list of ingredients to add "to taste." I ended up taking her recipe and a couple of others, building and adapting until I found a combination I was happy with. Now, I've made the sauce so many times that I really can go by taste, without a recipe, but I wrote the proportions down, just for you. The recipe is easily multiplied and freezes well.
Marinara Sauce
By Books n' Cooks
Ingredients:
2 Tbs. extra virgin olive oil
1/2 onion, small dice
2 tsp. minced garlic
1 28-oz. can crushed tomatoes
14 oz. water
1 6-oz. cans tomato paste
1/2 Tbs. kosher salt
1/2 tsp. pepper
1 Tbs. dried basil
1 tsp. dried oregano
1 tsp. fennel seeds
1 bay leaf
1 Tbs. sugar
* May add dried parsley, red pepper flakes, additional herbs and seasonings according to preference.
In a medium-large sauce pan over medium heat, heat olive oil. Add onions and garlic, stirring and sauteing until translucent. Add crushed tomatoes, water (I fill the empty tomato can halfway with water, swirl to get remaining tomato bits), and tomato paste. Stir and let heat for a few minutes. Add remaining ingredients. When sauce is warm, taste and add additional herbs if needed. (I love the basil and fennel and typically have a heavy hand with those.)
When heated and starting to bubble, lower heat and let simmer for 2 hours. Pull out bay leaf before serving.