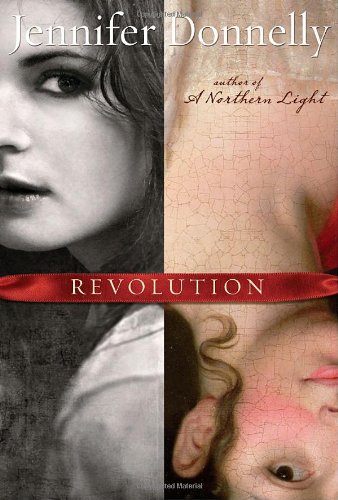 Book Review:
Revolution
By Jennifer Donnelly
When I began Revolution, I was not sure I would enjoy it. The book began with a glimpse at Andi Alper's life, which was falling apart. Andi and her mother were both hit hard over the death of her younger brother. Andi blamed herself and  was suicidal. Her mother was consumed by grief and unable to function normally. Andi's father lived far away, uninvolved in her life. When he showed up, the father and daughter butted heads and could not understand or relate to one another. Andi had lost interest in everything but her music, but even that couldn't keep her out of depression and away from suicidal thoughts.
I thought this teenage anguish would dominate throughout the book, but it didn't. Andi's emotional turmoil was still there,but did not dominate the story.The first two-thirds of Revolution flashes between Andi in the present and the diary of Alexandrine Paradis, a French woman who lived during the French Revolution. Andi becomes increasingly interested in Alexandrine's life – her time living with the royal family as a companion to the prince, her close relationship with prince Louis Charles (Louis XVII), and France during the French Revolution. As Andi continues her music, both playing her guitar and researching a French composer for her thesis, and delves deeper into the diary, she takes the first steps to overcoming her grief and guilt over her brother's death.
The last third of the novel consists of Andi's "trip" back to 1795, where she lives the history she had been reading about. Initially Andy was convinced that she had overdosed on her antidepressants. Before long, Andi starts making connection back to Alexandrine's life and as well as that of the composer she was researching.
These experience bring Andi back to life. She starts to overcome her problems and regains the will to live.
Recommendation: I would definitely recommend Revolution to anyone who enjoys historical fiction novels. While I was originally concerned that the book would have too much teenage anguish, I found that the French history played a much stronger role in the storyline than Andi's emotional struggles. There was just enough there to maintain a connection with the characters but not get bogged down in her depressing thoughts. I found the storyline creative and addictive – I didn't want to put the book down!
Grade: A- (4 of 5 stars on goodreads)