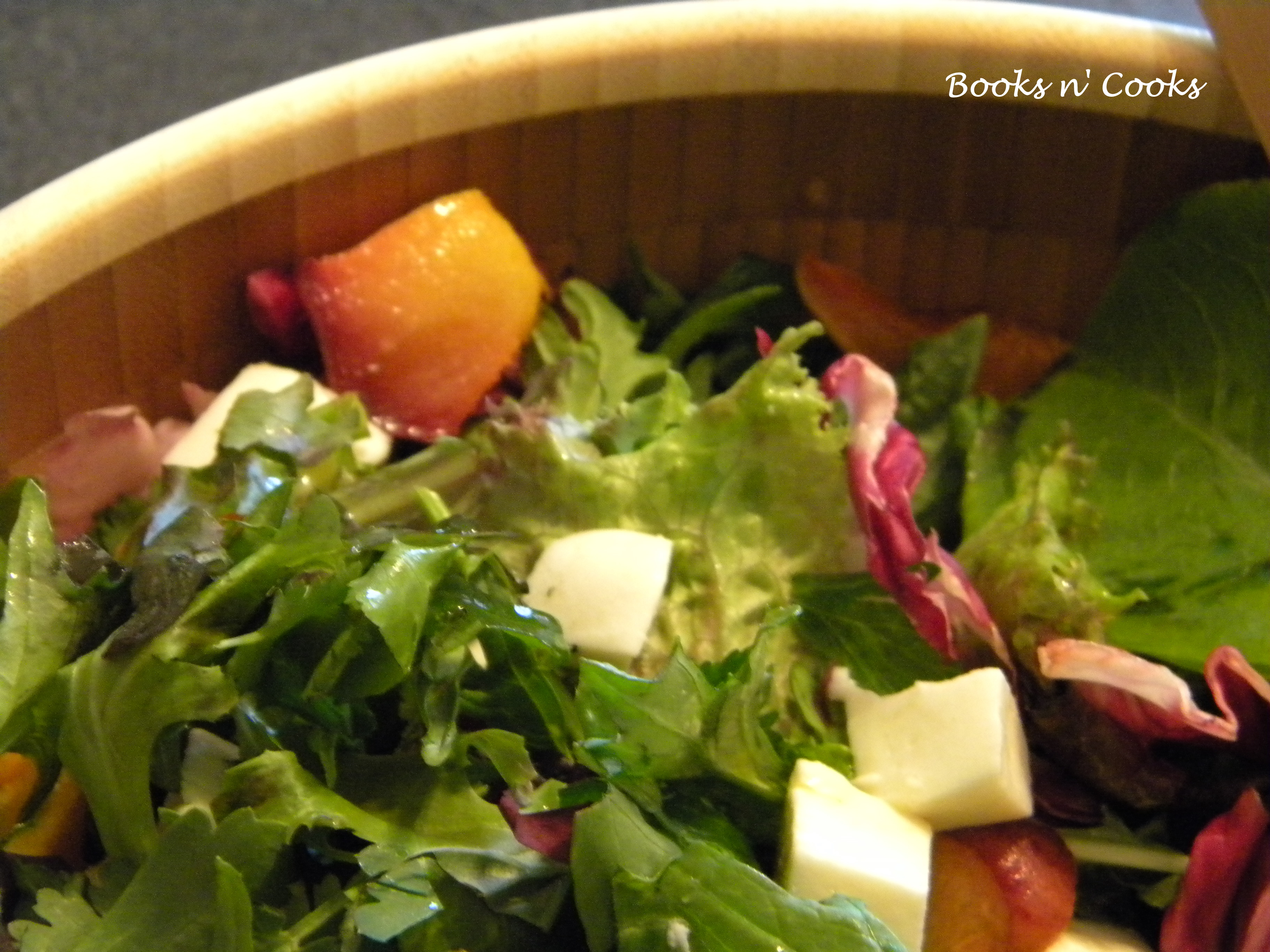 Last week was pretty awful for me – everything that could go wrong did. Come Saturday night, all I wanted to do was sit back and relax while surrounded by good friends. I got exactly what I wanted – a night filled with wine, light and summery food (this Grilled Peach & Mozzarella Salad, Greek Panzanella, Herb-Grilled Chicken and Shrimp, and frozen turtle pie), and wonderful friends. Thanks to everyone that came over for dinner this past weekend – you were the perfect remedy for a terrible week!
Now, onto this Grilled Peach and Mozzarella Salad. Tossed lightly with olive oil, the sweet grilled peaches and the sweet balsamic glaze that gets drizzled on top are a wonderful contrast to the spicy bite of the arugula and the smooth mozzarella. (Note: I let everyone drizzle the syrup on their own salad, so glaze is not in photo above). This was a nice change from the usual salad that I throw together, and can't wait for my next bag of peaches to make it again!
Grilled Peach & Mozzarella Salad
Adapted from Fine Cooking No. 106 (p. 19)
Serves 6 as a side
Ingredients:
3/4 c. balsamic vinegar
2 sprigs fresh thyme
Kosher salt
Ground black pepper
2+ firm-ripe peaches (12 oz. total), halved and pitted
4-1/2 tsp. olive oil
4 c. lightly packed baby arugula, spring green mix, spinach, or lettuce of choice
1 ball buffalo mozzarella, cut into 3/4-inch chunks (about 1 cup)
Grill the Peaches: Heat the grill on medium heat, or, if you don't own a grill, a grill pan on the stove. Rub halved peaches with olive oil and sprinkle with salt. Place peaches on grill cut-side down until grill marks appear on slices, 3-4 minutes. Remove from heat and allow to cool slightly. Slice into 1-inch chunks and set aside.
Make the Balsamic Glaze: In a small saucepan, bring balsamic vinegar and thyme to a boil. Reduce heat and simmer until vinegar is thick and syrupy, 6-9 minutes. You'll have about 1/4 cup of glaze. Remove from heat, discard the thyme, and season to taste with salt and pepper.
Toss the Salad: Just prior to serving, toss the greens with 2 tsp. of olive oil, the mozzarella and the peaches. Drizzle with balsamic glaze, or allow your guests to do glaze their own. Serve extra peaches and mozzarella in bowls on the side.