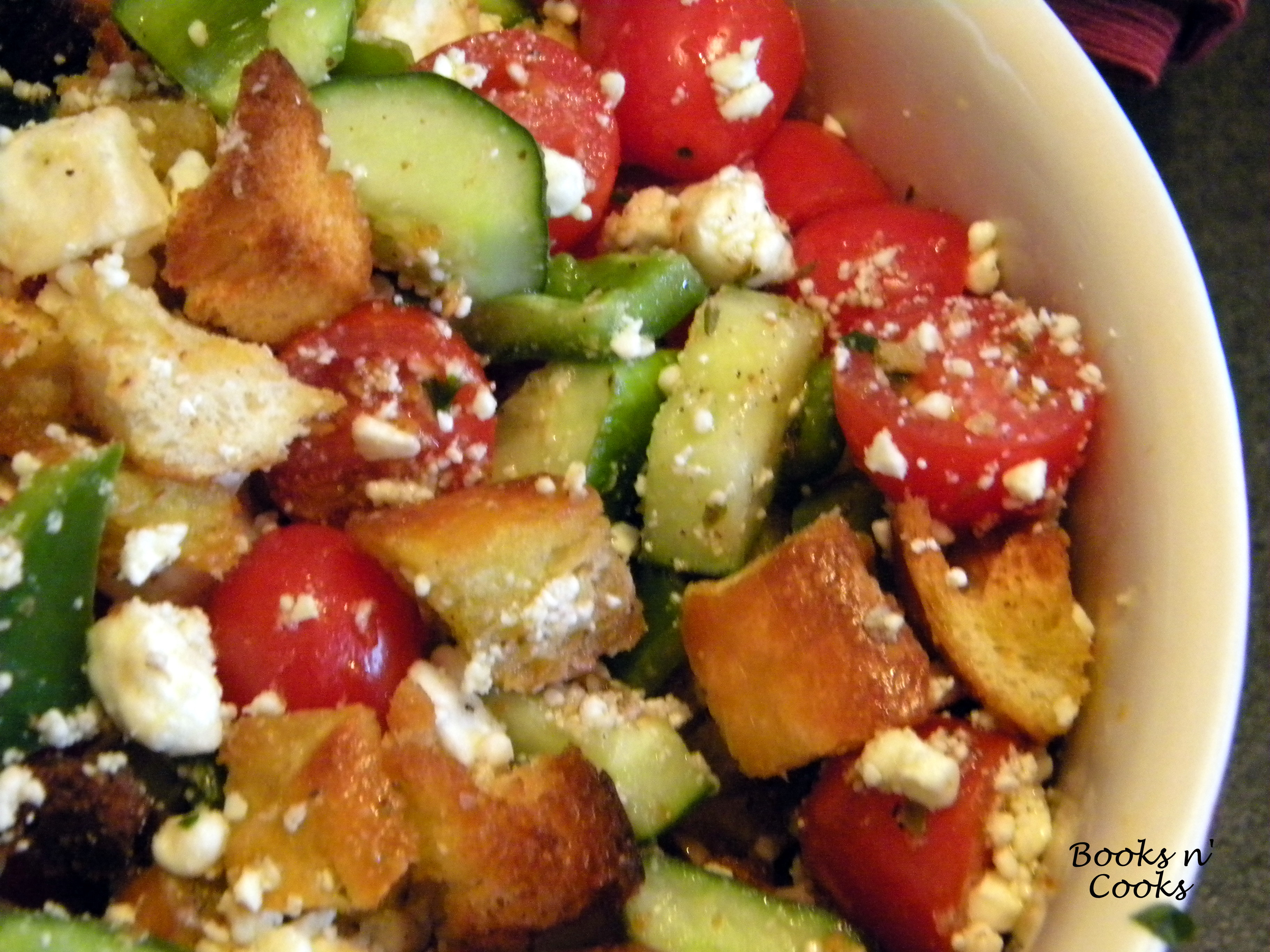 When I told K that Greek Panzanella was on the menu for this week, she offered to move in. I mean, since the hubby doesn't share the same taste in vegetables that I do, I need someone else living here to help eat tasty dishes that he doesn't like. Well, K, you get to keep your place, share my dish, and even go home with a doggy bag. As soon as we tossed everything together, she and I were picking out the pieces of from this Greek salad well before the rest of the meal was on the table. Hope you enjoyed the left overs and get a chance to make this real soon!
PS – This dish be prepared ahead of time, and tossed together 30 minutes prior to serving.
Greek Panzanella
Adapted from Barefoot Contessa on Food Network
Serves 6
Ingredients for the Salad:
Olive oil
6 c. French bread cut into 1-inch cubes (about 3/4 a baguette)
Kosher salt
1 1/2 bell peppers, in a large dice
1 cucumber, cut into 1/4-inch thick slices, then quartered and seeded
1 1/2 pint cherry tomatoes, halved
1/2 a red onion, in a large dice
1/2 lb. feta cheese, cut into cubes (or 8-oz. crumbled feta)
1/2 c. calamata olives, pitted (optional)
Ingredients for the Vinaigrette:
2 cloves garlic, minced
1 tsp. dried oregano
1/2 tsp. Dijon mustard
1/4 c. red wine vinegar
1 tsp. kosher salt
1/2 tsp. ground black peppers
1/2 c. olive oil
Prepare the Salad:
Brown the bread cubes, either in a large saute pan on the stove (medium heat, tossing frequently for 5-10 minutes) or on a baking sheet in the stove (450F for 10 minutes, stirring halfway through). Bread cubes should be drizzled with olive oil (about 3 Tbs.) and salt before toasting. Set aside to cool slightly.
Place cucumber, onion, peppers, and tomato in a large bowl, while setting aside the feta, olives, and toasted bread.
Make the Vinaigrette:
Whisk together all ingredients except olive oil. Add olive oil slowly, still whisking. Pour 3/4 of vinaigrette over vegetables and set aside.
30 minutes prior to serving, toss vegetables with bread, feta, and olives. Allow flavors to blend. If needed, add remaining vinaigrette.
Serve at room temperature.
Save