Welcome to #CranberryWeek, hosted by Caroline's Cooking and A Kitchen Hoor's Adventures. We'll be sharing cranberry-inspired creations all week long in celebration of national cranberry day. Search #CranberryWeek to keep up to date and follow the #CranberryWeek Pinterest board for more cranberry inspiration. But first, see all the other cranberry recipes being shared today: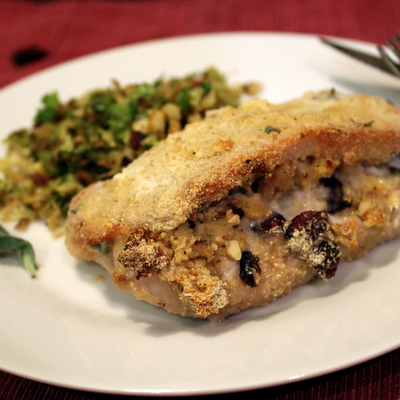 Several years ago, a friend had visited and cooked dinner for my hubby and I. He made pork chops which were the inspiration for this recipe. Those pork chops were brined for several hours and grilled instead of baked – a little too time-intensive and not really appropriate for the cold weather we're having. Those pork chops were also stuffed with a dried cherry filling, but I tend to prefer dried cranberries, especially during this time of year.
So instead of grilled cherry and cornbread-stuffed pork chops, you have my version that been adapted for the season. My hubby and I enjoyed the tart bursts of cranberry paired with savory cornmeal, sage, and walnuts. It's a recipe we'll be making again for sure this winter. Enjoy!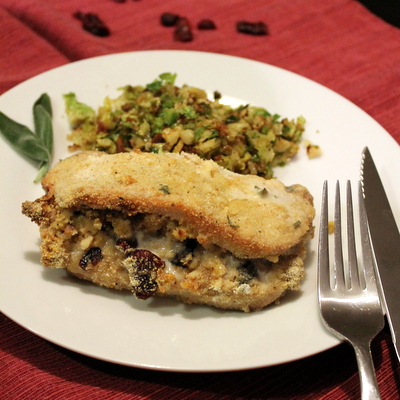 Cranberry & Cornbread Stuffed Pork Chops
By Books n' Cooks
Serves 4
Ingredients for the Pork Chops:
4 pork chops, thick-cut if possible (I used boneless but feel free to use bone-in)
cooking spray
1 Tbs. minced fresh sage
1/2 tsp. salt
1/4 tsp. black pepper
1/2 c. cornmeal
1/2 c. plain breadcrumbs
1 egg
1/3 c. buttermilk or whole milk
Ingredients for the Cranberry & Cornbread Stuffing
1 c. crumbled cornbread, homemade or store-bought (from about 2 muffins or slices of bread)
1/3 c. chopped walnuts
1/3 c. dried cranberries, roughly chopped
1/2 tsp. black pepper
1/2 tsp. kosher salt
1 Tbs. minced fresh sage
buttermilk or whole milk
Prep: Preheat oven to 400F.
Line a baking sheet with aluminum foil. Place a wire rack on top. Spray with cooking spray and set aside.
Make the Filling: In a small bowl, combine cornbread, walnuts, cranberries, pepper, salt, and sage. Add just enough buttermilk or whole milk so that filling comes together.
Make the Pork Chop: In a shallow bowl, combine sage, salt, pepper, cornmeal and breadcrumbs. Set aside. In another small bowl, place egg and buttermilk or whole milk. Lightly scramble with a fork and set aside.
Cut a horizontal pocket into each pork chop, cutting deep but not all the way through. Stuff each with a quarter of the stuffing.
To bread, carefully dip stuffed pork chop in egg/milk mixture, followed by the cornmeal breading. Place on prepared baking sheet. Spray tops with cooking spray and bake until pork chops reach a internal temperature of 145F, about 20 minutes.
Serve hot with roasted vegetables (pictured above, roasted Brussels sprouts and bacon) or your favorite side.
Save
Save