Welcome to #CranberryWeek, hosted by Caroline's Cooking and A Kitchen Hoor's Adventures. We'll be sharing cranberry-inspired creations all week long in celebration of national cranberry day. Search #CranberryWeek to keep up to date and follow the #CranberryWeek Pinterest board for more cranberry inspiration. But first, see all the other cranberry recipes being shared today: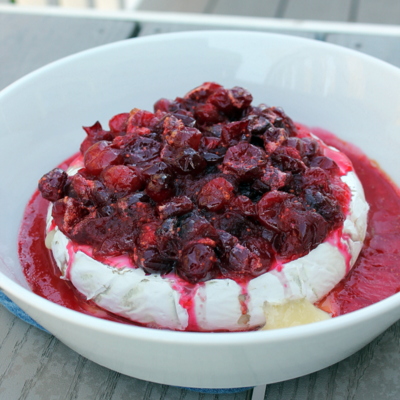 For me, Thanksgiving time is cranberry time. It's not about pumpkin or pecan pie (although I loved these pecan pie truffles) at Thanksgiving dinner, but instead I make a mean cranberry-pear tart. If I'm hosting, I might make scones packed with dried cranberries and nuts for overnight guests or a quick bread to have around for snacks. But it's all about the cranberries.
So you can imaging I was excited when I heard about #CranberryWeek. I jumped at the chance to participate, and I knew immediately that a baked brie would be one of the items I made for the week. The cranberry-orange topping I created has just the right might of sweet and tart, and it pairs beautifully with the strong flavor of the brie. Serve it on a hunk of crusty fresh bread and you have yourself a wonderful, seasonal appetizer.
Note: Cranberry orange topping can be made ahead, and refrigerated until ready to top and bake the brie.
Cranberry Orange Baked Brie
By Books n' Cooks
Ingredients:
8 oz. fresh or frozen cranberries
1/3 c. sugar
1 orange, juiced and zested
1 Tbs. Cointreau or other orange liquor
pinch of kosher salt
1-16 oz. wheel brie
Combine cranberries, sugar, orange juice, orange zest, Cointreau and kosher salt in a small saucepan over medium-low heat. Cook for 10-15 minutes, stirring occasionally, until cranberries have burst. Remove from heat and allow to cool for 10 minutes, so sauce begins to thicken.
Meanwhile, preheat oven to 350F. Place brie in a large baking dish (I used a round, high-sided pie dish). Top with cranberry sauce. Bake for 20 minutes, until warm throughout.
Serve hot with your favorite fresh bread.
Save
Save