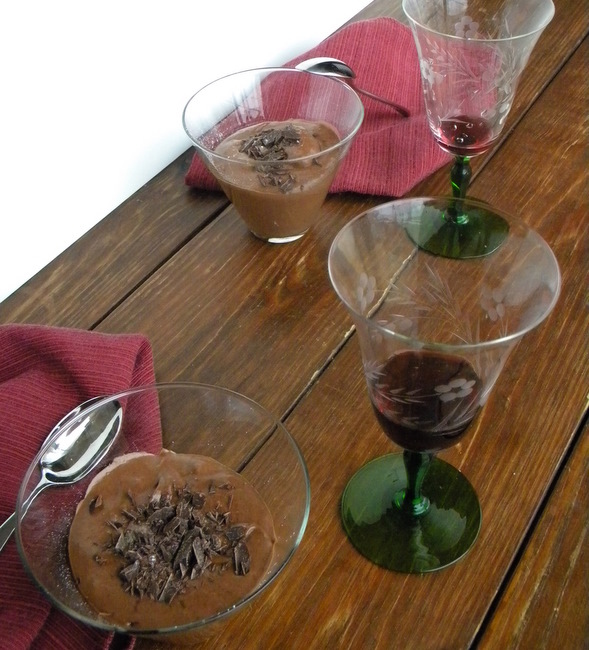 Last week, I had my best friend over for dinner. She is a chocolate fiend! Pretty much any way you serve it, she loves it. Her favorite desserts are my flourless chocolate torte and chocolate ganache pie, but I wanted to serve her something different, and I knew exactly what it was going to be – chocolate mousse.
Ever since Bridget at The Way The Cookie Crumbles had posted her chocolate mousse comparison, I knew I wanted to try one of them. Or all of them. However, there were only four of us last week, and 3 batches of chocolate mousse might have been going overboard, even for a choco-holic. So, I settled for Bridget's favorite, from Cooks Illustrated The New Best Recipe. We were not disappointed. Hubby and I were members of the clean martini glass club while my bestie took the rest of hers home to enjoy after school the next day. And hubby was thrilled when he found out that there was a little extra in the fridge for him too. Needless to say, it was fantastic – light, airy, richly chocolatey. I'm already planning my next dinner so that I can make it again, perhaps in smaller serving glasses so that there are more leftovers. 🙂
Chocolate Mousse
Adapted from Cooks Illustrated The New Best Recipe via The Way The Cookie Crumbles
Makes 6-8 servings
Ingredients:
6 oz. bittersweet or semisweet chocolate, coarsely chopped
4 Tbs. unsalted butter
Pinch salt
1 tsp. vanilla extract
2 Tbs. strong coffee or 4 teaspoons brandy, orange-flavored liqueur, or light rum (I used coffee Baileys)
4 large eggs, separated
2 Tbs. sugar
½ c. chilled heavy cream
Optional garnishes: additional shaved chocolate or fresh whipped cream
Instructions:
In a medium bowl set over a large saucepan of barely simmering water, melt chocolate. Stir in butter, a little at a time. When butter is completely incorporated, stir in salt, vanilla, and coffee/liquor, about 1 minute to fully incorporate liquid. Whisk in egg yolks, one at a time. Set side.
Place egg whites in the bowl of a stand mixer, set over the sauce pan of barely simmering water. Stir constantly for 1-2 minutes, until egg whites are slightly warmed. You need to stir constantly, or egg whites will start to cook along the edges!
Transfer bowl of egg whites to stand mixer, and with the paddle attachment, beat on high speed until soft peaks form, 2-3 minutes. Slowly add sugar and continue to beat until stiff peaks are formed, another 1-2 minutes.
Whisk 1/3 of egg whites into the chocolate mixture to lighten it. Fold in remaining egg whites.
Return bowl to stand mixer, and pour in whipped cream. Switch to the whisk attachment and whip on high until soft peaks form, 2-3 minutes. Fold into chocolate mixture.
Spoon into serving bowls or glasses.
Refrigerate at least 2 hours, or cover and refrigerate for up to 24 hours.
Garnish with shaved chocolate or freshly whipped cream before serving, if desired.