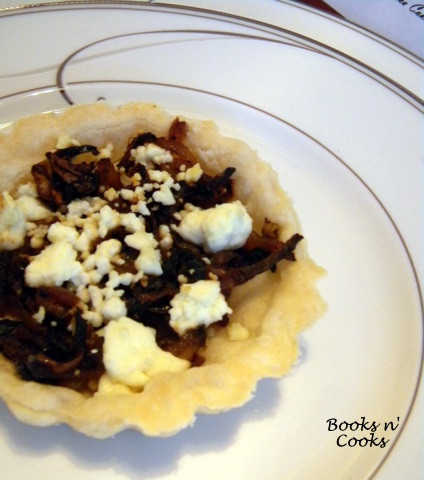 A little pre-Valentine's Day trip to Williams Sonoma got me excited about using these cute little tartlet pans I bought. Since I bought them and then ran to the grocery store, I didn't have a recipe to work with for our Valentine's Day dinner, I improvised. The dough is a basic savory pastry dough that you can find just about anywhere (I adapted this one from Fine Cooking). I halved the recipe, hoping to get 3 tartlets, but somehow ended up with enough for 6 (the below is an adaptation of the recipe for 6 tartlets, so don't be surprised if you have extra dough). The caramelized onion and feta filling was my own little creation – sweet yet still savory.
Caramelized Onion & Feta Tartlets
Makes 1-10 inch tart or 6 tartlets
Ingredients for the Dough:
1 1/2 c. all-purpose flour
1/4 tsp. table salt
9 Tbs. cold unsalted butter, cut into small pieces
6 Tbs. ice water
Ingredients for the Filling:
2-3 Tbs. olive oil
2-3 medium onions, sliced thinly
1 tsp. kosher salt
1/2 c. feta cheese
Make the Dough: Whisk together flour and salt. Add butter and with a pastry blender, cut the butter into the flour until little balls form, almost like coarse cornmeal. Add water a tablespoon at a time, stirring with a for until the dough comes together.  You may not need all the water. (This can also be done in a food processor, step by step.) Roll dough into a ball, wrap in plastic, and refrigerate for 1 hour.
Caramelize the Onions: Heat oil in a skillet over medium heat. When hot, add onions and salt. Cook for 20 minutes, stirring occasionally, until onions are browned and sweet.
Make the Pastry: Using a rolling pin, roll out the dough. Cut out pieces, slightly larger than tartlet pans. Press into pan, and cut off excess dough. Add caramelized onions and feta on top.
Bake at 400F for about 15 minutes.